2016 | NYC | Artist
Andreas Savva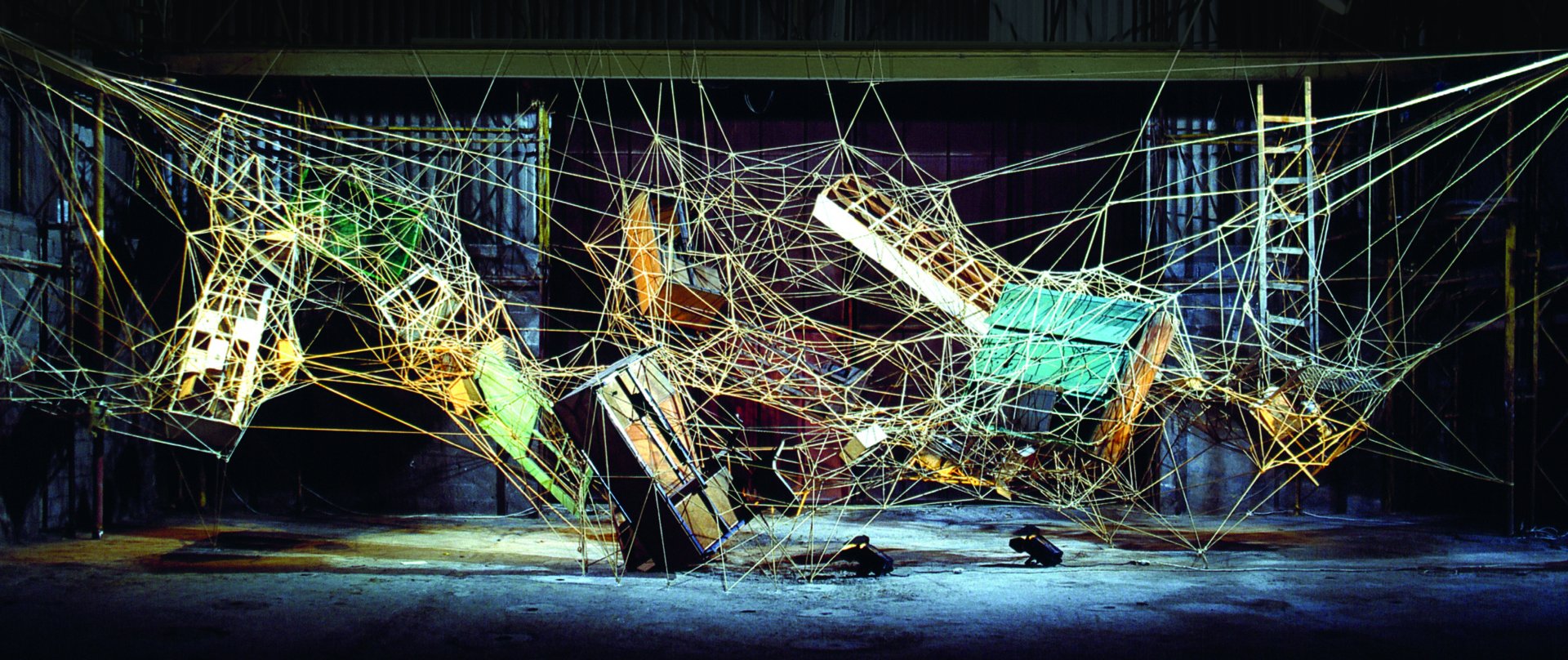 Digestive Tract, 2000. Ropes and objects, 20x8x6m
Artist name: Andreas Savva
Dates of residency: June-July, October-November
Born: 1970
Hometown:  Kyrenia, Cyprus
Lives and works:  Nicosia, Cyprus & New York, NY
URL: http://savvaandreas.net
Education: 1991-1996 Athens School of Fine Arts (Painting); 2002-2004 Postgraduate Programme in Digital Art
BIO/ STATEMENT:
Andreas Savva was born in Kyrenia, Cyprus. A refugee since childhood, his practice is defined by his social and political views that are  often imbued with skepticism in relation to capitalistic societal values. His in-situ installations or units as he defines them  are categorized by a different set of  dominant materials ranging from rope (series Opportunist (1993- ) to money bills as main material (1995-)  with the series ¥€$  using the symbols of the three most powerful currencies at the turn of the millennium. More recently, Savva has developed a body of painting with extremely smooth surfaces in response to the vast but infertile information emanating from the pervasive use of the flat screen of the Internet.
Solo shows include: Sleep Sliding Away, EDW, ReMap4, Athens , 2013; Martyrium, gallery Françoise Heitsch, Munich, Germany, 2012; Kapsel, gallery Françoise Heitsch, Munich, Germany, 2009; Kosmos, Cork Vision Centre, Cork, Ireland , 2005; Smoking seriously damages the country, Diaspro Art Center, Nicosia; The view that I love, Siakolas Tower, Nicosia in 2004; ¥€$, gallery a.antonopoulou, AthensOccupied, gallery Mylos, Thessaloniki in 2002.
Recent group shows include: Epitopou 2015, Livadia, Andros, Greece (cur.: Stratis Pantazis), 2015; Art Omi 2014 Residents, Omi International Arts Center, Ghent, New York (cur.: Moukhtar Kocache); Trauma and therapy, Cypriot antiquity and contemporary art, Paphos archaeological museum, Paphos (cur.: Niki Loizidi) and No Words, Larnaca Municipal Gallery,Larnaca (cur.: Tonia Loizou) in 2014; Medium as Narrative, CAMP Contemporary Art Meeting Point, Athens (cur.: Lina Tsikouta) and Art-Athina, International Contemporary Art Fair of Athens, gallery Françoise Heitsch, Athens in 2013.
GALLERY:  Francoise Heitsch, Munich, Germany 
SELECT PERMANENT COLLECTIONS:
Spyropoulos Museum Collection, Athens, Greece
State Collection of Contemporary Cypriot Art
SUPPORT: Andreas Savva 's residency is made possible with support from The Ministry of Education and Culture, Republic of Cyprus.