2012 | NYC | Artist
Andrea Bianconi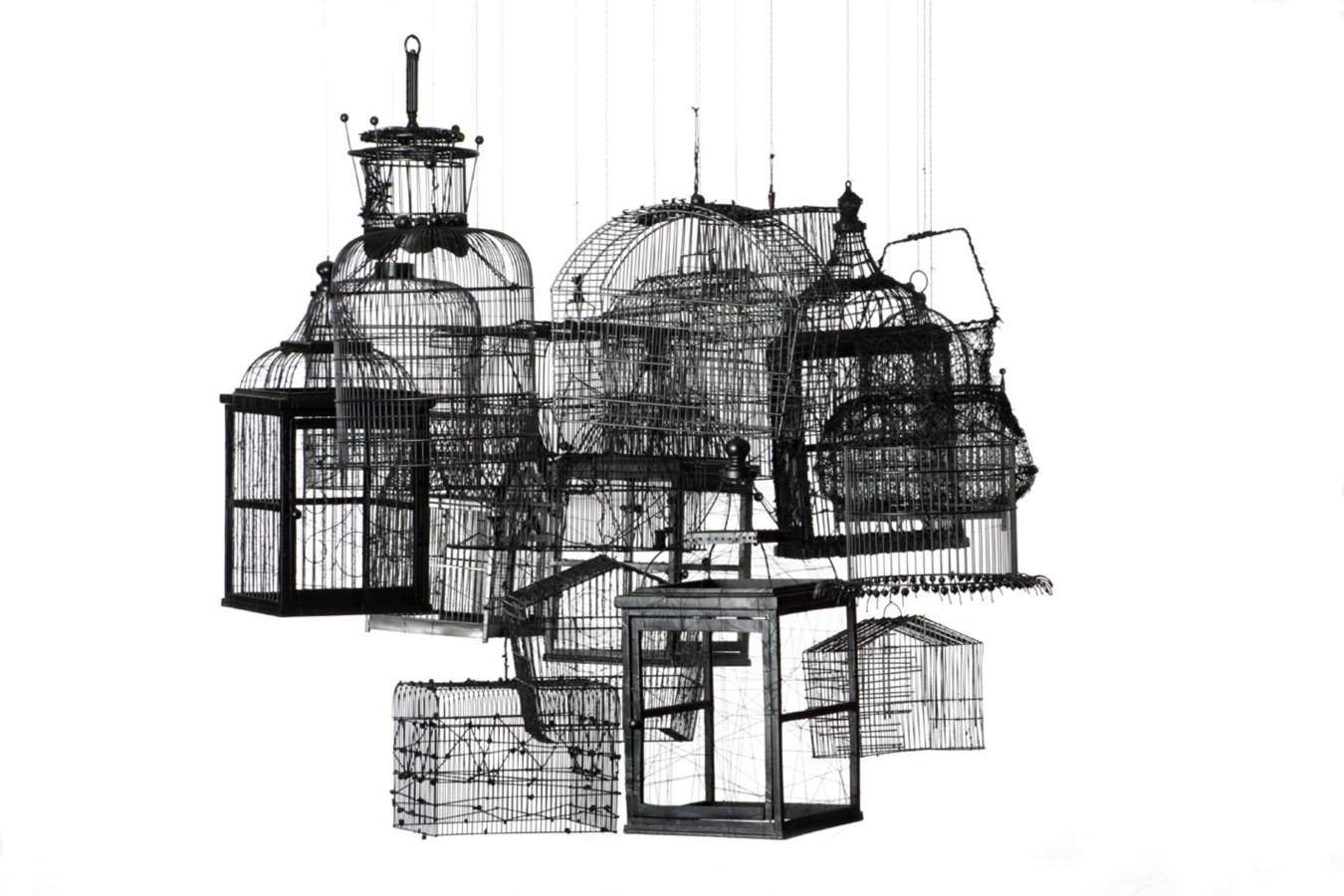 Traps for Clouds, 2011, 18 cages hanging to the ceiling, black enamel, dimension variable.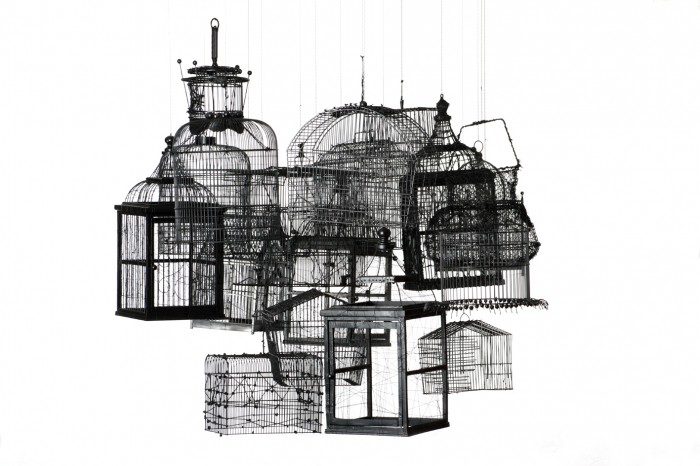 Traps for Clouds, 2011, 18 cages hanging to the ceiling, black enamel, dimension variable.
Andrea Bianconi reconstructs the world by means of its very own ruins. His oeuvre is an incessant wandering amidst dreams, obsessions, risks, surprises, and an endless roaming among the fragments of words and things. A spectacle that is both delirium and destruction, assemblage and disassemblage: all this in order to reach an apparent reality: the "Fantasy Ridge dell'Everest" (as the artist himself calls it). More than a method, it's an idea, the pathway of the imagination. The artist establishes temporary contiguity and unlikely proxmity, reawakening the "demon of analogy," pushing beyond the confines of reality.
Andrea Bianconi was born in Italy, in 1974, and he is based in Brooklyn, New York. He has held many solo exhibitions, performances and participated in numerous group shows around the world, e.g. Centro del Carmen, Valencia, Spain; Matadero, Madrid, Spain; Film Society Lincoln Center, New York; Maraya Art Centre, Sharjah, United Arab Emirates; Kunsthal Charlottenburg, Copenhagen, Denmark; Swiss Architecture Museum (S AM), Basel, Switzerland; Embassy of Italy in Washington DC; Sheila C. Johnson Design Center at Parsons The New School for Design, New York; ISCP, Brooklyn, NY; Palazzo Reale, Milan, Italy; Tina B, The Prague Contemporary Art Festival, Prague, Czech Republic; Furini Arte Contemporanea, Rome, Italy; Barbara Davis Gallery, Houston, Texas; Galleria Comunale d'Arte Contemporanea, Monfalcone, Italy; Volta Show, New York; the public art performance The Chinese Umbrella Hat Project-Part I in Shanghai, China and –Part II in Venice, Italy. His works are represented in many public and private collections and recently published in a monographic and multilingual publication by Charta Edition.
Andrea Bianconi's residency is made possible with the support of Furini Arte Contemporanea , Rome and Barbara Davis Gallery , Houston, TX and S.E.A.
We are also grateful to cura.books that has agreed to realize Andrea Bianconi's publication as part of his residency project.