2016 | NYC | Curator
Anaïs Duplan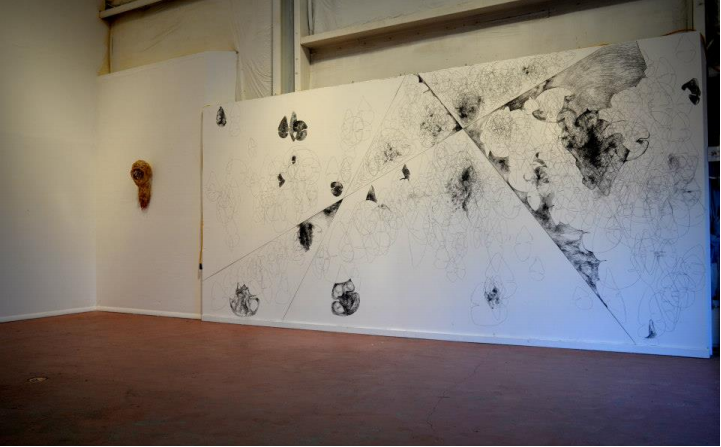 "Morphologies" at the Radical Abacus in Santa Fe, NM in July 2015
Curator name: Anaïs Duplan
Dates of residency: July - August
Born: 1992
Hometown: Jacmel, Haiti
Lives and works: Iowa City, IA
URL: http://www.worksofanais.com
Education: B.A. in Poetry and Discourse Studies, Bennington College; M.F.A. in Poetry (Iowa Writers' Workshop) (ongoing)
BIO/ STATEMENT:
Anaïs Duplan is a curator and poet whose work deals with the study of the Fugitive. He is concerned with the intersections of Internet-based discourse, Black signification, and notions of both the Afrofuture and the Anthropocene. He utilizes interview, ethnography, and oral histories to experiment with and develop more novel and more 'peopled' texts – the text occurring in near 'realtime.' He is the author of a forthcoming book of essays and interviews titled Black in Cyberspace (Black Ocean, 2018) as well as the author of a collection of poems, Take This Stallion (Brooklyn Arts Press, May 2016). He is also the founding curator of an interdisciplinary artists' network, The Spacesuits and the director of The Center for Afrofuturist Studies, an artist residency program in Iowa City, IA where he is currently an MFA candidate and Maytag Fellow at the Iowa Writers' Workshop.
Together with The Spacesuits, An has placed interdisciplinary installations in Reykjavík, Copenhagen, Boston, Chicago, Portland (OR), and Iowa City. His poems, essays, and journalism have appeared or are forthcoming in Hyperallergic, The Journal, Horse Less Review, [PANK], Birdfeast, Phantom Limb, Asymptote Journal, and others.
His recent publications are "My Heart Like a Needle Ever True Turns to the Maid of Ebon Hue." The Journal, March 2016; "Review: Fatima Al Qadiri, Brute." No Fear of Pop, March 2016; "The Afrofuture, for the Time/Being: Traveling Black to the Future." Asymptote, February 2016; "Try Not to Smile (When You're Not Getting Your Picture Taken)." Jellyfish Mag, January 2016; "The Afrofuture, for the Time/Being: In Orbit with niv Acosta." Asymptote, January 2016; "Interview: Jamal Moss (Hieroglyphic Being)." No Fear of Pop, 2015; "What Is the Doctrine of Eternal Recurrence," "On How to Win with or without Trying," and "Rule Number One No Rules." Horse Less Review, 2015; "The Afrofuture, for the Time/Being: In Conversation with E. Jane." Asymptote, 2015; "Premiere: Brother Ah – 'Nuba.'" Decoder Magazine, 2015.