2010 | NYC | Artist
Ana Prvacki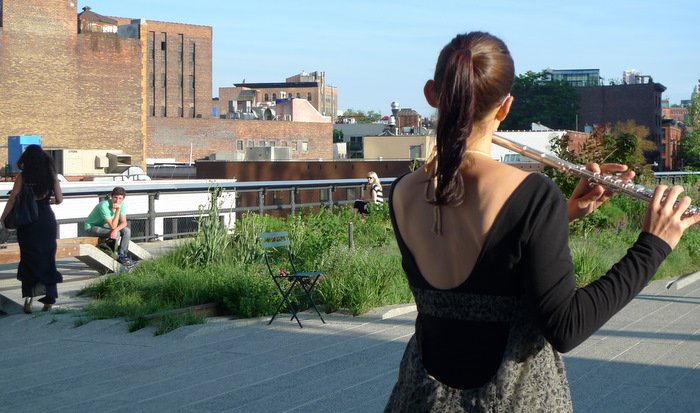 anaprvacki_wandering-band_slideshow
As a result of RU's partnership with More Art Ana Prvacki was commissioned to realize  a project-based residency that culminated on June 11,12,and 13 2010 with the performances Wandering Band on the High Line . Wandering Band is an informal musical stroll mingling musicians, singers, and community mem bers from the Chelsea area as they completed their daily practice of scales, tonal, and finger exercises .
Performance schedule: Friday, June 11, 6:00 PM - 7:30 PM, (ii) Sat and Sunday, June 12 and 13, 12:00 Noon - 3:00 PM
Ana's residency and Wandering Band was made possible with funds from the National Arts Council, Singapore, as well as public funds from the Manhattan Community Arts Fund, supported by the New York City Department of Cultural Affairs and administered by the Lower Manhattan Cultural Council
---------------------------------------------------------------------------------------------
Bio: Based between Singapore & Los Angeles, Ana Prvacki  is founder of Ananatural Production, a lifestyle consultancy company that combines conceptual concerns, contemporary issues, and different modes of communication, distributing recipes and instructions for varied types of experiences. While Prvacki's  practice draws on performance, consumer aesthetics, and popular concerns, her work is  often participatory, and provides products and services to the audience.
A recent work such as POST APIS, 2009, is a  honey banking system designed to protect against the massive disappearance of the Western honeybee and its ill effects. Salivesalve, 2008, explores the notion of eliminating pain through  saliva generated by the artist while she plays the flute. Through a simple alchemical process, the saliva is collected and transmuted into a special, music-derived painkiller.  When Prvacki performed At the Tips of Your Fingertips (Towards a Clean Money Culture), in the lobby of UBS's Manhattan headquarters  in 2007, she "washed" the public's paper money with special  branded wet wipes.
Born in 1976, Serbia / Yugoslavia, Prvacki has earned considerable international attention in the last decade.  In 2009, she was invited to participate in the show "The Girl Effect" at Lombard Freid Projects, New York and to create a series of performances at  Castello di Rivoli Museo d'Arte Contemporanea (Turin). She has performed in various international biennials (2008, Sydney Biennial ; 2007, Singapore biennial; 2006, Turin Triennale). She has also participated in group shows such as "25 Years Later: Welcome to Art in General" in New York, 2007). In 2010, invitations included the Pompidou Center in Paris ("Repetition") , the Isabella Gardner Museum (Boston), and the newly opened MONA in Tasmania, Australia.