2016 | NYC | Artist
Ana Prata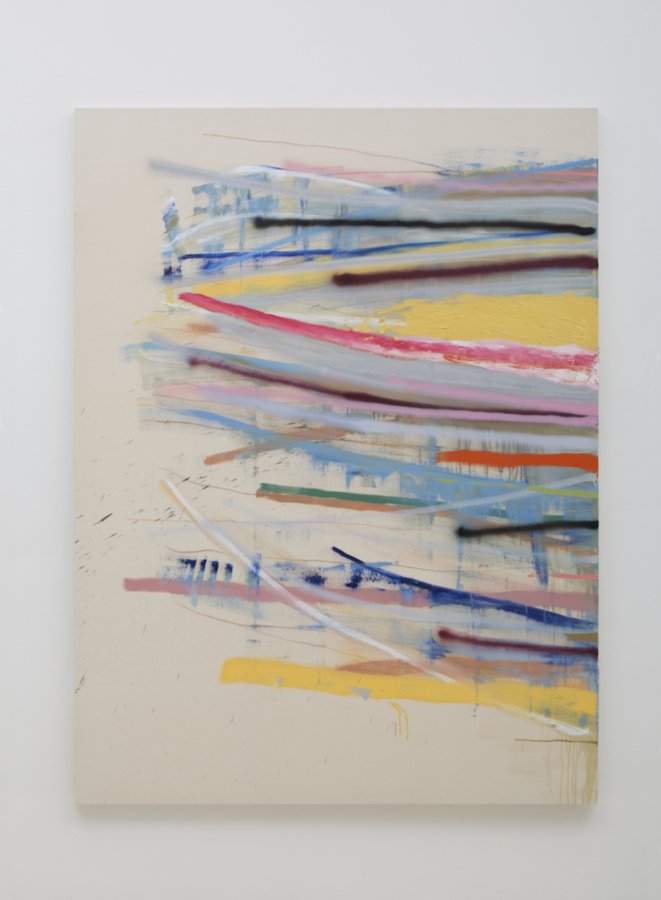 Esquerda,
2014, ink and oil on canvas, 200 x 150cm
Artist name: Ana Prata
Dates of residency: March-August
Born: 1980
Hometown: Sete Lagoas - MG Brazil
Lives and works: São Paulo SP Brazil
URL: http://www.anaprata.net
Education: BFA, Universidade de São Paulo, 2008
BIO/ STATEMENT:
Ana Prata's work is characterized by openness and freedom of research, allowing space to be contaminated by different ideas. Her work's subject is the very painting itself, which varies in groups of scales and subjects. They are quite objectual and abstract with less of a traditional support. Each painting she produced is an object that carries its own internal logic and visual voice.
She is interested in deepening her research on a socio-cultural context basis. The geographic shift from Brazil to New York allows her to explore the new environment and discover new means in which will help her understand the relation between the work and space. This kind of contamination to invade her production is very important to her, just like a stimulus, awakens a profound reflection and a new focus in her work.
"To me, her demeanor toward painting seems to suggest an alternative both to the painter as an editor of styles, a sterile manipulator, as well as to its counterpart, the recovery of the anti-historical and affected image of the painter-hero. At a glance, it felt like perusing a chapter of a book on modern art history: primary colors, geometric shapes (or almost) — everything was there. The analytic cubism, the primitivism, the zigzags, the monochrome. Almost all of them in a tiny format, the works seemed to dissolve in the white expanse of the gallery, while at the same time inviting individual examination. Prata avoids the spread-out constellating approach common these days and displays her works in a traditional way: at eye height, only varying the distance between them."
By Pedro França, Flash Art, no. 300. Volume 48 – 2015. January – February
Ana's recent solo shows include: Bikini Projects #1, at Kubikulo Gallery (2015); LaMaudite in Paris (2015); In São Paulo: O Sol e a Diferença, Galeria Millan (2014); Autoria, curadoria, reforma e contra-reforma, Alvaro Razuk Studio (2014); Quase figura, quase forma, Galeria Estação (2014); 18th Festival Sesc_Videobrasil, SESC Pompeia (2013); Instituto Tomie Ohtake (2013); Galeria Marília Razuk (2012); A individual e também o elevador, o vulcão e o jantar, Tomie Ohtake Institute (2012); the solo Jogo de desmontar, Centro Universitário Maria Antonia (2009); the solo Sala de Espera, Centro Cultural São Paulo (2009).
In 2009, at Centro Cultural São Paulo and Centro Universitário Maria Antonia, both in São Paulo, Brazil.
Her group shows include: 18th International Contemporary Art Festival, (Nov. 2013 - Feb. 2014); the show Lugar Nenhum, at Instituto Moreira Salles, Rio de Janeiro (2013); International Contemporary Art Festival SESC_Videobrasil, São Paulo (2011 and 2013); the show Os primeiros dez anos, Instituto Tomie Ohtake, São Paulo (2011); 17th International Contemporary Art Festival, (2011).
GALLERY: Galeria Millan, São Paulo
SELECT PERMANENT COLLECTIONS: Instituto Figueiredo ferraz, Itaú Cultural, Coleção Andrea e José Olympio Pereira
SUPPORT: Ana Prata's 6-month residency is supported by Galeria Millan, Sao Paolo.