2019 | NYC | Artist
Ana Kuzmanić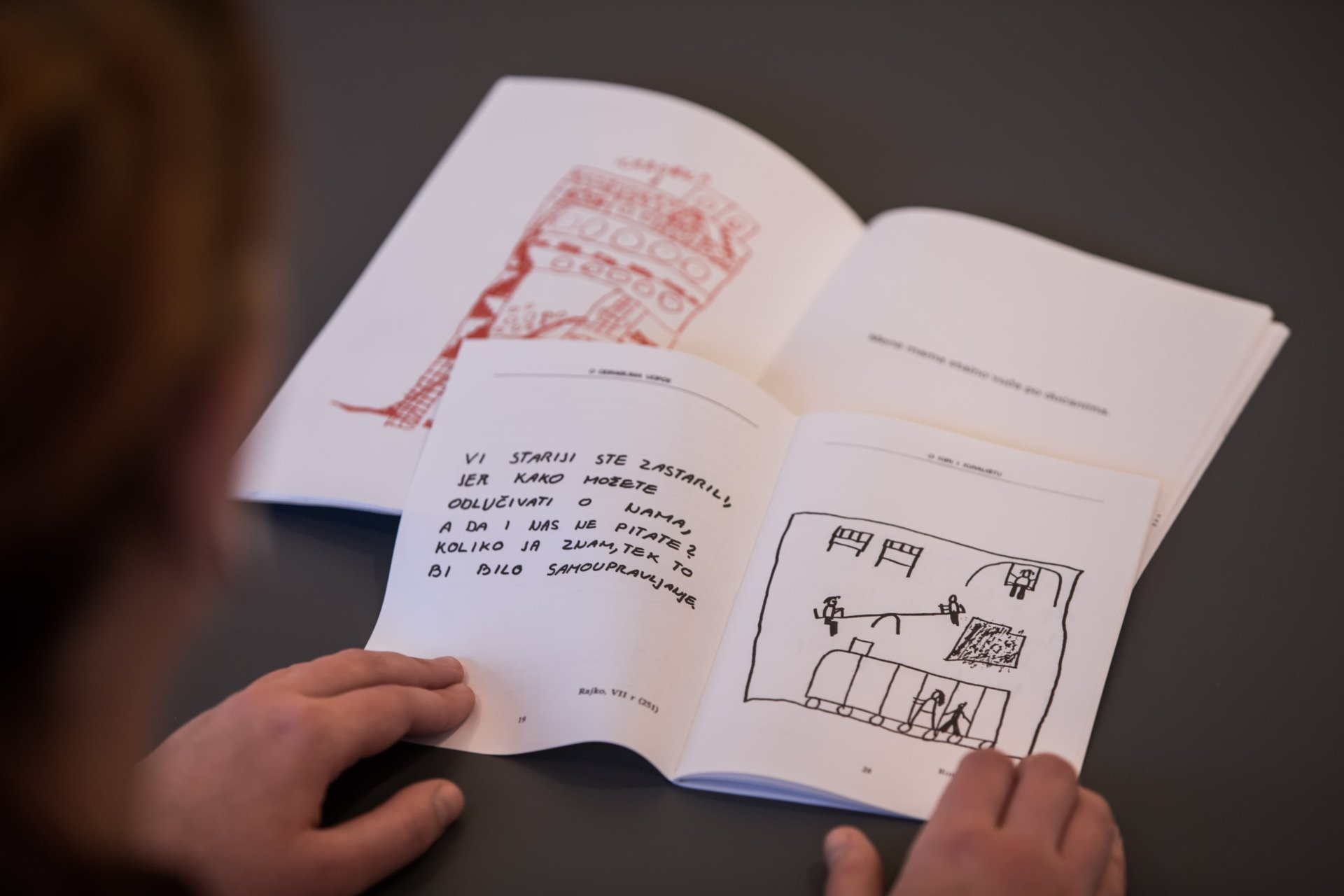 You're small, I'm big (2015.-2017. artist's book )
Bio / Statement:
Ana Kuzmanić is a Young Visual Artists Award (YVAA) recipient of the 2018 Radoslav Putar Award organized by Institute of Contemporary Art, an award for young artists from Croatia.
Ana's work emerges from the interdisciplinary space of art and social practice. Her work actively problematizes everyday life, examines tensions between the individual and the social, politics and poetics, and seeks potentials for change. Her practice is based on research (archives, literature etc.) and collaborative work (children, students, librarians, neighbors, other present and non-present artists, etc.). In process of creation she uses dialogue as research method and as a tool for affirmation of participants and social relations, as well as for simulation of other realities. Several of Ana's projects question collectivity, pedagogy, memory, ideological construction  of childhood. Employing a broad range of media such as public intervention, sound installation, artist books, print media, performance, and video, her work is often site-specific and time-specific.
Alongside own practice, she works with the international arts collective Eastern Surf which focuses on working with and within virtual environments and the mimicry of the digital within the physical. Ana is Associate Professor at the University in Split (Croatia).
Recent solo shows include: 2018 Louder! Speak louder, Gallery Mirosla Kraljević, Zagreb, Croatia, 2017 This is not a box, Galerija Prozori, Zagreb, Croatia, 2017 A change from the bench, Artists for neighbourhood,  Blok, Zagreb, Croatia, 2017 Collective Eastern Surf, Ilovemyjob, net.cub, Croatia. Selected projects and group exhibitions include: 2018 26. Slavonski Biennale, Gallery of Fine Arts, Osijek, Croatia, 2018 Almissa Open Art Festival, Omiš, Croatia, 2017 Grad na drugi pogled, Museum of Fine Arts, Split, Croatia, 2017 Bringing Up the Future, Gallery SC, Zagreb, Croatia, 2015 Accept the Mystery!, The Northern Charter, Newcastle, UK, 2012 Eastern Surf: Kernel Panic Control, Gallery Galženica, Velika Gorica, Croatia, 2012 Towards Enclosure, Embassy Gallery, Edinburgh, UK, 2012 The Mutual Charter, Glasgow International Festival, Glasgow, UK, 2012 TORINOver 2012, Museo d'Arte Orientale, Turin, Italy, 2011 37. Split salon, HULU Split, Croatia, 2011 ESSL Award-finale, Museum Of Contemporary Art, Zagreb, Croatia, 2010 Sea Symposium, The Citadel of Qaitbay, Alexandria, Egipat, 2009 Simultaneous, KultFlux Platforma, Vilnius, Litva
Grants and prizes include: 2018 Winner of Radoslav Putar Award 2018, Institute for Contemporary Art, Zagreb, Croatia, 2015 Winner of Tvornica competition for production of new artwork, Gallery Miroslav Kraljević, Zagreb, Croatia, 2012 Quality Production Award, Creative Scotland, 2012 Visual Art Award: Edinburgh, Edinburgh City Council, 2011 ESSL ART AWARD CEE nominations, 2009 Travel Award Venice Agendas 2009, 2009 Travel Award, John David Mooney Foundation, Chicago, US
Support: Ana Kuzmanić' residency is made possible with support from Trust for Mutual Understanding.