2023 | NYC | Artist
Alma Gačanin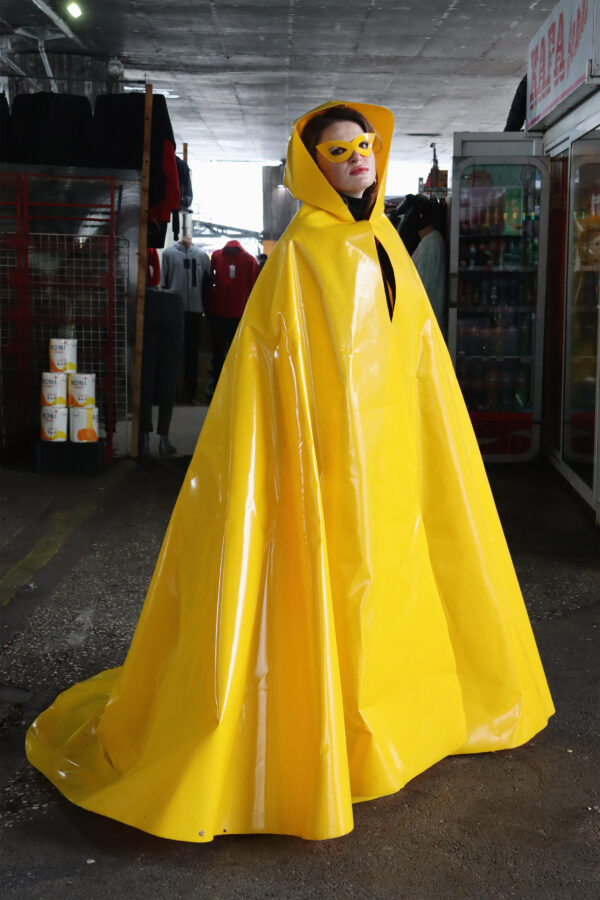 Alma Gačanin, "Yellow raincoat", installation (video, object, photography, sketches), 2021. Photo Credit: Suad H. (Manifesto Gallery)
Artist Name: Alma Gačanin
Residency Dates: April - May 2023
Born: 1988
Hometown: Sarajevo, Bosnia and Herzegovina
Lives & Works: Sarajevo, Bosnia and Herzegovina
URL: https://www.almagacanin.com/ | Instagram: @djevina_strumen
Education:
2012-2015 | MFA Education in Art, Academy of Fine Arts Sarajevo
2007-2012 | BFA Education in Art, Academy of Fine Arts Sarajevo
Bio/Statement:
Alma Gačanin is the winner of the 2022 ZVONO Art Award for Young Visual Artist in Bosnia and Herzegovina.
Alma Gačanin is an artist, poet, and feminist whose practice is based on researching the specifics of labor and the precariousness of certain professions for which she attended professional training. She is particularly interested in value theory, biopolitics and social reproduction. Through drawing and performance, she explores the link between artistic practice and earning a living. From precarious part-time student jobs to full-time dynamic jobs with 20-hour shifts, she is being prompted to write the roles for her works and dive deeper into problems of the new working class, class stratification, and overall critique of capitalism and its structural part, patriarchy. Her recent role as a flight attendant in the Middle East was tackling the nuances of precarious work and questioning the concept of the good life through something we perceive as a dream job. Currently, Alma is employed in a client-facing position, so her work is focused on the emotional aspect of labor as well as the evaluation of services with an emphasis on overall satisfaction, success, and tyranny of excellence within the capitalist society.
In 2015, Alma Gačanin represented Bosnia and Herzegovina in Mediterranea 17 Young Artists Biennale in Milan. Her poems are published in magazines, collections, and web portals in Bosnia and Herzegovina as well as in the region.
Support: Alma Gačanin's residency is made possible with support from the Trust for Mutual Understanding and KRAK center.