2020 | NYC | Artist
Allie ES Wist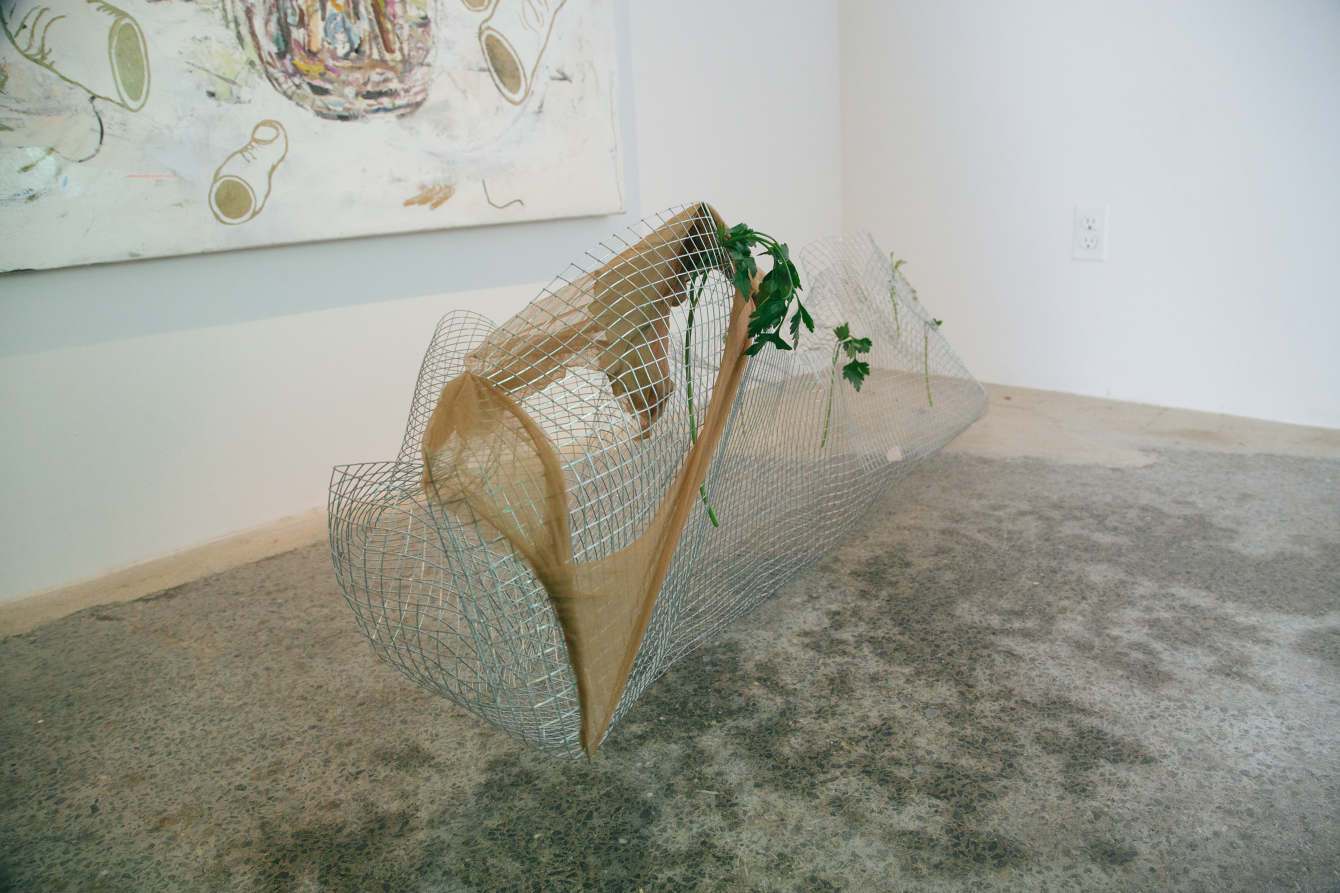 Untitled (Surreality), 2018, Wire mesh, nylon stockings, cilantro. Courtesy the artist.
Allie Wist's work encompasses photography, print works, dinners, and other experiential installations that render futuristic speculation immediately accessible through narrative and sensory consumption. Many of these works are what she calls "Climate LAARPing," and they concern the future of consumption and food culture as it applies to climate change in particular. Wist has recently focused on environmental grief and the role of taste and aesthetics in more intimately conceptualizing futures. While the inspiration for her works are driven by research into deep ecology and climate adaptation, they are also layered with more radical depictions of collapse and trauma, including the normalization and adaptation to such states. More recently, Wist's body of work has focused on future rituals, customs, and traditions related to future values necessitated by the impending environmental crisis, including several related to food and water.
Wist is co-founder of Mutamur, a futurist art and culture radio show and media collaboration and works as a photo editor for Bon Appétit (Condé Nast) and other editorial publications. Her work has been exhibited in the Honolulu Biennial, The Wellcome Collection, and HESSE FLATOW. Recent publications include Food Futures: Sensory Explorations in Food Design, a chapbook with Montez Press and Promopress. Wist received a B.A. in Mass Media and Communications from Boston University, and an M.A. in Food Studies from New York University.
Allie ES Wist is one of seven artists participating in Food Futures, RU's second annual thematic artist residency program centered around the question of food resilience in urban environments. The program is directed by curator Livia Alexander in collaboration with food writer and poet Betsy Andrews, artist and activist Miro Gal, and artist and food editor Allie Wist with the assistance of RU Administrative Intern Romane Guéchot.
Food Futures is supported, in part, by public funds from the New York City Department of Cultural Affairs in partnership with the city council and with generous support from the National Endowment for the Arts.