2014 | NYC | Artist
Adam Stone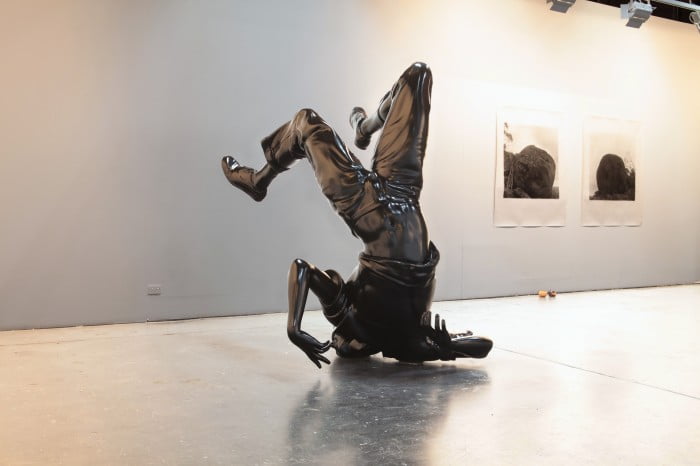 instal-shot-front1-700x466
Dates of residency: July 1 – September 30, 2014
Born: 13/1/1992
Hometown: Melbourne, Australia
Lives and works: Melbourne, Australia
Education:
Bachelor of Fine Art (Photography) 2010-2012, Victorian College of the Arts, Melbourne, Australia;
Bachelor of Fine Art (Honours) 2013, Victorian College of the Arts, Melbourne, Australia
BIO/ STATEMENT: My practice deals with the inherent desire of young males being drawn towards risk taking behavior as a means of understanding. Often coming to fruition in scenes of failure, I use extreme sports as a vessel to implement my ideas. The hubris, schadenfreude and jouissance that follow these actions activate a charge and helps to reveal their desirability. An exploration of masculinity and rites of passage give grounding to the inescapable tradition of this behavior. These jubilant instances of hubris can be extrapolated and are grounded in both historical and contemporary political and cultural falls from grace. In these moments, the myth of Icarus and the teenage skateboarder become assimilated through their cheeky desire to push the boundaries of the known.
Adam is a Melbourne based photographer, sculptor, video and installation artist who recently received his BFA First Class Honours from the Victorian College of the Arts. In 2013, he was the recipient of the Fiona Myer award, a finalist in the Qantas SOYA award, a finalist in the McClelland Gallery Sennini award, the recipient of a Melbourne University Grant and the George Paton Gallery 'Readings' Prize. He was the recipient of the Orloff Family Charitable Trust Scholarship, The Centre for Contemporary Photography Kodak Salon Borge Imaging Prize and The George Paton Framed Prize in 2012. In 2014 Adam completed a Residency at IOAM in Beijing, China, was the recipient of an Ian Potter Cultural Trust Grant and the recipient of the Montalto Sculpture Prize.
He has exhibited in both solo and group exhibitions at ARI's, commercial and public galleries in Melbourne (selected galleries include): Monash Gallery of Art, Melbourne Museum, Albury Regional Gallery (collaboration), Seventh Gallery, Blindside ARI, Margaret Lawrence Gallery, McClelland Gallery and Sculpture Park, The Centre for Contemporary Photography, MARS and Langford 120 (collaboration).
PERMANENT COLLECTION:City of Boorandara public collection
SUPPORT: Adam Stone's 3 months residency is supported by the The Ian Potter Cultural Trust