2023 | NYC | Artist
Abang-guard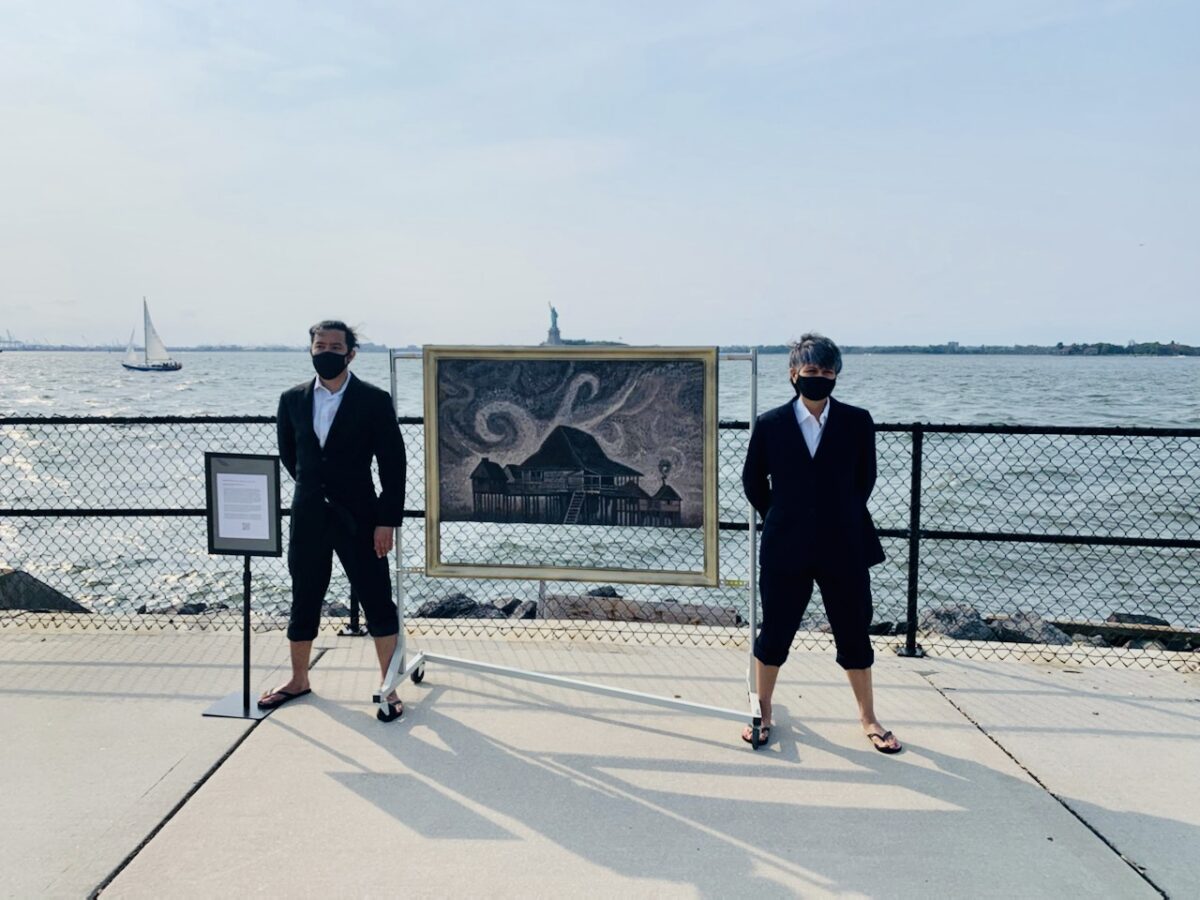 Abang-guard, "Bahay Kubo on the Water", 2021, Digital Still from Performance at Governors Island, Duration: 2 hours, Photograph by Erin Connolly and Courtesy of the artists
Artist Name: Abang-guard, a collaboration between artists Maureen Catbagan and Jevijoe Vitug
Residency Dates: April - June 2023
Born: 1975 | 1977
Hometown: Philippines
Lives & Works: Manhattan, Brooklyn & Queens, NY
URL: http://maureencatbagan.com/
Education:
Maureen Catbagan
2002-05 | MFA in Mixed-Media, The City College, NY
1993-98 | BFA in Painting, Binghamton University, Binghamton, NY
Jevijoe Vitug
2015 | MFA in Studio Art and Design & Technology, San Francisco Art Institute, CA
1994-98 | BFA in Painting, St. Scholastica's College, Manila, Philippines
Bio/Statement:
Abang-guard is a collaborative project between artists Maureen Catbagan and Jevijoe Vitug that explores the intersections of immigration, labor, and visibility. Reflecting on the artistic strategies of the avant-garde, they infuse personal history and art practice with theoretical humor to convey the complexity and nuances between cultural production, institutional structures, and the role of labor. The project began in 2017 through their occupation as museum guards. Since then, Abang-guard has performed Artists on Artworks: Abang-guard at The Metropolitan Museum of Art, New York, NY (2022) and Help Wanted! at Governors Island, NY (2022); and at venues including ARoS Public Atelier, Denmark (2022); Abrons Art Center, New York, NY (2021), PS122 Gallery, New York, NY (2020), as well as Flux Takeover! at Socrates Park and Flux Factory, Queens, NY (2019).
Abang-guard question and reorient relations between identity, labor, and value within cultural institutions. As Filipinx artists and museum workers, they cultivate an awareness of institutional non-space which consists of the peripheral structures and hidden labor that support cultural framing. Abang-guard utilize video, sculpture, photography, and performance to produce an aesthetics of vibrant peripheries, moving institutional framing towards the support structures of intersecting communities and the labor of hidden bodies. Focusing on and transforming peripheral elements not only expands the representational field but also challenges the limits of social sight. They render labor visible by layering and juxtaposing community history, spatial disruptions, inner monologues, and multiple conceptions of the shadow. Abang-guard's projects and performances reveal alternate possibilities within museum spaces and build processes of intimacy and care between bodies and objects in order to envision other ways of seeing, activating, and producing cultural value. They engage viewers to perceive what else exists within the cultural frame and what else is possible outside of it.
Abang-guard is one of five artists participating in the 2023 New York City-Based Artist Residency, dedicated to supporting the voices of underrepresented artists in NYC who identify as Black, Indigenous and People of Color and whose research-based practices fill in gaps in historical knowledge. The program is organized by Guest Curator Rachel Gugelberger.
The 2023 NYC-Based Artist Residency Program is made possible by the New York State Council on the Arts with the support of the Office of the Governor and the New York State Legislature and public funds from the New York City Department of Cultural Affairs in partnership with the city council.