2016 | NYC | Artist
Özgür Demirci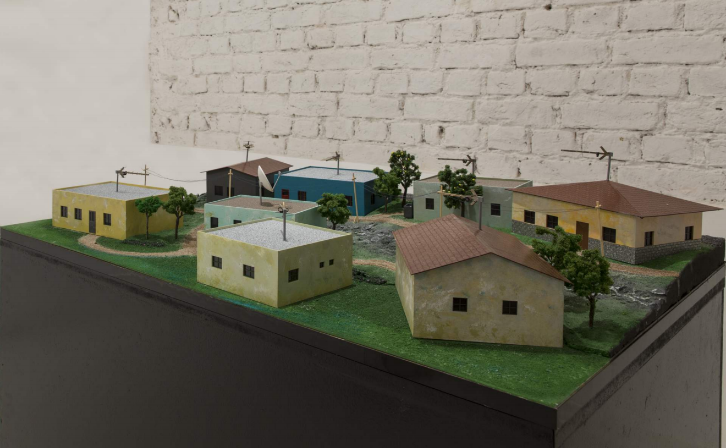 Seeing Beyond, Installation - Scale Model Buildings- 100 x 70 cm - 2015, View from Öktem & Aykut - İstanbul - Turkey
Artist name: Özgür Demirci
Dates of residency: August – September
Born: 1982
Hometown: Istanbul,Turkey
Lives and works: Istanbul / Izmir, Turkey
URL: http://www.ozgurdemirci.com
Education: DFA Dokuz Eylül University, Art and Design, İzmir, TR, 2015; MFA Valand School of Fine Arts, C:Art:Media, Göteborg, SE, 2008-2010; BFA Yıldız Technical University, Bachelor of Art and Design, Interdisciplinary Arts, İstanbul, TR, 2002-2007
BIO/ STATEMENT:
Özgür Demirci creates videos, performances, objects, and site-specific installations. His work is rooted in socio-cultural codes that capture the human experience and entails gestures and transformations based upon such observations. He blends a visuality that reminds us of minimalist-conceptual artworks with native/local subjects and produces them with an endogeneity partly humorous and partly serious at different times. In his installations, objects are arranged with care and clarity; interactive technology is also at play, with works where the artist places himself at the center, and sometimes through observations that are directed towards another social group. Rather than a political stance that is apparent at first glance, Demirci is more interested in traces that make one curious about the social movements intrinsic to everyday life or traces that political movements leave behind.
Recent solo exhibitions include "Dedicated," Öktem&Aykut Gallery, İstanbul, Turkey (2015); "We came but, you weren't there," Pasaj Galata, Istanbul, Turkey (2014); "Money Issue (With Elmas Deniz)," Curated by Nicoletta Daldanise, PasajIST, Istanbul, Turkey (2012). His work was also included in the recent group shows: "Stay With Me," Museum Weserburg, Bremen, Germany (2015); "Kassel Dokfest," Kasseler Kunstverein, Kassel, Germany (2015); "Kunst & Krise," Ag Dollz, Jena, Germany (2015); Supermarket Art Fair, Stockholm, Sweden (2015); 10th Edition of Night of Museums and Galleries Festival, Open Arts Foundation, Plovdiv, Bulgaria (2014). In 2016, Demirci's work will be included in the following exhibitions: "Pas," Miza Gallery, Tirana, Albania; "Playground of the Mind," Daire Gallery, İstanbul, Turkey; "Keystone, REM Art Space," İstanbul, Turkey; "Stay With Me," Corridor Project Space, Amsterdam, Netherlands; "Her Havuzun Dibi Aynı," Çetin Emeç Gallery, İzmir, Turkey.
Demirci is a recipient of grants and prizes from the Goethe Institut (2014), European Cultural Foundation (2014), Turkish Cultural Foundation (2014), Anna Lindh Foundation (2013), Uni Credit Grant (2011), and Otto Och Charlotte Mannheimers Fond (2008).
SELECT PERMANENT COLLECTIONS:
Gallery Mana Collection, Turkey
Luciano Benetton Collection, Italy
Private collections in Turkey, Germany, and Italy
SUPPORT: Özgür Demirci's 6-week residency is made possible with support from ArteEast, Inc.