Talks | Apr 20 2016 6:30 pm
"Where the land ends" by Paolo Mele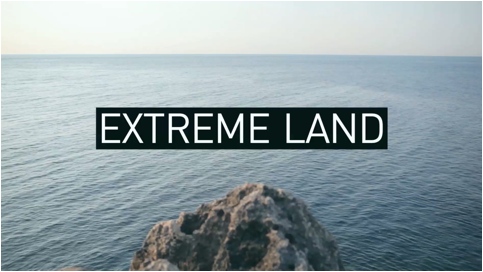 Extreme Land, Produced by Ramdom, Edited by Luca Coclite, 21'09'', still from video
Wednesday, April 20, 2016
6:30pm (open and free to the public)
Residency Unlimited
360 Court Street (enter through the big green doors)
Brooklyn, NY 1123
The evening begins with a screening of "Extreme Land," produced by Ramdom and edited by Luca Coclite. RU curator in residence Paolo Mele (director of Ramdom) and Brett Swenson (artist) engage on the topic of contemporary art production outside large capitalistic cities. How are artistic projects sustainable in remote areas? What is the role of local communities in the artistic process? How are projects of this nature considered from the perspective of cultural production poles? What can be learned from these experiences?
This discussion investigates the concept of site-specific art and the fragile relation between art production and urban spaces. The point of departure is Mele's artistic and research project "Investigation on the extreme land," led by Ramdom in the outermost limits of location specificity on Finis Terrae of Italy. This project focuses on life, culture and social relations in the extreme lands, where geographical dislocation is deeply embedded in the socio-anthropological fabric of its inhabitants. Sea, cost, cliff, shore are here investigated from different perspectives: the journey, the drift, the landing, the isolation, the end.
--
Brett Swenson is a Brooklyn-based multimedia artist who's work explores the mutability of perception and the unseen, hyper-realities embedded within material time and space. Through sculptural processes and choreographed action, improbable phenomena juxtapose human constructs within the natural.
Brett was born in Chicago, IL. He received his BFA from the Rhode Island School of Design in 2010. He has been awarded fellowships and residencies from the Wheaton Arts and Cultural Center of New Jersey, Pioneer Works Center for Art and Innovation in New York, and Ramdom Association's "DEFAULT" workshop series stationed in Gagliano Del Capo, Italy. In 2016 he was awarded a year long studio grant from Urban Glass and will be in residence this fall at Residency Unlimited on a grant awarded by the NEA Art Works. He has exhibited internationally, most recently with  the group show "Perched in the Eye of a Tornado" at Ying Space in Beijing.
--
Paolo Mele's curatorial residency is supported by Ramdom.

RELATED: