RU's 2018 Residency Raffle – Win one month residency in Serbia!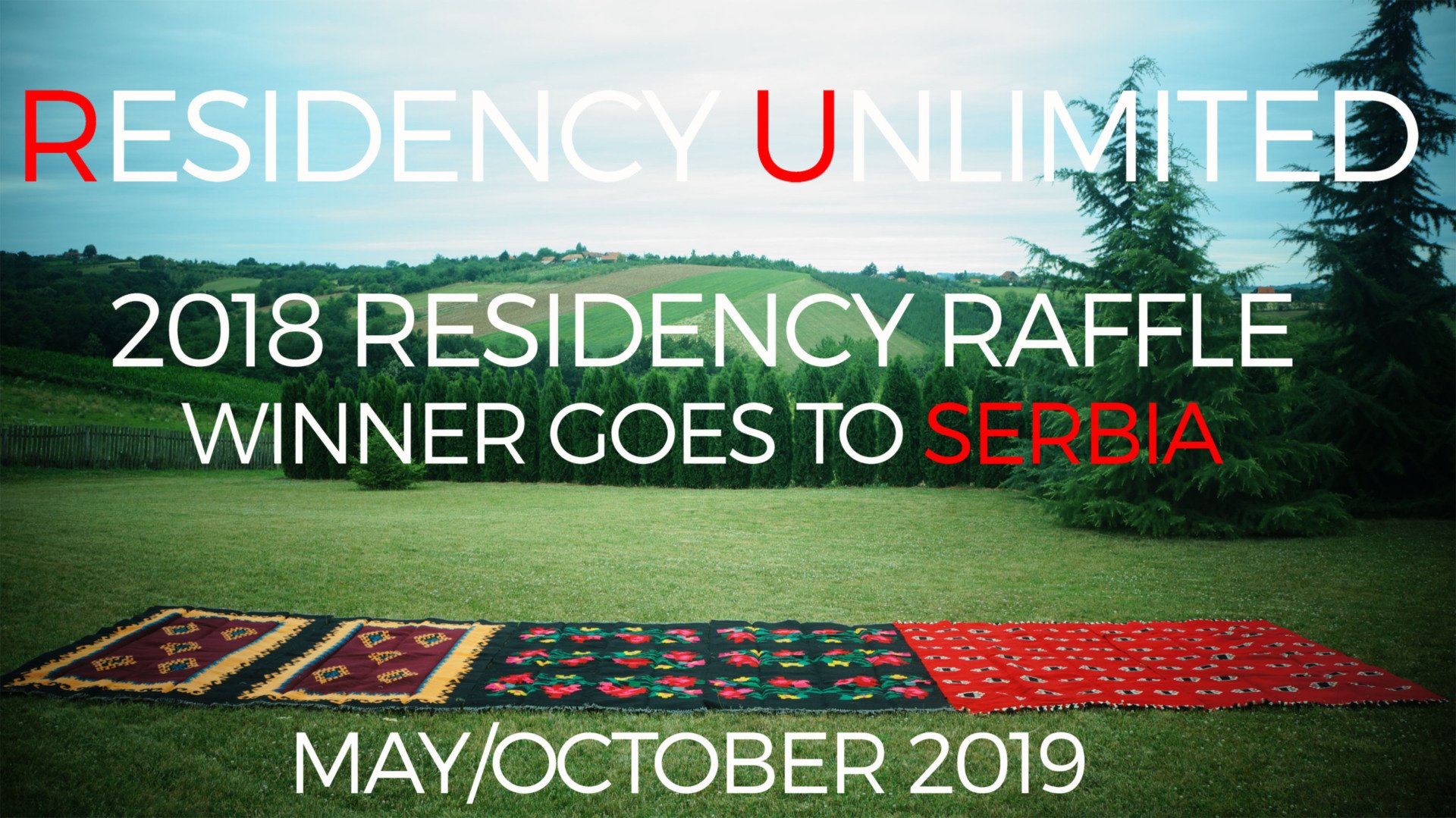 As of September 12, 2018, we invite all artists to participate in RU's fifth annual Residency Raffle to win a fantastic month long residency opportunity hosted by two partnering organizations in Serbia: REMONT Gallery and Gola Glava (Naked Head). Suggested dates for this residency are May through October 2019.
By purchasing a ticket, the winning artist will spend one week in Belgrade (see the New York Times article here) and 3 weeks in the village of Gola Glava located in the countryside, 80 km from the capital. The artist will be welcomed by Miroslav Karić (art historian, curator and founder of REMONT) and Ivana Ivković (artist and founder of Naked Head residency) who will accompany the finalist throughout and organize an artist's talk at the end of the residency at REMONT Gallery.
THIS RAFFLE OPPORTUNITY IS OPEN TO ARTISTS AS WELL AS ARTISTS' SUPPORTERS WHO CAN NOMINATE ONE OR SEVERAL ARTISTS OF THEIR CHOICE.
$25 for 1 ticket
$40 for 2 tickets
The winning artist will be announced by November 20, 2018.
ABOUT THE RESIDENCY
-Suggested dates of residency are May through October 2019.
-RU will cover round trip airfare costs to Belgrade from wherever the winning artist is located.
-RU will cover the accommodation expenses on site in Gola Glava and in the center of Belgrade.
-The artist will receive a $300 stipend.
-In Gola Glava, the artist will live and work for 3 weeks in an authentic Serbian house in the countryside surrounded by a beautiful garden and a pool.
-Besides free accommodation, food expenses will be covered with access to the organic garden and fresh spring water.
-The finalist will be offered a public program at REMONT Gallery to present his/her/their practice to representatives of Belgrade's vibrant contemporary art scene.

CONDITIONS OF ELIGIBILITY
-Artists participating in the raffle must be practicing visual artists with a website or portfolio URL showing at least 3 years of professional practice.
-Artists can buy tickets on their own behalf.
-It is also possible to buy a ticket and nominate an artist of your choice. In this case please indicate the name(s) and website.

HOSTING ORGANIZATIONS
  
Gola Glava (Naked Head) Residency                                               REMONT Gallery, Belgrade
Gola Glava (Naked Head) is a unique residency program that offers a special and quiet environment for the artist to stay, contemplate and work. Surrounded by extraordinary nature, Naked Head residency provides cozy living space as well as a small, but pleasant working space. Residency organizers are connected to local resources that can be used for artistic research and production.
REMONT – Independent Artistic Association was founded  in1999.  Located in Belgrade downtown Remont has developed into a main contemporary art resource in the Serbian and regional art scene. This established non-profit gallery operates as a platform for a dynamic exchange of information, exhibitions, publishing activity, curatorial projects, education, advocacy, and cultural policy issues. Remont generates, documents and promotes the development of innovative artistic practice and also proposes solutions to cultural and other public policies that are related to this matter. Over 400 programs have been realized by the Remont gallery space with some of the most important Serbian creators of all generations, as well as with international curators and artists, institutions and organizations.
Entries close at 00:00 Midnight EST on Thursday, November 1. 2018.
The winning artist will be contacted on November 20, 2018.