Talks | Apr 12 2018 6.30pm
RU Talk: Siniša Radulović and Katarína Hrušková in conversation with Jenny Gerow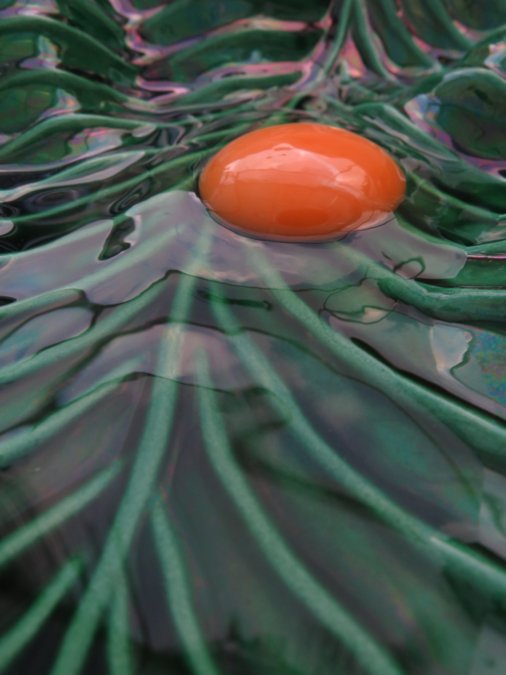 Katarína Hrušková: Sunset, 2017. C-print
Thurday, April 12, 2018
6.30pm (free and open to the public)
Residency Unlimited (RU)
360 Court Street (enter the Church through the main entrance)
Brooklyn, NY 11231
Jenny Gerow, Assistant Curator of Contemporary Art at BRIC joins Slovakian artist Katarína Hrušková and Montenegrin artist Siniša Radulović, Young Visual Artist Awardees, to discuss their unique views on occupying space through their work in photography and video. Katarína Hrušková's work in photography and spoken word translates the body's affective relationship to space by relating an intimacy to the inanimate and inconspicuous. Siniša Radulović's collaged videos and photography appropriate images and text to outline the contested borders of one's homeland and selfhood.
To listen to the video, right click 'unmute'.
***
Katarína Hrušková is one of four recipients of the 2017 Oskár Čepan - Young Visual Artists Award. Solo shows include: 2015, Hrana je hladina (The edge is a surface), with Lucia Scerankova, Galerie Off/format, Brno, Czech Republic; 2014, Situace 53, a performance, Galerie Pavilon, Prague, Czech Republic; 2013, Bread crumbs in bed, Galeria Hit, Bratislava, Slovakia; 2012, Kalene Sklo, with Lucia Scerankova, Galeria + - 0.0, Zilina, Slovakia; I carry a tiny knife, Weekender (project space), Amsterdam, Netherlands. Recent group shows include; sign just under the skin, House of Egorn, Berlin (2018); Od Knihy Ku Knihe, Galerie TIC, Brno, Czech Republic (2017); SELBST, Institut für Bienezucht, London, UK (2017); Ichor, Danielle Arnaud Gallery, London, UK (2016); 'Export', Galeria Krokus, Bratislava, Slovakia, (2015), Katarina Hruskova was a resident artist at Residenza Petrolio, Puglia, Italy in 2015; Brooklyn Langer Residency, NY, USA (2014); Banska St a nica Residency, Banska Stiavnica, Slovakia (2011). Publications include: From 0 To O, 2016, with Peter Puklus, 2016, published by Banska St a nica Contemporary (edition of 400); Real Fire on a Fake Hotel, 2014, published by Banska St a nica Contemporary (edition of 35).
Read more about Katarina Hruskova's works on Artforum Critics' picks review here.
Siniša Radulović is the winner of the 2017 "Milčik" - Young Visual Artists Award, organized by the Institute of Contemporary Arts-ICA in Cetinje, Montenegro. Trained as a painter, Siniša Radulovic is a  multimedia-artist who produces videos  and  collages.
Siniša Radulović received the 2016 Grand Prix Herceg Novi Winter Art Salon, and for video,  the 2016  Montenegrin Art Salon "13 November", Cetinje.  In 2015,  he  was invited to participate in the  resideny Q21, Museums Quartier and Kultur Kontakt in Vienna. Recent solo shows include: 2015. Flattened Fauna, Atelje Dado, Cetinje, Montenegro; 2015. Flattened Fauna, National museum Kraljevo, Serbia; 2009. Cabin fever, Galerija "Centar", Podgorica, Montenegro; 2006. ULUCG, Art Pavilion, Podgorica, Montenegro. He has also participated in nternational events  including 'Mediterranea 18 Young Artists Biennale' in Tirana; 'Donumenta: 14x14 under construction' (Regensburg, Germany), 'Borderland'; Ausstellungsraum Klingental (Basel); 'Meconio', Muestra de Nuevos Cineastas, Máster LAV - Audiovisual Laboratory of Creation and Contemporary Practice (Madrid); 56th October Salon 'The Pleasure of Love' , Belgrade.
In this interview with Artvision agency Radulović's  speaks about his video practice and relation to film.
Jenny Gerow is the Assistant Curator of Contemporary Art at BRIC, a not-for-profit cross disciplinary organization based in downtown Brooklyn that presents diverse cultural programming while also providing substantial support to artists and media makers. Its contemporary art program is the oldest in Brooklyn. Gerow graduated with a MA in Art History from the School of the Art Institute of Chicago and an BA in Literature from the University of Virginia. She has previously held positions at the International Center of Photography and the Detroit Institute of Arts.
 At BRIC she has curated the group exhibitions Public Access/Open Networks, and Reenactment; as well as solo exhibitions by Kenseth Armstead, Leigh Davis, Adrienne Else Tarver, Kyoung Eun Kang, and Julia Oldham. Gerow manages BRIC's Media Arts Fellowship, BRICworkspace Residency, and BRIC ArtFP. She has sat on panel reviews for residencies and fellowships at Wave Hill, Dieu Donné, and Sugar Hill Children's Museum. She has taken part in studio visits for residencies at Trestle Gallery, Smack Mellon, as well as portfolio reviews at the Pratt Institute and Maryland College of the Arts.
This program is made possible with support from The Trust for Mutual Understanding.