Talks | Jun 10 2021 2:00pm
RU TALK: Shared Threads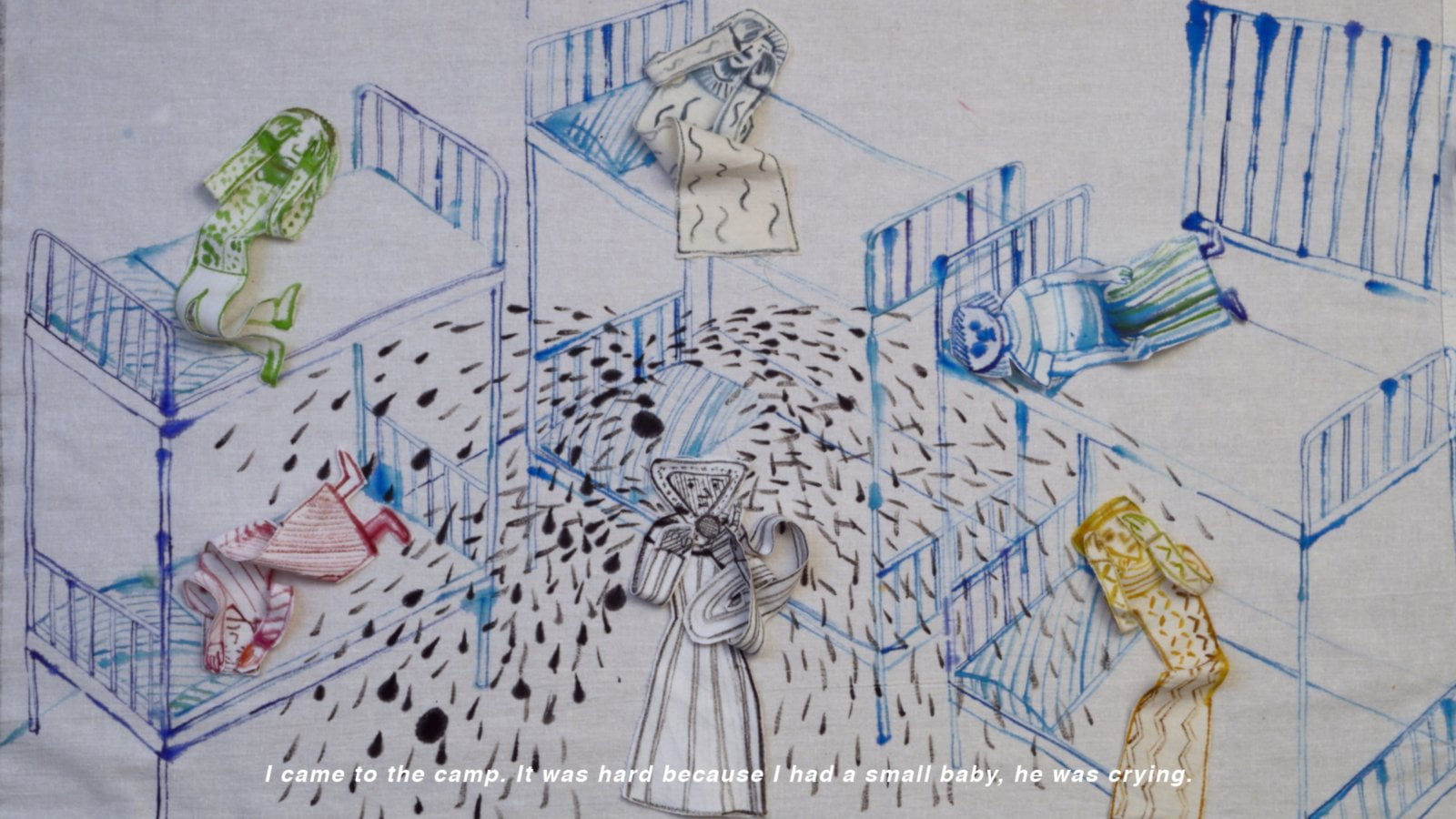 Daniela Krajčová. Still from FAR TACTION, 2021. Animation, drawing with ink on textile. Courtesy of the artist.
Virtual talk
Thursday, June 10 at 2pm New York (EDT) / 8pm Bratislava (CEST) / 11am Seattle PDT / Cedar Rapids CDT 1pm
Watch the talk below.  
In this program, Daniela Krajčová will present her recent animations and textile-based works as well as early participatory projects with immigrants, asylum seekers and Roma children. Employing a variety of methods – from sand drawing animation to specially equipped caravans, Krajčova's poignant visualizations of oral histories re-inscribe the voices of marginalized and isolated community members into collective memory and current socio-political landscape. During this program, the artist will share excerpts from her animated films that explore personal histories related to Jewish heritage in Slovakia (Salamanders, 2013), memories of collectivization in the 1950s (Self-supply ration, 2015), and the present labor migration of Slovak geriatric care workers to Austria (Nach Wien, 2018).
With Janeil Engelstad, whose long-standing interest in the region goes back to her teaching at the Academy of Fine Arts and Design in Bratislava as a Fulbright Scholar in 2006, Krajčová will discuss the importance of igniting creative collaborations within communities. Together with Lilia Kudelia and Lucia Gavulová, Krajčová will present her recent experimentations with bed sheets and children's clothing and her take on childrearing as an inalienable mode of reflection that runs parallel to her creative practice.
About
Daniela Krajčová:
Based in Bratislava (Slovakia), Daniela Krajčová is the winner of the 2020 Oskár Čepan Award. Krajčová's socially engaged art projects, experimental documentaries and animation works trace the stories of refugees in Slovakia, visualize oral histories of minority groups, and lay bare the experience of women and mothers in society. Her work was exhibited at Kunsthalle Bratislava, Slovak National Gallery, the 6th Prague Biennale, the 13th Venice Biennale of Architecture, and various venues in Hungary, France, Slovenia, Estonia, Albania, and Mexico. She received an MFA in Animation from the Academy of Performing Arts (2010) and a PhD from the Academy of Fine Arts and Design (2012) in Bratislava. Krajčová was the artist in residence at Museums Quartier in Vienna, Visual Kontakt in Oradea, Romania, and most recently with a virtual residency at Residency Unlimited in New York.
Janeil Engelstad is the Founding Director of MAP - Make Art with Purpose, an organization that produces projects at the intersection of art and other disciplines including science, technology, education, and social justice activist. Collaboratively and independently, Engelstad has produced exhibitions and multiform projects throughout the world. Her creative practice and community advocacy work often dovetail into projects that address political, social, and environmental concerns through writing and the visual arts.
Lucia Gavulová is the Curator for Collections of Modern and Contemporary Art at the Slovak National Gallery. She manages the Oskár Čepan Award, an annual prize for Slovak visual artists under the age of 40 organized by the Foundation – Center for Contemporary Art.  In September 2021, Gavulová will come to New York for a month-long residency at RU.
Lilia Kudelia is a curator and art historian whose research focuses on the visual arts in the post-communist states and the intersection of art and technology. In 2017 Kudelia co-curated the Ukrainian National Pavilion at the 57th Venice Biennale that featured work by photographer Boris Mikhailov. From 2015-2018 she was the assistant curator at Dallas Contemporary in Dallas, Texas where she curated exhibitions by Keer Tanchak, art-duo Synchrodogs, Chim↑Pom collective, and a group project Invisible Cities: Moving Images from Asia organized in collaboration with the Moving Image Archive for Contemporary Art, Hong Kong and Crow Collection of Asian Art in Dallas. As Guest curator at RU, Lilia focuses on the Young Visual Artists Awards program (YVAA), a network of twelve national awards that provide young artists from Eastern, Central and Southern Europe with a two month residency at RU since 2015.
This program is made possible with support from The Trust for Mutual Understanding and is also supported by public funds from the New York City Department of Cultural Affairs in partnership with the City Council. We are also grateful for the participation of Make Art with Purpose and promotion by the National Czech & Slovak Museum & Library in Cedar Rapids, Iowa.