Exhibition | Nov 3 2019 2-7 pm
RU Exhibition: RECLAMATION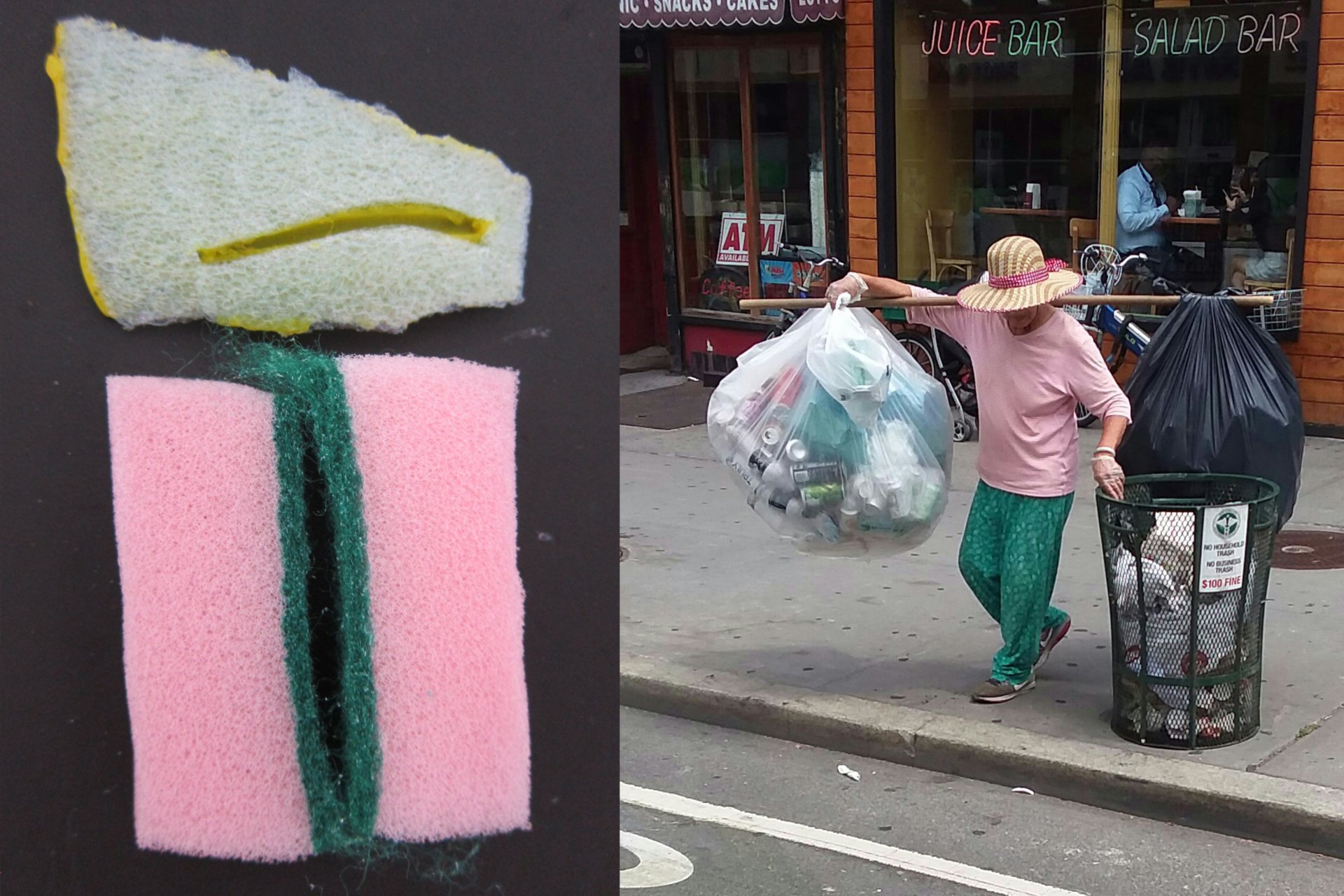 Judith Leinen Watch the Gap (2019 ongoing) Sculpture/Installation Judith Leinen and VG Bildkunst
Opening reception: Sunday, November 3, 2 - 7 pm
On view: November  6 - 10, 2019
Location: Compère Collective, 351 Van Brunt St, Brooklyn
Hours: 12 - 6pm
Curated by Anna Cahn for Residency Unlimited
Reclamation is a group exhibition of works by Residency Unlimited's artists in residence, Ahmed Alasad, Mariam Alnoaimi, Elsie Kagan, Judith Leinen, and Ran Zhou. This group of international artists presents a range of multi-media practices including painting, photography, collage, video, and installation. The artists are united by their use of reclaimed images, spaces, and materials, empowering them to speak to larger questions of identity, urbanization, and public and private spaces.
Ahmed Alasad and Elsie Kagan's practices are rooted in painting. Although their works are grounded in a language of tradition and symbolism, they reclaim various art histories -- connecting them with contemporary ideas of identity and politics. For the show, Alasad has created new paintings, continuing in the style of his dark and deeply saturated portraits of archetypal figures of war and corruption. Kagan's monumental, yet intimate, religious imagery (such as her mother and child figures), abstracts and extends the idea of contemporary motherhood. She has included new paintings, decreation, has-been, is-being, and will-be, which continue her exploration of this theme. Both artists reclaim images of horror and beauty, while resisting the art historical canons of normality, symmetry, and formalism.
Mariam Alnoaimi, Judith Leinen, and Ran Zhou have created new installations for the show which question various systems of public and private order. Alnoaimi's multi-media practice considers ideas of urbanization, privatization, and public space. With a series of collages and videos, she has extended her investigation of restrictive spaces from her native country of Bahrain to New York City.
Leinen similarly constructs a dialogue that challenges systems of order. Materiality is a key concept in her practice and is presented in her new project, Watch the Gap (2019 ongoing). Throughout her work, she uses reclaimed materials, objects, and images to examine and disrupt the binary systems of communication that we encounter every day.
Zhou presents a new series of work entitled, Ant-bed, which explores ideas of homogeny and consumerism in educational systems. Using reclaimed factory-made dolls and furniture, her installation continues her practice of rethinking regulated institutions and cognitive spaces such as factories, classrooms, maps, and the internet.
These artists are shown together for the first time as part of Residency Unlimited's ongoing devotion to emerging international artists.
Anna Cahn is a curator and writer based in New York City. She is particularly interested in the intersection of performance and interdisciplinary media in contemporary artistic practice. She is currently a curatorial assistant at the Rubin Museum of Art where she has curated performances and artists' talks such as the Refiguring the Future series. Her writing has appeared in Hyperallergic, and Spiral Magazine. She received her BA from Clark University and an MA in Art History from the City College of New York.
....................
Compère Collective's Mission
Compère Collective's mission is to nurture and host diverse artistic practice and thoughtful dialogue; understanding that art should be used as a catalyst for critical thinking. We are not just hosts, but connectors.  We place great significance and value on the human interaction and connection that art makes possible, and see our role not just to provide space, but also to help establish connections between people, art, and ideas. Similarly, we value the integrity of the artistic process and the link that personal expression has to a broader understanding and respect of social contexts. The exhibition space is intimate and capable of showcasing a rich variety of media, which have included all the traditional formats, from painting and performance to facilitate discussion and dance. We relish the freedom this space provides for artists, collaborators, and curators— to reinvent what "gallery" can mean, artistically, conceptually and as a force within the community.
Compère Collective was founded by Victoria Alexander, owner of Red Hook's Realty Collective. Victoria's boutique real estate firm in Brooklyn celebrates the borough's rich history, architecture, culture, and people. You will often see the word "passionate" when describing the way her collective of real estate agents feels towards the place they live and work.  Located in the culturally and artistically rich neighborhood of Red Hook Brooklyn, Compère Collective strives to do the same and has hosted a diverse set of exhibitions, events, and artists since opening its doors in 2011.
About Realty Collective 
Realty Collective is a local woman-owned company that works to transform people's experience of what is possible in Brooklyn real estate. They believe every rental or sales transaction should bring connection, confidence, and prosperity to individuals that live, work, and create in the diverse communities of Brooklyn facing the future together. Realty Collective agents are not only professional neighborhood experts but also designers, artists, dancers, producers, photographers, musicians, filmmakers, and writers. They understand a home is more than just square footage but a place to create, reflect and support who we are. Their team of talented women and men are proud to work for a company that is passionate about Brooklyn and actively engages within their neighborhoods.
...................................................................................................................................................................................
This exhibition is made possible with generous support from the Cultural Development Fund, NYC Department of Cultural Affairs, Stiftung Rheinland-Pfalz für Kultur,  Künstlerhaus Schloss Balmoral and Art Select, a Bahrain based art advisory dealing in consulting and creating artist platforms, art events, and investor art portfolios.