Talks | Apr 13 2015 7PM
Residence Hopping: A Curatorial Affair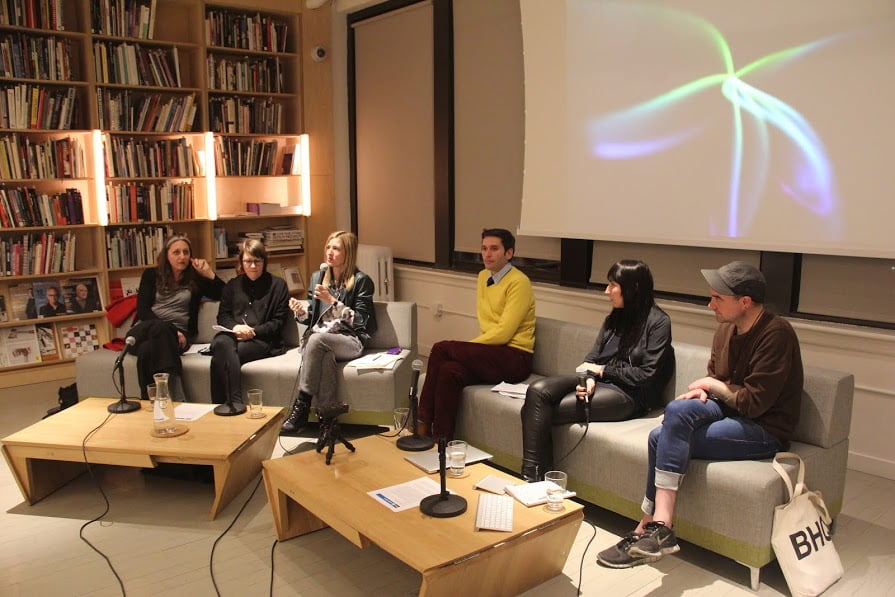 A panel discussion organized by MA Curatorial Practice in collaboration with Residency Unlimited
April 13, 7PM
MACP, 132 West 21st Street, 10th Floor
New York, NY 10011
Hosted at CP Projects Space of the MA Curatorial Practice program, a panel discussion on the state of curatorial affairs in artist residencies with Claudia Cannizzaro of Art Omi, Sean J Patrick Carney of BHQFU, Agnieszka Kurant artist, and Laurel Ptak of Triangle Arts Residency. Moderated by Bosko Boskovic of Residency Unlimited and Jovana Stokic Deputy Chair of MA Curatorial Practice.
This panel will bring together four different perspectives on the state of curatorial affairs in artist residency programs in New York City and beyond.  In the current art economy, there have been many accelerating pressures for the creative forces to create cultural capital by utilizing artist residencies as a point not only of retreat and creation but also of extreme promotions. When networking  overshadows translation and exchange, the role of the curator is multiplied, problematized, compromised and jeopardized. How does this circulation of artworks and artists' bodies relate to curatorial actions?  The ever-expanding art world sees the expansion in the hybridity of the types and expectations of residencies as institutions. Where does this leave the curator? Apart from curatorial residencies  (eloquently discussed recently by our colleagues' panel at Goethe-Institute  entitled On Curatorial Residencies, in May 2011), we are set to ask a series of questions that concern curatorial agency, responsibility, ethical integrity on one side, and the aesthetic choices and affects on the other. What are the spaces and realms of curating within the residency format? What are the pressured expectations for curators' who are visiting residencies? How do artists react within curatorial directions when in residencies?  Do residencies need in-house curators? How can curators-in-residence meaningfully participate in the exchanges of artistic knowledge? Is there a fallacy in trying to organize exhibitions within residencies to raise the visibility of artists by asking curators  to do group shows? What are the possibilities of curating shows within residencies?
Biographies:
Boshko Boskovic is the program director of Residency Unlimited, an residency program for local and international artists and curators located in Brooklyn, New York. He is interested in interpreting curatorial trajectories and analyzing the role and function of other cultures, their hierarchy and implications in the art world system. Boskovic's curatorial practice is concerned with rethinking the common perception of the art world as a coherent, univocal system centered in New York. He has curated numerous exhibitions in the U.S. and abroad.
Claudia Cannizzaro has been involved in the non-profit art world since she arrived in New York City in 1997. Prior to her post as program director at Art Omi, she worked in various capacities at Civitella Ranieri Foundation, apexart, the American Academy in Rome, Artists Space, and Independent Curators International. In 2013 she co-founded Akrai Residency, a multidisciplinary residency program in her native Sicily. The program facilitates interaction among fellow residents and the local community. Residency programs for creative professionals are both her interest and expertise. She has consulted with many young organizations about practical and philosophical matters of founding non-profits organizations to support the work of creative professionals, and she has lectured in many countries on how to successfully getting a program started.
Sean J Patrick Carney is a concrete comedian and writer based in Brooklyn, New York. He is the founder and director of Social Malpractice Publishing, and a member of Bruce High Quality Foundation University. His works and performances have been exhibited at multiple institutions including the Geffen Contemporary at MOCA Los Angeles; the Banff Centre, Canada; Hyde Park Art Center, Chicago; Printed Matter, Inc, New York; and the 2009 Amsterdam Biennale.
Agnieszka Kurant, born in Poland, currently lives and works in New York City. She studied in Lodz, Warsaw, and London, and completed residencies at Palais de Tokyo in Paris (2004), ISCP in New York (2005), Paul Klee Center in Bern (2009), Location One in New York (2012), and Iaspis in Stockholm (2013). In 2009 she was shortlisted for the International Henkel Art Award at the Museum of Modern Art (MUMOK) in Vienna.  Among her exhibitions, the artist represented Poland at the Venice Biennale 12th International Architecture Exhibition (in collaboration with the architect Aleksandra Wasilkowska) with a pavilion presentation entitled Emergency Exit (2010).  In 2013-2014, she presented her first major exhibition in New York at the Sculpture Center entitled exformation, which was also shown at Stroom Den Haag in the Netherlands.  Her work has been exhibited at MoMA/PS1 in Long Island City (2013), Witte de With in Rotterdam (2011), Palais de Tokyo in Paris (2004), Tate Modern in London (2006), and Zachęta National Gallery of Art in Warsaw (2009), Performa Biennial in New York (2013 & 2009), Moscow Biennale (2007), Bucharest Biennale (2008), and 2nd Ural Biennial (2012).
Laurel Ptak is director and curator of Triangle Arts Association, a 33-year-old artist-founded residency program in New York City within an international network of arts organizations around the world. She is also co-founder of Rethinking Residencies, a working group of eleven New York-based artist residency programs whose members share knowledge and resources, while cultivating critical thinking and discourse about residencies. Ptak holds an MA from the Center For Curatorial Studies at Bard College and teaches at the New School. She is a former curator of Tensta Konsthall in Stockholm, co-editor of the book Undoing Property? (Sternberg Press, 2013), and was named a 2014 Leader Global Thinker for her curatorial work. Currently, she is at work transforming Triangle into a revitalized institution that actively rethinks the site of artistic production and wonders what an artist residency can be in the year 2015.
Jovana Stokic is a Belgrade-born, New York-based art historian and curator. She holds a PhD from the Institute of Fine Arts, New York University. Her essay, "The Art of Marina Abramovic: Leaving the Balkans, Entering the Other Side" appeared in the catalogue for The Artist Is Present (2010) at the Museum of Modern Art, New York. Stokic was a fellow at the New Museum of Contemporary Art, New York; a researcher at the Whitney Museum of American Art, New York; the curator of the Kimmel Center Galleries, New York University; and the performance curator at Location One, New York. She has taught art history at New York University, Fashion Institute of Technology, and is also on the faculty of the MFA Art Practice at the School of Visual Arts. Stokic is deputy chair, MA Curatorial Practice at SVA.