Exhibition | Oct 23 2020 , sunrise to sunset
Performance: X-Agent Destroy Monster Regimes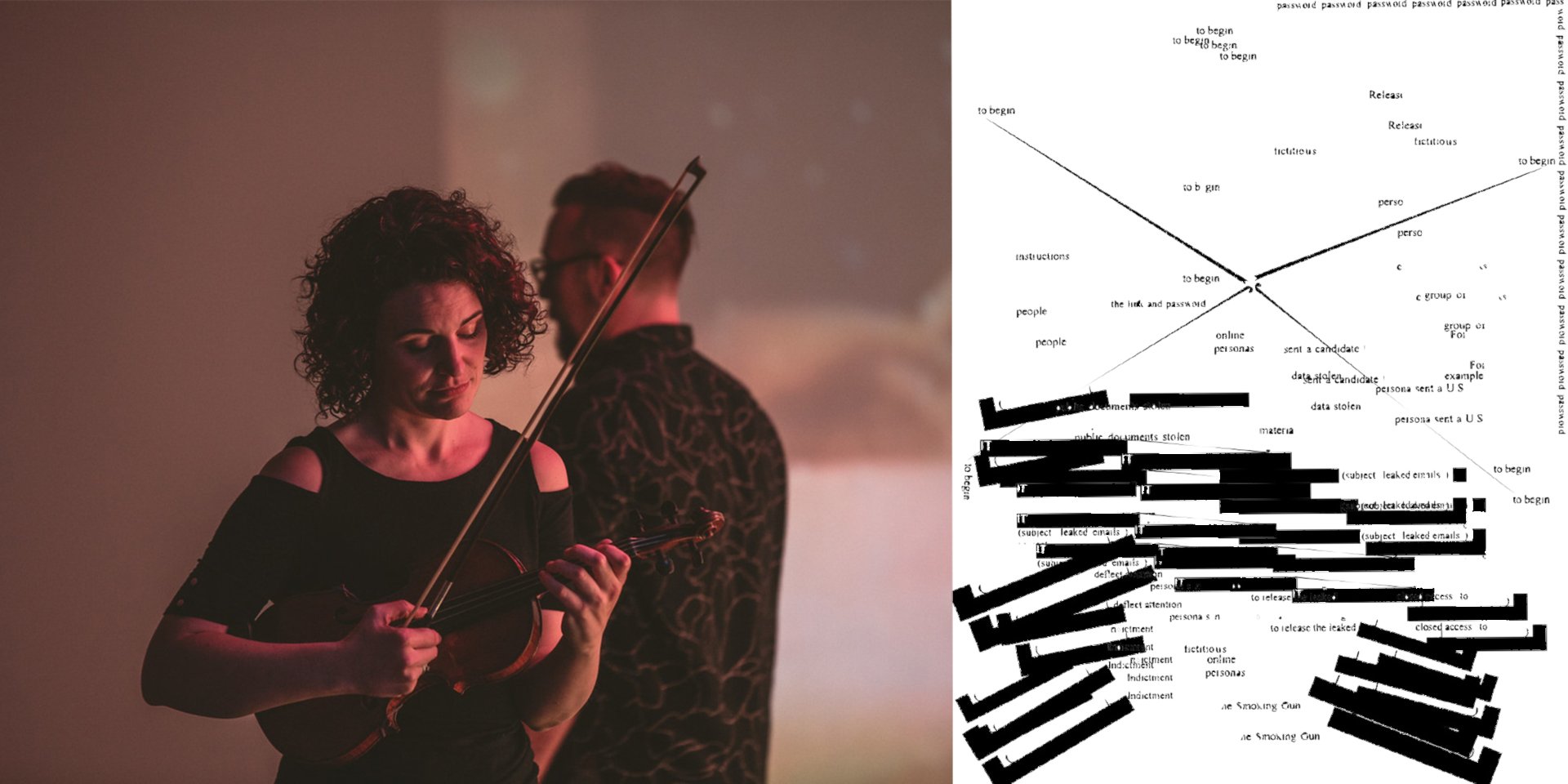 Images courtesy of Ben Semisch & Anthony Hawley.
X Agent Destroy Monster Regimes
Created by The Afield (Anthony Hawley & Rebecca Fischer)
Friday, October 23, 2020, from sunrise to sunset
Residency Unlimited
360 Court St, #4 (enter the Church through the main entrance)
Brooklyn, NY 11231
X-Agent Destroy Monster Regimes is a multimedia performance work and web project produced with remixed text and redactions from the Mueller Report, created by The Afield—a performance collaboration between visual artist/writer Anthony Hawley and violinist Rebecca Fischer
The project premieres Friday, October 23rd at Residency Unlimited in Brooklyn, NY, just before the pivotal 2020 American elections. Beginning at sunrise, performances for small groups of socially-distanced audience members of 8 will occur incrementally throughout the day for 25-30 minutes at a time until sundown.
Watch the recorded performance below.

In this time of the global pandemic, urgent political upheaval, and deep historical reckoning, X-Agent Destroy Monster Regimes explores issues of misinformation distribution, technocratic power, and populism's linguistic appeal to melodramatic narratives. At the heart of the project is a 12-part libretto/graphic score using text and redacted shapes remixed from the first half of the Report. Each section comprises a different movement of the work, engaging eclectic genres, moods, and modes. The live performance will feature several performers, video projections, live and pre-recorded sound, sculptural interventions, all flanked by over-sized pages from the libretto. The larger performance piece loosely follows the narrative of Russian interference in US elections and social media from 2014-16 focusing on a fictionalized persona X-Agent—-whose name comes from the tool Russians used to hack DNC computers—-but ends with a call to action against "monster regimes."
Performances will also be streamed online at the project's web component, http://www.destroymonsterregimes.com, a net hub containing various "rooms," which will continue to grow in future months. Designed with early internet graphics and text-adventure video games in mind, the hub will be a place where people can engage in research, play games, request absentee ballot requests, buy redaction paraphernalia, and other activities. Both serious and sardonic in spirit, these rooms simultaneously channel the probing nature of the report as well as the histrionic stories of thuggery, questionable under-the-table dealings between Russia and the US, and the many fictitious personas and facts the report studies. The virtual component of X-Agent Destroy Monster Regimes will go live on October 23rd.
The Afield is a collaboration between visual artist/writer Anthony Hawley and violinist Rebecca Fischer, combining new and original compositions for violin, voice, and electronics with video and other media. The Afield has performed and created original works in a variety of sites including the Harare International Festival of the Arts in Zimbabwe, Brooklyn's National Sawdust, the North Dakota Museum of Art, Boston University, and KANEKO in Omaha. The Afield has commissioned composers such as Byron Au Yong, Paola Prestini, Mathew Fuerst, Lisa Bielawa, and more. Committed to inspiring the larger community through artistic and civic engagement, The Afield served for two years as Artists-in-Residence at Aster Montessori School in Cambridge, MA, and has given workshops around the world through The Afield School, an artist-led, mobile, pop-up interdisciplinary arts experience.
Praised for her "beautiful tone and nuanced phrasing" (Boston Musical Intelligencer), violinist Rebecca Fischer is sought after as a highly expressive, intuitive performer of solo, chamber music, and chamber orchestra repertoire. First-violinist of the Chiara String Quartet for eighteen years until the group's final season in 2018, she recorded and performed numerous works by heart, held residencies at the Metropolitan Museum of Art and Harvard University, and premiered many major new works by composers such as Philip Glass and Gabriela Lena Frank. Fisher is the concertmaster of Ensemble Baroklyn, and presents compelling programs of solo violin and singing violinist music. Recent solo recital engagements include Columbia University's Miller Theater Pop-Up series, The Stone, and the University of Oregon. Fischer teaches at the Mannes School of Music and serves as the Associate Director of Greenwood Music Camp in western Massachusetts. She holds degrees from Columbia University and The Juilliard School and is currently writing a book of essays.
Anthony Hawley is a visual artist and writer. His films and solo exhibitions have been presented by the Guggenheim Museum's Works & Process series, Aurora Picture Show in partnership with the Menil Collection & CounterCurrent, Vox Populi Gallery (Philadelphia), Spazju Kreattiv in Valletta, Malta, the Salina Art Center (Kansas) and others. His writings on film and video appear in The Brooklyn Rail, Artforum online, art-agenda, Hyperallergic, Frieze, and BOMB. Hawley's poems have been published widely in publications including Verse, Denver Quarterly, The Paris Review, and The Colorado Review. He is the author of two full-length collections of poetry The Concerto Form (2004) and Forget Reading (2006) as well as several chapbooks published by Ugly Duckling Presse, Counterpath Press, and others. Hawley holds degrees from Columbia University and the School of Visual Arts and teaches in the Hunter MFA Studio Art program and at SVA.

This program is supported, in part, by public funds from the New York City Department of Cultural Affairs in partnership with the City Council.