Activities | Jul 22 2023 11:00am - 2:00pm
Paint for Me! by Tomoko Hisamatsu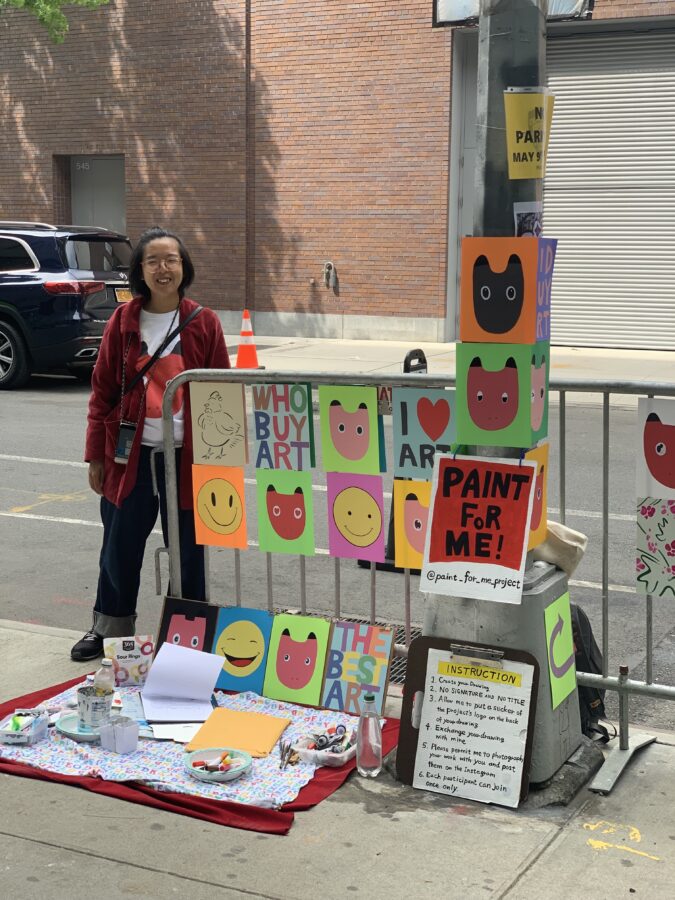 Tomoko Hisamatsu, "Paint for Me!", 2023
Saturday July 22, 2023 | 11:00am-2:00pm
KODA/RU House, #404B Colonels Row | Click here for access to Governors Island
This program will take place outside KODA/RU House
Click here to view the online brochure
"Paint for Me!" is a communicative performance + workshop by RU artist Tomoko Hisamatsu that investigates strategies for the distribution of artwork without the transactional use of money. For this event, the artist will display her drawings and art materials and invite the public to interact with these items. At the same time the public will be encouraged to make their own art works, resulting in a bartering process between both parties. There are rules however to follow, such as no signature and no title allowed on the artworks, to highlight how value and equality are at play and can possibly be re-negotiated.
Several iterations of "Paint for Me!" have been held by the artist in the City both indoors and outdoors, including NADA Flea and in the Chelsea district during New York Art Week in 2023.
Everyone is invited to join!
Click below to see images from the workshop
About
Tomoko Hisamatsu is a painter based in Saitama, Japan and currently residing in Brooklyn, NY. Hisamatsu is a figurative painter whose works are based on research and personal experience. In recent years, she uses drawing as an interactive and performative tool for engaging with the community. Recent shows include Urban Ecology hosted by SAPAR Contemporary, New York; NADiff a/p/a/r/t , Tokyo; Mitsukoshi Contemporary Gallery, Tokyo; Ohara Museum of Art, Kurashiki, Japan, among others.
This program benefits from the support of the Grants for Overseas Study by Young Artists, POLA Art Foundation.