Talks | Sep 6 2016 6:30pm
13 Presidents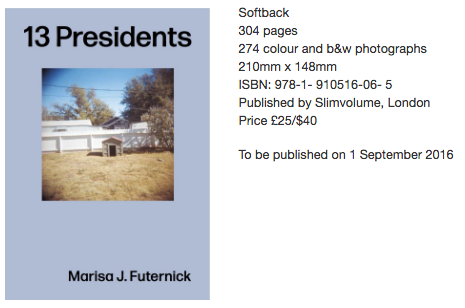 Launching a new book, artist Marisa J. Futernick will be in conversation with curator Emma Enderby (Public Art Fund and Rice + Toye).
Tuesday, September 6, 2016
6:30pm (free and open to the public)
Residency Unlimited (RU)
360 Court Street (enter the Church through the main entrance)
Brooklyn, NY 11231
In 2014, Marisa J. Futernick drove nearly ten thousand miles across America, visiting all thirteen of the country's Presidential libraries along the way. 13 Presidents is the result: an artist's book that combines photographs from the journey with a suite of short stories. Mixing fact and fiction, each President from Herbert Hoover to George W. Bush is a protagonist in this collection of unexpected portraits.
The photographs, shot on analogue film, depict the everyday details of the towns that these men are from, including the homes where they were born, and their final resting places. 13 Presidents weaves together personal narrative with wider cultural observation, forming a vision of America that is both invented and true.
Audio:
Images:
--
Marisa J. Futernick is an artist and writer based in London. She was born in Detroit, Michigan and raised in Hartford, Connecticut. Futernick has published several books, including How I Taught Umberto Eco to Love the Bomb (RA Editions and California Fever Press, 2015) and The Watergate Complex (Rice + Toye, 2015). She has exhibited widely, at venues including the Whitechapel Gallery, London; Royal Academy of Arts, London; Jerwood Space, London; Arnolfini, Bristol, England; and Yale University.
13 Presidents is published by Slimvolume in September 2016.