Talks | Nov 22 2023 6:00pm
Living with toxicity: A show and tell with Jelena Micić and Heather Davis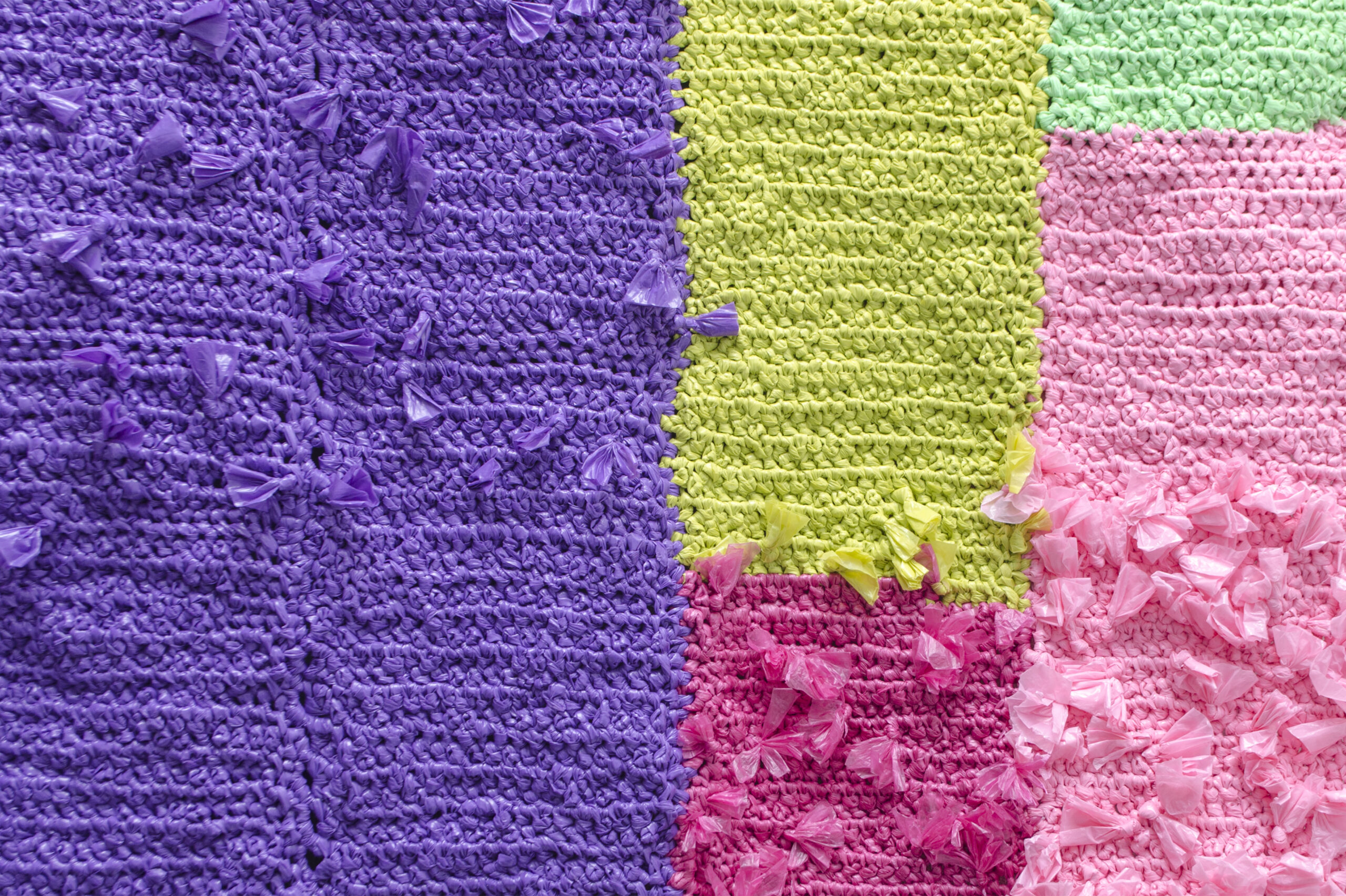 "Heart is on the left" (detail). From the series "Plastik ist plastisch". 2021/2022. Garbage bags. ~ 80 x 80 cm (5,295m3) ©Jelena Micić
Wednesday November 22, 2023 | 6:00pm
Location: Residency Unlimited
360 Court Street (main green church doors), Brooklyn NY 11231 (map)
The worlds of art, representation, and imagination now rest on plastic and oil as their basic substrate… [Plastic] is the voice or the agency of those long-dead plants and animals returned to be a lively presence in the world.
— Heather Davis, Plastic Matter (Duke University Press, 2022)
Plastic as an effect of the human-initiated environmentally-threatening actions is constantly facing new regulative measures for its production and distribution. The consumption is regulated through bans of the top ten single-use plastic products, and most recently introduction of the tethered caps. Even though the origin of the plastic could not be located, one could draw a (constantly shifting) geo-political map of the plastic grip q-tip availability and mark the historical time of such changes.
Living with toxicity is non-consensual. From plastic packaging, to cleaning agents, color catcher papers to industrial waste. The practice of accumulation and structuring of the ambivalent material reveals the ways in which one is (un)willingly involved. The exchange will be presented in the form of a work and process demonstration, tracing material politics, revealing industrial patterns, generational relations with specific material and techniques, as well as the underlying migrant labor conditions maintaining oppressive infrastructures.
Works by Jelena Micić will also be on view at this occasion.
About
Heather Davis is an assistant professor of Culture and Media at The New School in New York whose work draws on feminist and queer theory to examine ecology, materiality, and contemporary art in the context of settler colonialism. Her most recent book, Plastic Matter (Duke University Press, 2022), explores the transformation of geology, media, and bodies in light of plastic's saturation. Davis is a member of the Synthetic Collective, an interdisciplinary team of scientists, humanities scholars, and artists, who investigate and make visible plastic pollution in the Great Lakes. She was the co-curator of Plastic Entanglements: Ecology, Aesthetics, Materials (on view at the Palmer Museum of Art, the Jordan Schnitzer Museum of Art, Smith College and the Chazen Museum of Art, 2018-2020).
Click here for full bio.
Jelena Micić lives and works in Vienna as an artist and artistic director of the WIENWOCHE festival for art and activism. She is also the board member of D/Arts - Project Office for Diversity and Urban Dialogue in Austria and co-founder of the informal group UMETNIK*. Her artistic practice includes ready-made installations and in situ interventions exploring the socio-political aspects of color (systems). She received the Ö1 Talentestipendium Bildende Kunst scholarship (2018), and the kültüř gemma! Fellowship (2018). Jelena Micić is the winner of the 2021 Dimitrije Bašičević Mangelos Award.
Click here for full bio.
This program benefits from the support of The Trust for Mutual Understanding.