Talks | Feb 8 2017 6:30pm
Antipodes by Brandstifter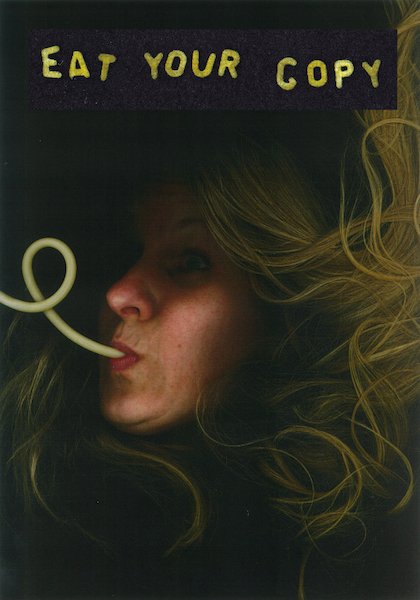 Wednesday, February 8, 2017
6:30pm (free and open to the public)
Residency Unlimited (RU)
360 Court Street (enter the Church through the main entrance)
Brooklyn, NY 11231
Interdisciplinary artist Brandstifter presents the process behind his collaborative series ANTIPODES and artists' publications realized since 2014.On view is the poster edition EAT YOUR COPY (antipodes VIII) by Andrea Esswein & Brandstifter guided by a soundinstallation with soundpoetry by John M. Bennett & Catherine Merl Bennett. The public is invited to bring their own fanzines to the event.
The ANTIPODES artistcollabs is realized by Brandstifter and his global artists network. For each issue, artists send each other back and forth handmade originals-  analogue or digital collages, overpaintings,  Photocopy Art Xerographies by snail mail (as mail art) or web transfer-  till completion. Brandstifter scans and selects the material, does the layout of each publication  which he prints with a vintage laser copy printer in an edition of 100 on ivory paper. Some editions have a CD with experimental music and sound poetry. So far there are thirteen hand numbered editions of ANTIPODES. Authors: Reed Altemus (Portland, Maine), Hartmut Andryczuk (Berlin), Allan Bealy (Brooklyn, NY), John M. Bennett (Columbus, Ohio), Brandstifter (Mainz), Oliver Breitenstein (Muenster), Thomas M. Cassidy (St. Paul, Minnesota) Andrea Esswein (Wiesbaden), Ficus strangulensis (USA), Luc Fierens (Werde, Belgium), Stephan Flommersfeld (Woellstein) horstundireneschmitt (Mainz), Klaus Harth (Merchweiler), KRD hundefaenger (Sigmaringen), Inox Kapell (Berlin), Franz Konter (Frankfurt), Jürgen O. Olbrich (Kassel), Tanja Roolfs (Mainz). The ANTIPODES is available since 2016 at Printed Matter, New York.
--
Brandstifter is an interdisciplinary conceptual artist, performer and experimental musician from Mainz, Germany, In 2009 he was the very first artist in residence at Residency Unlimited in a joint partnership with Flux Factory. During his residency he conducted The Social Plastic in a space provided by No Longer Empty in LES. In New York, he has exhibited with Central Booking Gallery and participated in international experimental music projects. His publications are in the collection of the Museum of Modern Art Library and Archives, The Sackner Archive of Visual and Concrete Poetry, Miami and the Archive Artist Publications.