Exhibition | Nov 13 2013 6:30 PM
50.0833° A, 14.4167° V 40.6700° Z, 73.9400° F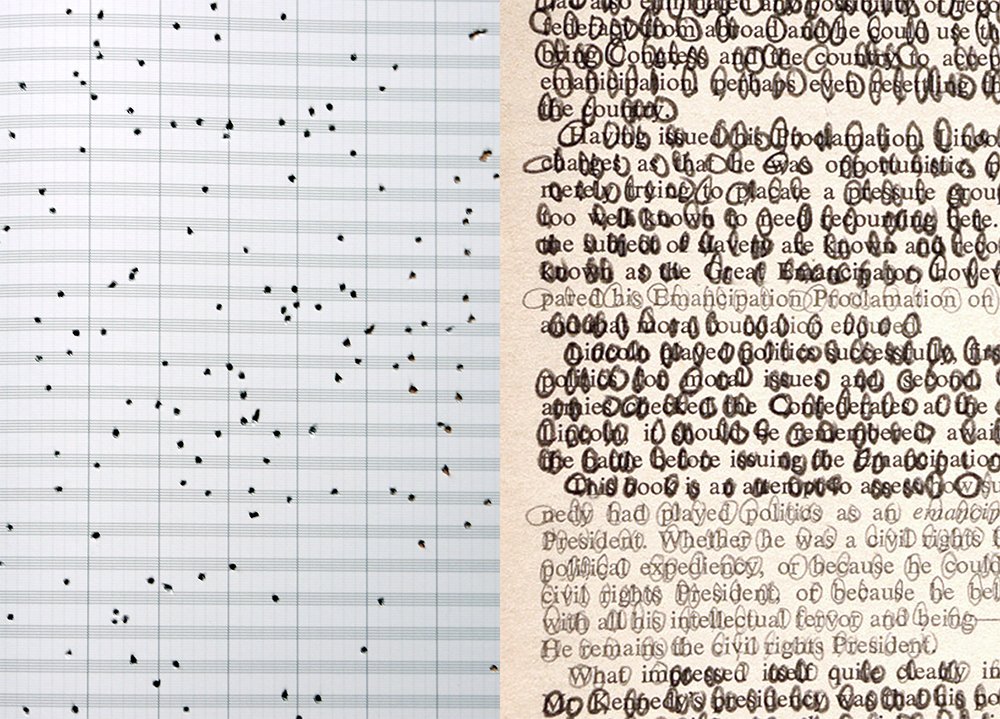 Detail from Concerto for a shotgun, Mr. Kennedy and the Negroes. Adam Vackar (left) and Zach Fabri (right), 2013
An exhibition of new work by Zachary Fabri and Adam Vačkář upon a proposal by Nathalie Anglès.
Wednesday November 13th, 2013
6:30 - 8:30pm – Free and open to the public
Czech Center New York
at the Bohemian National Hall (between 1st and 2nd Avenue)
321 E 73rd Street, New York, NY 10021
50.0833° A, 14.4167° V 40.6700° Z, 73.9400° F opens a paradoxical space of dialogue between Adam Vačkář and Zachary Fabri. Designed by the artists, the title of the show combines their initials with the GPS coordinates of the cities of Prague and New York where they are respectively based. Invited to come up with a "collaborative project" within a very short time frame, Fabri and Vačkář bypass the quasi exhausted territory of "collaboration" by instigating an intuitive and playful approach that lays bare the vibrancy of first encounter. Early on, preliminary notions of "space, molecules, micro cosmos, black holes, trains, space travel, worm holes, monetary value, goods, systems critique and exchange of identities" traverse their discussions.
Most of the works on view are realized specifically for this show and illustrate the immediacy of their process. On the night of the opening, Fabri and Vačkář will conduct a performative walk that sets the tone of their dialogue. Two large video projections by each artist face each other in the space and are connected with black rope covered with triangular black flags. 50.0833° A, 14.4167° V 40.6700° Z, 73.9400° F is formally constructed through the color black, which resonates differently for each artist. For Fabri, it bridges the space between political and metaphysical dialogues. For Vackar it is a color of a serious and deeper understanding of anarchy.
In his video, Vačkář drinks a bottle of Coca-Cola, whistles in the bottle in a disturbing way and then urinates in it, thus completing the whole body cycle. The drink is literally "affecting the mind on its way throughout the body", and shifts the consumptive character of the consumerism's icon, culturally rather then physically. In another installation, he reinforces this sense of malaise and discordance with a set of children's wooden blocs configured to reference the Rockefeller Center building in Manhattan that was, according to documentation, designed by a group of architects and developers with models not very different from children toys. As an impression from New York City's organic and intense structure, these wooden blocks are covered with black fingerprints, which refer to the customs border check methods.
For his part, Fabri creates an obscure vocal score by singing the vowels from a page in the book "Mr. Kennedy and the Negroes" (see image). This book, written by historian and journalist Harry Golden (1964), traces the U.S civil rights movement from its beginnings in the 1890's until President Kennedy and his active involvement. This work uses a social and political narrative from the 60's, and updates it into a new form. Ultimately, the work speaks to the recent racial tension and violence against Black folks during Barack Obama's presidency. For this occasion, Fabri also presents a new sculpture comprised of discarded chicken bones found in his neighborhood of Crown Heights and white dice. Bone divination and the dice game of craps and are combined to create a new complex game about chance, economics and the future of Black people. The sculpture can be seen as an autobiographical reference of an assortment of objects from the artist's childhood and current neighborhood.
More generally, the pretext for bringing Fabri and Vačkář together is a subjective one. Close in age, both artists have multicultural backgrounds and a foot in different cultures. In their practice, they use different media whilst placing an emphasis on video and performance but they also develop text based work, photography and installation. In parallel to creating spaces for discourse around political and societal issues, they develop more personalized spaces that explore idiosyncrasies of daily life. Adam's investigation into notions of new hierarchy in society stems from being born in Prague at a time when major political changes in regime and ideology occured, whilst Fabri's political engagement explores systems of oppression that often relate to race and class issues.
Adam Vackar's residency is made possible with support from the he Czech Center New York.

Bios:
Zachary Fabri
Born and raised in the United States, Zachary is half Jamaican and half Hungarian Zachary Fabri (1977) currently lives and works in Brooklyn. Fabri received a B.F.A. in Graphic Design at the New World School of the Arts in Miami, FL (2000) and an M.F.A. from Hunter College, New York, NY (2007). His work has been exhibited both nationally and internationally. Recent exhibitions include Fore, a group show featuring a new generation of artists of African descent at the Studio Museum in Harlem (2012) a residency at Wave Hill's Winter Workspace Program (2013). In 2012, Fabri had his first solo show at Third Streaming, NYC and a new commission at Real Art Ways, Hartford, CT. International venues include Sequences Real-time Festival, Reykjavik, Iceland; Nordic Biennale: Momentum, Moss, Norway; Gallery Open, Berlin; and El Museo del Barrio, New York, NY. He recently completed residencies in Belo Horizonte, Brazil, Berlin, Germany and at LMCC in New York, NY. Currently on exhibition is Radical Presence: Black Performance in Contemporary Art at the Studio Museum in Harlem.
For Performa 2013, Fabri is presenting a new performance interweaving physical movement, monologue and sound from the galleries of and at The Studio Museum in Harlem to 125th Street, just beyond the Museum's doors. This performance is part of the exhibition "Radical Presence: Black Performance in Contemporary Art" co-organized by Grey Art Gallery, NYU (September 10–December 7, 2013) and The Studio Museum in Harlem (November 14, 2013–March 9, 2014).
Adam Vačkář
Born in Czechoslovakia, Adam Vačkář is based between Prague and France, and also lived in Japan. He studied at the École Nationale Supérieure des Beaux-Arts, Paris (2001-2005) and the Academy of Applied Arts, Prague (2000-2001). Vačkář has shown his work in exhibitions around the world including at at Art Basel – Art Statements (2012) and Centre Pompidou, Metz, France (2010). In 2010, he participated in the Pavillon residency program at the Palais de Tokyo (Paris). Recent shows include "Rhythm in it. On rhythm in contemporary art: Aargauer Kusthaus, Aarau, Switzerland (2013), "How to tell a story", Depo, Istanbul, Turkey (2013), "Night on Earth: OG2 /" Kölnischer Kunstverein, Cologne, Germany (2012).
Galleries. He is represented by the Gandy Gallery in Bratislava and his work is in the permanent collections of FRAC Languedoc-Roussillon (France), S.M.A.K. (Ghent, Belgium) ; Maison Rouge – Fondation Antoine de Galbert (Paris, France) and Time Capsule Collection (Zürich, Switzerland).
Nathalie Anglès
Nathalie Anglès is co-founder and Executive Director of Residency Unlimited (RU), a New York based non profit arts organization that fosters customised residencies for artists and curators through strategic partnerships with collaborating institutions.ed non profit arts organization that fosters customised residencies for artists and curators through strategic partnerships with collaborating institutions.
RELATED: