Alumni News |
Jul, 2013
Paperwork – Alejandro Botubol, Philip Emde, & Yann Pocreau at Flux Factory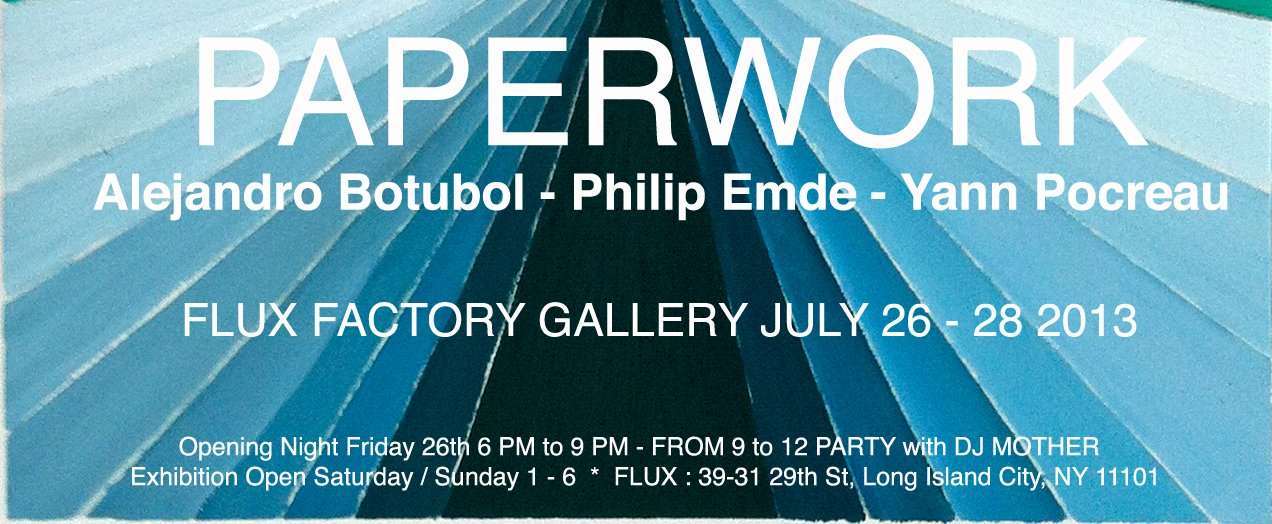 Under the title PAPERWORK, this exhibition brings together three artists exploring two dimensions work through drawing, photography and painting. Far from the "paper" in its current forms, the recent researches of Alejandro Botubol (Spain), Philip Emde (Germany) and Yann Pocreau (Canada) are intertwined in this exhibition for the benefit of a tri dimensional apprehension of 2D works, the interplay between lines and colors and the simple pleasure of art. 
This three-day event begins on Friday July 26th at 6 PM and will be followed at 9 pm by a party with the excellent
DJ MOTHER
, king of the turntables!
The artists will be present.
Come out and spread the word!
A SPECIAL THANK TO FLUX FACTORY, RESIDENCY UNLIMITED, SCHLOß BALMORAL AND SEBASTIEN SANZ DE SANTAMARIA
July 26th to July 28th
Opening Night and Party July 26th
Exhibition runs from 1 to 6 PM Saturday and Sunday
Visiting by subway: We are located on street level near several wheelchair-accessible subway stops.
7, N, and Q trains to Queensboro Plaza
E, M, and R trains to Queens Plaza
N and Q trains to 39th Ave
F train 21st St. Queensbridge
Visiting by bicycle: If you are riding from Manhattan over the Queensboro bridge, follow the bicycle path, and turn left onto our street, 29th Street. If you are riding from Brooklyn over the Pulaski bridge, used the shared bicycle/pedestrian path on the West side of the bridge. After reaching Queens, continue North on 11th Street, turn right on 44th drive, left on 23rd street, and pass under the Queensboro Bridge and turn right onto the bike path, then turn right on 29th Street. Avoid riding on Jackson Avenue or Queens Plaza South.
Visiting by car: Parking near Flux is very difficult – driving here is not recommended.
RELATED: