Press |
Jul, 2016
New Rochelle Downtown Artist Residency on Lohud.com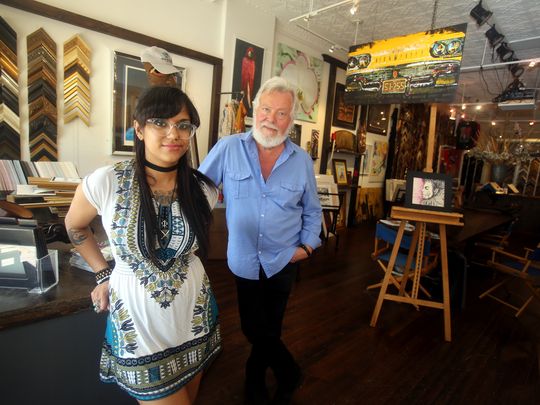 New Rochelle City Councilman Ivar Hyden with artist Maya Menon in Backstreet Gallery and Framing. (Photo: Seth Harrison/The Journal News)
NEW ROCHELLE - Andy Warhol once said that "making money is art and working is art and good business is the best art."
The city is counting on his being right, as it looks to create an arts and culture district to wake up a sleepy downtown by attracting businesses, people and activity.
Revenue is one byproduct of a lively arts scene, said ArtsWestchester CEO Janet Langsam. Another is an influx of visitors and new residents, particularly millennials.
"The arts become an attraction for millennials and for tourists. It can make residents more committed to their cities and proud of their environments," Langsam said. "The arts make cities into special places."
The arts are a major component of New Rochelle's 10-year makeover plan that will see restaurants, stores, hotels and 5,500 housing units rise in the downtown.
At the center of it all will be an 8,000-square-foot "black box" theater at the former Loews Theater site. The new venue will provide an adaptive performance space for plays, dance and music shows, along with movies, poetry slams and other cultural events. The theater is included in the proposal made by RDRXR, hired to be New Rochelle's master developer in the downtown overhaul.
...
RELATED: