Alumni News |
Oct, 2015
Maayan Sheleff curating two exhibitions at Manofim – Jerusalem Contemporary Art Festival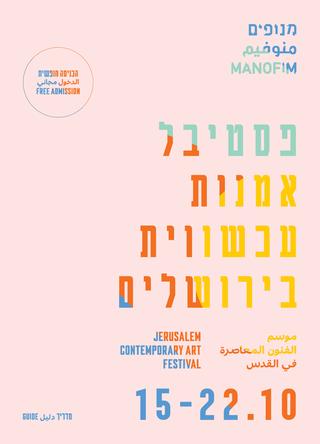 In the frame of Manofim - Jerusalem Contemporary Art Festival, Maayan Sheleff will curate two exhibition.
"2048 Voice Over":
A one night exhibition at HaMesila Park, under the Moshe Baram bridge by Beit Safafa's Community Center
Tuesday 20.10.15, 6pm-11pm
"Time to Lose":
Seline Baumgartners' solo exhibition will open at the Art Cube Artists Studios, with a live dance performance.
October 16.10.2015, 1pm
"2048 Voice Over"
Recently, we are witnessing a public atmosphere that dictates what one can and cannot say, and who is allowed to voice their opinions. The public sphere has become fragile and volatile, and art in the publich sphere, which by now seemed be taken for granted, almost a cliché, has become all of a sudden a threatening and precarious practice.
The exhibiton 2048 was planned initially for the Jerusalem Light Rail, a crowded, heterogeneous, and charged space. It was relocated due to concerns of the company operating the train, fearing from the public's critical and potentially violent reaction to the artworks.
The projects that you will see and hear for one night only, attempt to envision what the State of Israel will look like in its centennial year – 2048. The artistic ghost train at HaMesila Park, built on a railroad that used to transport trains to Damascus, will echo voices that are not heard and possibilities held in what is yet to come.
https://www.facebook.com/events/490745447754355/
"Time to Lose"
Seline (born in Zurich, currently works in NY), is participating in the Artist Studios international Residency Program.
She collected stories from residents of Jerusalem, and together with local dancers, they were adapted into choreographic pieces, shown as a video and sound installation.
http://manofim.org/en/category/the-artists-studios-art-cube-gallery/