Alumni News |
Aug, 2018
Kairon Liu & Seán Hannan featured in REVOLUTIONS & MOVEMENTS, Dupont Underground, Washington DC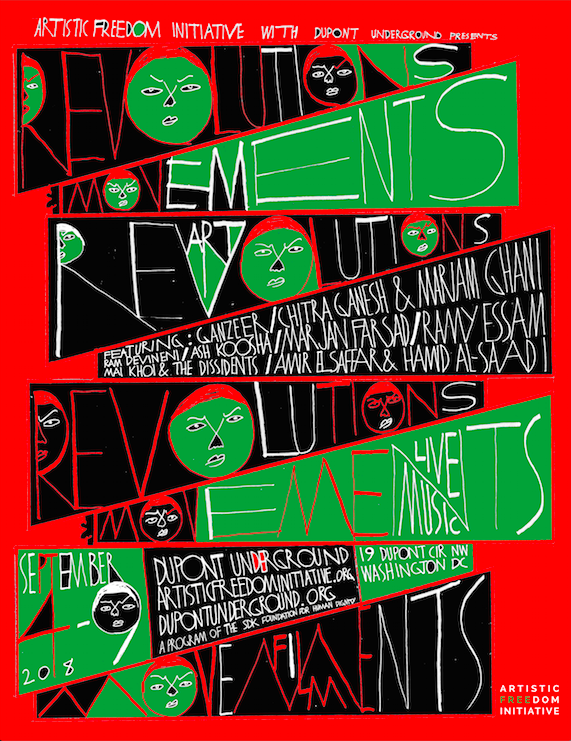 September 4-9, 2018 
Dupont Underground, 19 Dupont Circle, Washington DC 20036
This dynamic and unprecedented exhibition brings together artists from around the world whose inspirational works reflect revolutions, movements, and resistance in defense of human rights. Many of the artists featured in this exhibition have themselves been persecuted or censored in their home countries for the simple act of artistic expression.
As artists are increasingly censored, imprisoned, restricted from moving freely across borders, tortured, or even killed, it is more critical than ever that we safeguard the right to free expression and zealously champion the courageous artists who exercise it. Revolutions & Movements is not only a celebration, it is a call to action in defense of artistic freedom.
Housed in the Dupont Underground, formerly a subterranean streetcar station and transportation hub, this exhibition features visual art from renowned and cutting-edge international artists like Ganzeer, Chitra Ganesh, Mariam Ghani, and Ram Devineni, and musical performances by revolutionary musicians Ash Koosha, Emel Mathlouthi, Marjan Farsad, Hamid Al-Saadi and Amir ElSaffar.
From the protest anthems of Emel Mathlouthi that galvanized millions during the Tunisian Revolution to the subversive concept pop art of Ganzeer, this exhibition is a rallying cry, loudly proclaiming the power of art to create positive change around the world. Offering vital perspectives on issues like freedom of expression, human and women's rights, immigration, the refugee crisis, LGBTQI rights, and social and environmental justice, these artists work across a range of disciplines to show us what resistance and revolutions look like through the creative lens.
Artistic Freedom Initiative is unwavering in its commitment to safeguard and promote freedom of artistic expression and has provided pro bono immigration representation and resettlement assistance to persecuted and censored artists, many of whom are part of Revolutions & Movements.
See the exhibition catalogue below: