Alumni News |
Sep, 2019
Graciela Cassel: La Vida Frágil curated by Jorge Zuzulich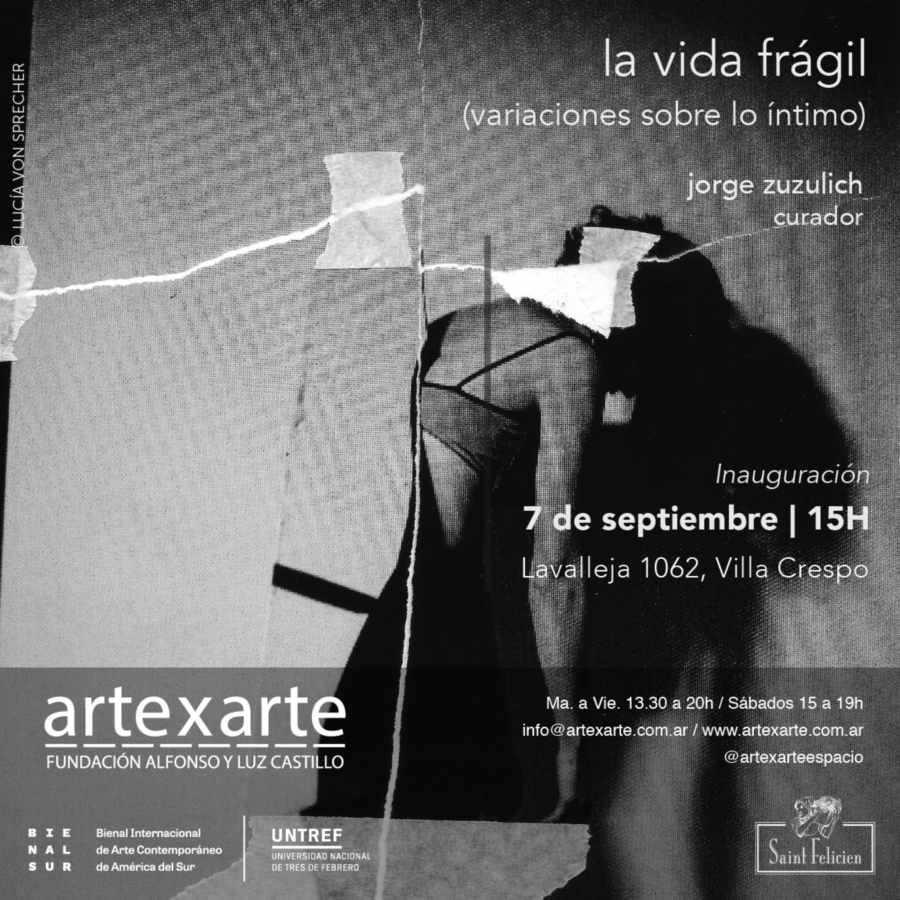 Opening: Saturday 9/7 - 15h
Exhibition Dates: Sept 7 -Oct 24
Hours: Tuesday to Friday from 13.30 to 20h and Saturday from 15 to 19
ArtexArte | Lavalleja 1062, CABA
Free
Curator: Jorge Zuzulich
Artists exhibiting:
BILL VIOLA | Pipilotti Rist | MARTHA WILSON | DAMIEN ANACHE | PIREN BENAVIDEZ Quio BINETTI ORTIZ | GRACIELA CASSEL | CECILIA CATALIN | VIVIANA DEBICKI | Chiachio & GIANNONE | ALEJANDRA CORREA | MARIA LAURA DOMINGUEZ | CHILD RODRIGUEZ | EVU / Vocal Ensemble Bachelor of Music UNTREF | POLA Ezker | JUAN MANUEL FIUZA | JULI JONS | EDUARDO MEDICI | DIANA Schufer | LUCIA VON SPRECHER | DOLORES ZORREGUIETA
In an era marked by advertising private (acceleration technology has exponentially contributed to this fact), it is likely that privacy is one of the last folds where the contemporary subject achieves his own shelter and recognition.
As the Spanish philosopher Jose Luis Pardo, the intimate distance themselves from the private to the extent that the latter is linked to the first possession and never manages to be totally appropriate points. Thus, the expression of intimacy seems to take shape in a move that travels from the depths of the subject to its externality, as a vector, groping, looking for a target, its other. Lacan made a similar argument under a spatial metaphor: extremity then appears as a reversible instance where the inside is, in turn, the outside and vice versa.
Mark unspeakably intimate but, paradoxically, it appears linked to some form of communicability. Perhaps the best expression around what we find stated in what François Jullien called an intimate gesture. Something that brings two people from something inexpressible seizes gestures of one of them, and build a shared communicative form all their own but, in turn, oblivious of all conventionality.
In a sense, the definition of what art seems to mimic the mark. Thus, the artwork unfolds, paradoxically, in the context of a dynamic where deep is always surface; question delimiting a zone where said is twisted by the inexpressible. Already, and convergently, an intimate object becomes precious by contemporary poetry.
This show attempts an approach to this problem. It will consist of works from various production modes (painting - photography - video - facilities - objects - music - video performance - texts) by contemporary artists. Additional programming including guided tours for institutions and the general public visits, public lectures, etc. will take place during the exhibition.
RELATED: