Alumni News |
Sep, 2012
Fabio Marco Pirovino at Istituto Svizzero Milano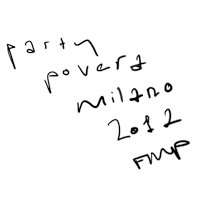 Fabio Marco Pirovino
Party Povera
15 09 - 03 11 2012
Opening
Friday 14 settembre, at 18.30
Istituto Svizzero Milano
Via Vecchio Politecnico 3 I-20121 Milano
t +39 02 760 16 118
f +39 02 760 16 245
at the occasion of START Milano
special opening hours
saturday 15 september: 14.00 - 20.00
sunday 16 september:   14.00 -18.00
saturday 22 september: 14.00 - 20.00
Press Release (Italian)
Per la sua mostra personale nella sede di Milano dell'ISR, Fabio Marco Pirovino ha concepito un nuovo progetto site specific.
Sette pareti mobili (4.5 x 2,78 x 0,50 m) creano uno spazio autonomo e componibile e assecondano soluzioni di messa in opera sempre differenti. Su ciascuna delle pareti è presentata una nuova serie di 50 disegni dell'artista. I numerosi echi attivati dal titolo in riferimento al termine "arte povera" inducono a una "idealizzazione problematica della crisi economica". Ma nell'installazione di Pirovino i rimandi a elementi tradizionali della storia dell'arte assumono anche una valenza concettuale: la larghezza di ciascun modulo deriva dal valore del numero aureo calcolato sulla base della sua altezza, mentre la somma delle profondità di tutti i moduli corrisponde alla sezione aurea sulla lunghezza totale dello spazio espositivo.
"Party Povera" è il primo progetto in Italia dell'artista svizzero Fabio Marco Pirovino.
Fabio Marco Pirovino è nato a Basilea nel 1980. Ha completato gli studi in fotografia alla Zürcher Hochschule der Künste (ZHdK) nel 2007. Nel 2010 ha ricevuto il Zürcher Kantonalbank (ZKB) Kunstpreis. Vive e lavora a New York.
Principali mostre personali: 2011: Abbt Projects, Zurigo. 2010: Backwall Kunsthalle Basel, Basilea; Coalmine Fotogalerie, Winterthur
, Svizzera; Paloma Presents, Zurigo; Marks Blond Project, Berna.
Principali mostre collettive: 2011: "Editions - Ready to Print", White Space, Zurigo; Lumen Festival, New York
; "MDFA Union – Collection at Alpenhof", Alpenhof, Oberegg, Svizzera. 2010: "Drawing", Milieu Galerie, Berna; "The Photograph and The Artist", Ausstellungsraum Klingental, Basilea. 2009
: "Regionale 10", Kunsthalle Basel
, Basilea; "Walk on the Light Side", Egg n Spoon, Zurigo. 2008
: "Father why don't you see me", Marks Blond Project, Berna; "Malzeit", Cabaret Voltaire, Zurigo. 2007: "Amberg & Marti showing FMP", Riga, Lettonia; "Plat(t)form", Fotomuseum Winterthur, Svizzera.
RELATED: