Alumni News |
Jan, 2020
Diogo Pimentao: Drawing Backwards at FRAC Normandie Rouen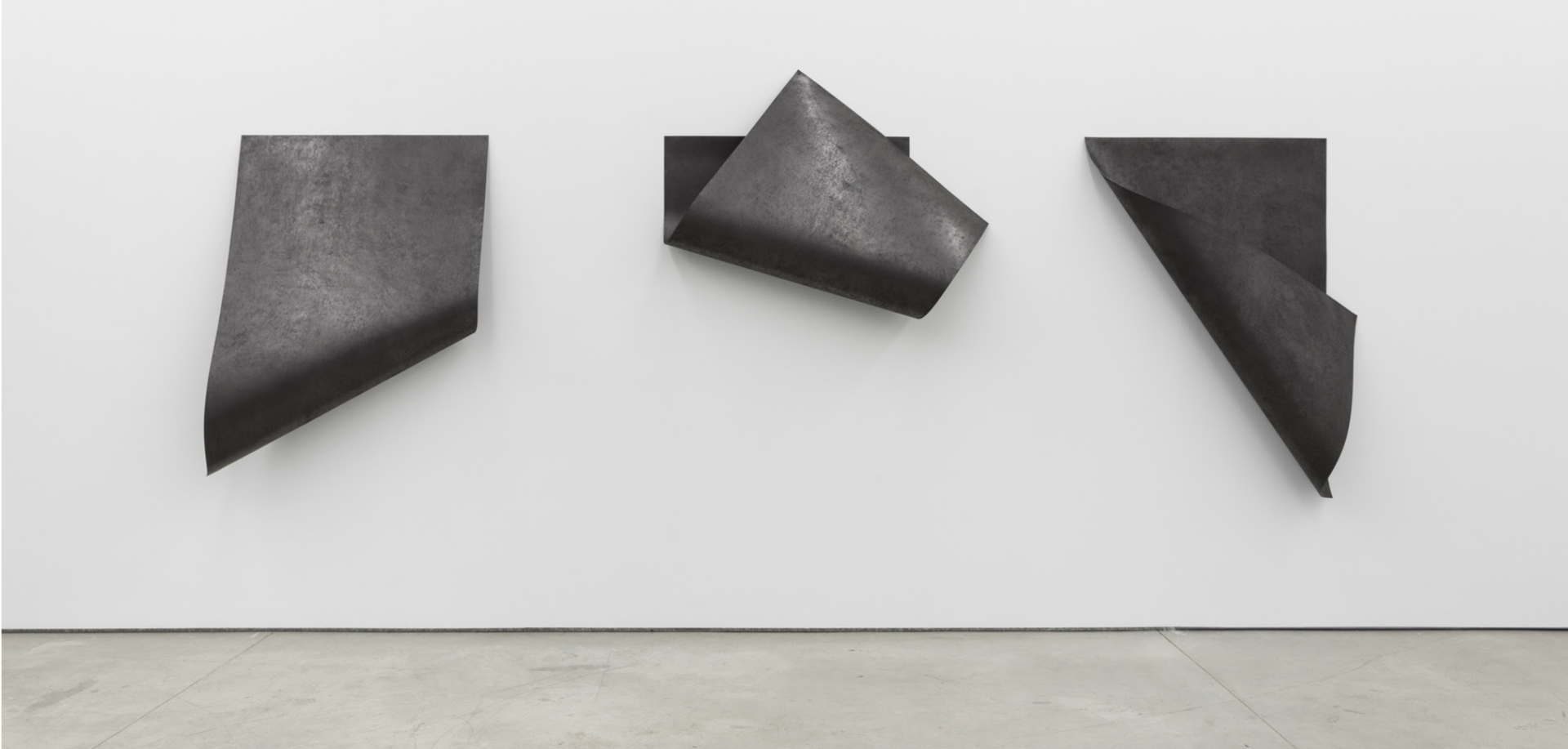 Diogo Pimentão, Documented (Belong#1,#2,#3), 2014. Paper and graphite, variable dimensions.
Diogo Pimentão
Drawing Backwards
January 25–April 1, 2020
Artist's talk: January 25, 2:30–4pm
FRAC Normandie Rouen
3, place des Martyrs-de-la-Résistance
76300 Sotteville-lès-Rouen
France
Hours: Wednesday–Sunday 1:30–6:30pm
To open the 2020 season, the Fonds Régional d'Art Contemporain (Frac) Normandie Rouen has invited the Portuguese artist Diogo Pimentão to occupy its exhibition spaces for his first major solo exhibition in France.
The 40 works shown in the exhibition—monumental or discreet, residues or pieces resembling crumpled metal—retrace the intrinsically transversal research into drawing that the artist has been conducting for over 15 years, positioning him as a major artist on the contemporary art scene.
Diogo Pimentão uses a variety of media—performances, volumes, videos, and installations—to create his extended drawings and to explore the permeability of body and space.
Starting with graphite and paper, the artist's basic tools, he disposes his work in the space and extends the drawing in three dimensions, encompassing his performative, choreographic gesture, which lies at the heart of his approach.
The exhibition walls become surfaces to be occupied, where paper plays on the ambiguous nature of its status, somewhere between medium, matter, surface and Trompe-l'œil. By way of complex folding, the lightness of the graphite and paper acquires the density of steel with volumes, taking on an informal or machined aspect, the forms of which, in some instances raw and minimalist, and refer us to a conceptual and minimal history of sculpture and artistic gesture.
The Frac Normandie Rouen owns an extensive collection of contemporary drawings. It has devoted several major exhibitions to leading artists in this medium, including Silvia Bächli (2002), Helmut Dorner (2005) and Nancy Spero (2007). Building on this specificity, the Frac Normandie Rouen seeks to continue this exploration by showcasing one of the most outstanding figures in drawing today.
The exhibition has received the generous patronage of the Fondation Calouste Gulbenkian
For this exhibition, the Frac Normandie Rouen is in partnership with LE MONDE
RELATED: