Alumni News |
Jul, 2018
Debora Hirsch at PANORAMA PUNJAB vol.1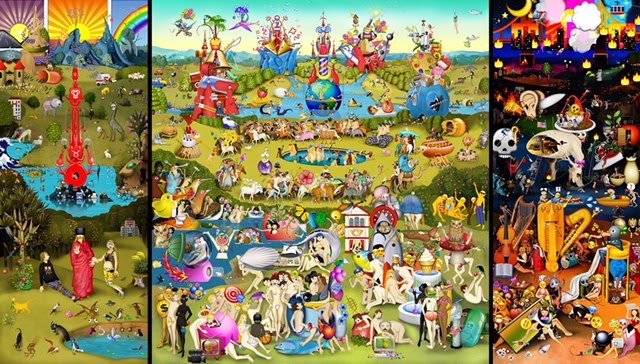 White Box, 329 Broome Street, New York, NY 10002
Wednesday Aug 1 @ 7pm 
PANORAMA PUNJAB in association with WBX OUT OF THE BOX presents an all day screening of experimental films by female artists and an evening conversation with Artist / Founder & Director of PANORAMA PUNJAB Sarah Singh & Curator / Director of Development and International Programming at WhiteBox, Lara Pan.
PANORAMA PUNJAB is the first international contemporary arts platform for Punjab, India. This selection of films will be ON VIEW FOR ONE DAY ONLY, featuring 11 female artists' film works curated by Lara Pan, Sarah Singh, and Shahram Karimi for the historic 1st edition of PANORAMA PUNJAB VOL 1. WhiteBox will screen the following films throughout the day:
Shirin Abendinirad: Passage, 2015, 02:30
Gudrun Barenbrock: Blast, 2017, 11:00
Bahar Bebahani: Ajax Boot, 2015, 04:39
Meghan Boody: Revolution, 2015, 01:25 / Psychesuperstar, 2015, 05:00
Samira Eskandarfar: A Dowry for Mahrou, 2006, 06:06
Carla Gannis: The Garden of Emoji Delights, 2014, 05:00
Debora Hirsch: Framed, 2009, 33:34
Ruth Novaczek: A Woman Returns From a Journey, 2014, 11:00 / Footnote, 2016, 07:30
Sarah Singh: Secret Ships Series #1-4, 2013/15, ea. work 02:30
Olga Titus: Hybrids, 2014, 05:28
Jeannie Weissglass: Lady Lion Tamer/Bee/Bat/Voyage/Twitch/Shout, 2016-17, trt approx. 02:55
A conversation between artist Sarah Singh, the Founder of the pioneering arts salon PANORAMA PUNJAB, and WhiteBox Curator / Director of International Programming Lara Pan will delve into the hurdles and triumphs of the founding of this new annual event and the central themes explored through the various media and platforms for Vol 1 (which included 5 major museums of the world, 20 international artists, music from Belgium/Afghanistan/Iran, and experimental films on display both within the Fort and in the Bazaar). Panel discussion begins at 7PM.
For more information visit PANORAMA PUNJAB