Press |
Aug, 2016
Artist-in-Residence: Top Tips from Nathalie Anglès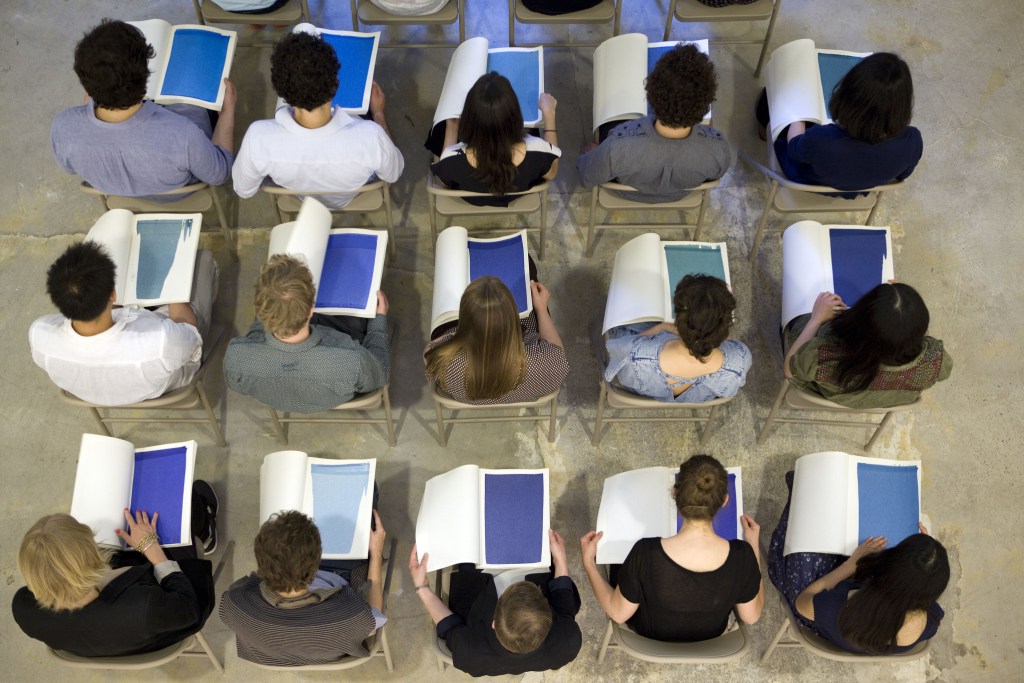 RU Exhibition: "Structures and Layers" curated by Zeljka Humble Kozul featuring the work of RU artists Mehryl Levisse (France), Manuela Viera-Gallo (Chile/US), Ismael Kachtihi del Moral (France), and Cho Mi Young (South Korea). August 6-9, 2015, RU
Published on Aug 6, 2016 at Contemporary Lynx
Interviewed by Dobromila Blaszczyk
Edited by Maggie Kuzan
How to prepare a good application? On what basis art residencies are selecting the applicants? What are they looking for in artists' CVs, letters and projects?
Read our interview and following tips from Nathalie Anglès — founder of and director at Residency Unlimited in New York.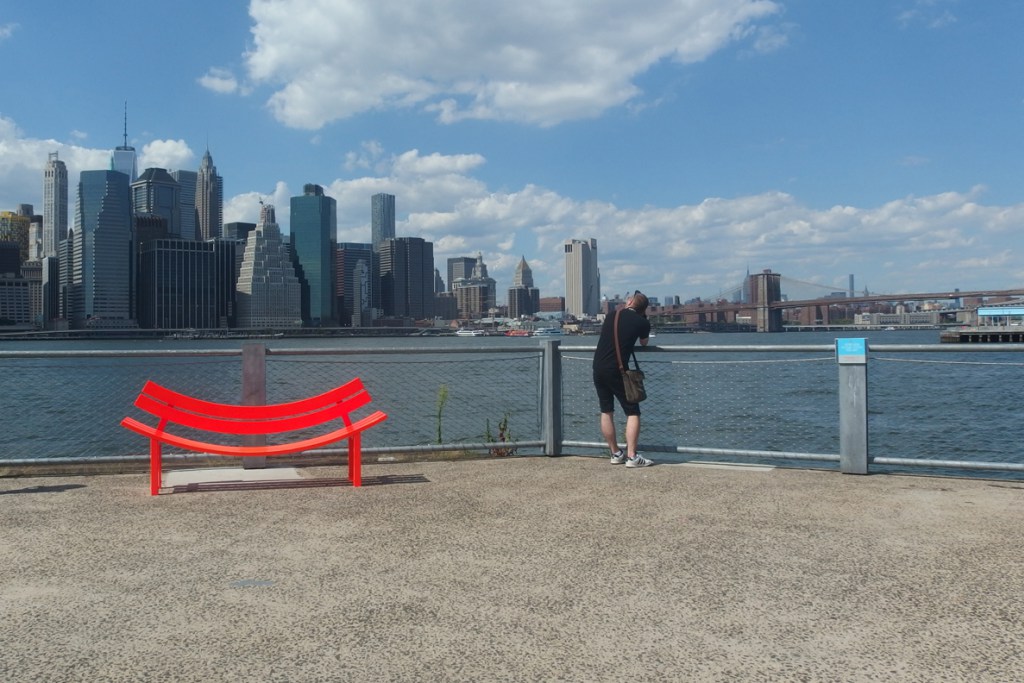 Dobromila Blaszczyk: For many years, artists have used residencies as a way to focus on their work. Many professional artists find it a necessity to periodically do a residency to jump-start or simply continue the direction of their work. What residencies can provide for artists?
Nathalie Anglès: Residencies can provide artists with a wide range of opportunities and at all stages of their career. Some artists are 'residency hoppers' (they go from one residency to another) — whilst others artists don't find any particular advantage in this form of activity and may only do one residency in their life. Some residencies are very competitive particularly when they offer financial advantages for artists allowing them to dedicated themselves solely to their practice. The motivations to participate in residencies vary widely. At Residency Unlimited (RU) for example, I find that young artists often gain confidence during their residency in their practice and benefit from exchanging ideas with the community of artists they engage with. Established artists generally have a clearer idea of what they want to do. I have worked with artists for example who are represented by galleries and wish to reinvigorate their practice and renew with experimentation as opposed to delivering works on command. Or again, in a specific context such as New York their residency will be dedicated to the realization of a specific project that is site specific.
DB: What aspects should an artist consider when he/she looks for a good art residency (vibrant art scene, city, the possibility of organizing exhibitions or accommodation, studio fees)?
NA: A striking development is the global phenomenon of the burgeoning of art residencies in the 21st century comparable to the mushrooming of art biennales. As a result the quality of residencies varies tremendously. How does one define a 'good residency'? I think this question depends in part on what the artist is looking to achieve. When an artist applies for a residency, attention should be given to the specifics of what the program offers. Is the artist looking for an isolated setting to paint or for an urban context where access to a network of professionnals is more important?
DB: Why you decided to run RU organization? What is your goal in organizing the art residencies?
NA: Before founding Residency Unlimited I was involved in different artist residencies in New York and in Paris. I worked at the American Center in Paris which was a 65 year old institution operating as the window for contemporary American culture in Europe. When I moved to New York in 2000, I was hired at Location One, a new not for profit arts organization, to set up an international residency program from scratch. Both institutions were conventional studio programs, where the artist occupies a space to work from. In 2008,  I decided to come up with a different model based on customization and collaboration which ultimately led to the founding of Residency Unlimited (RU) in 2009.
RU started as an embryonic organization in a New York context where other studio programs were already in place. Our priority was therefore to think about infrastructure creatively which led my colleagues and I to raise questions such as:
– What kinds of facilities are necessary within a residency framework?
– Is it necessary to have a permanent site or even to own one?
– Is it possible to work collaboratively within a residency program framework?
– How can resources be shared with other institutions?
DB: There are hundreds of residencies all over the world. No two are exactly alike. What define and what make yours mark so special in USA?
NA: RU rests upon two core values: customization and partnership. RU is a departure from the studio program model where the main focus is the occupation of space. Our aim is to create customized environments for the residents that we activate through individualized tailored network and technical support as well as collaborations that we engage with local partnering organizations. The RU format was created in part as a response to the context of New York City epitomizing the activation of concurrent platforms. Through our collaborations with local organizations, we are able to access additional resources which benefit the artists in residence and the realization of their projects.
A prime example is RU's relationship with Casita Maria Center for Arts and Education, a thirty year old organization in the South Bronx whose mission it is to empower their underserved communities by creating a culture of learning. RU and Casita joined forces in 2011 to develop residencies for artists who engage in a social and community based practice. The Casita staff can activate immediate access to communities in a way that RU is not able to. Conversely, through its association with RU, Casita was able to integrate a residency program into its programming without having to go into great expense and also invite international artists into their cultural mix which is mainly local.
DB: On what basis you are selecting the applicants? What are you looking for in artists' CVs, letters and projects?
NA: We work with artists whose projects we find interesting and whose practice will benefit from coming to New York. Age is not an issue: we have worked with artists who are still students and in 2012 we hosted the residency of a 78 years old French artist. Prior to the residency, each artist is asked to fill out an application where they have to answer relatively specific questions relating to what they hope to achieve during their residency and which often involves the realization of a project specific to New York.
DB: You prefer to work with established artist or emerging one?
NA: I have no preference. Combining both is preferable as far as I am concerned. Working with only younger artists would be one sided and frankly boring. My objective is in fact to create a fellowship for a much older artist (in their seventies/eighties) who could impart their experience to a younger generation and visa versa. The Hestia prize offers the possibility for an artist who is still a student to do a residency at RU. This is relatively unusual since most residencies require that the artists have at least 3 years of post college experience.
DB: Could you gave me some tips to pass onto our oudience/artists? How to prepare a good application?
NA: Here again there is no special formula. When we read over applications, we look for qualities such as sincerity, relevance to the context of New York, motivation. We are inclined to support projects that are interesting but also feasible… an artist whose interest in doing a residency in New York is exclusively motivated by finding a gallery wont be a good fit for us. Although we do introduce the artists participating in our program to many gallerists…
DB: Many times you collaborated with Polish artists. They work in a different techniques, undertake different topics. Just to name: Radek Szlaga, Krzysztof Maniak… You are also a jury in Artystyczna Podróż Hestii Contest in Poland. Why you are concentrate on Polish art/Central European art? Why your interest tend to have an intense connection with this part of Europe? Is there anything that particularly strikes you?
NA: At RU we have worked since 2012 with amazing Polish artists and cultural producers. To name but a few: Wojciech Gilewicz, Karol Radziszewski, Paweł Grobelny, Ewa Opałka, Krzysztof Maniak (the first Hestia awardee at RU), Radek Szlaga, Katarina Poliacikova, Kasia Krakowiak, Jakub Szczęsny, Karolina Breguła… Their residencies were made possible with combined support from the Trust for Mutual Understanding (TMU), the Polish Cultural Institute (PCI), New York in association with A-I-R Laboratory/Centre for Contemporary Art Ujazdowski Castle in Warsaw, Poland.
Since 2015, we are also very fortunate to host the residencies for The Young Visual Artists Awards program (YVAA), an international award program for young visual artists in Central and South Eastern Europe. Funded by the Trust for Mutual Understanding and founded by The Foundation for Culture and Society (FCS) in 1990, this annual program now includes 2 month long residencies at Residency Unlimited (RU) with artists from the Czech Republic, Slovakia, Bosnia and Herzegovina, Croatia, Kosovo, Macedonia, Serbia, Slovenia, Albania, and Bulgaria.
RU also work with artists from regions such as the Middle East and starting next year onwards, from Cuba. And I would add that it is just as important for us to incorporate local artists from New York City and state in the residency program.
DB: Is Polish, and more broadly, Central and Eastern European art still undiscovered and considered emerging?
NA: I would not say so. What I can say confidently is that there are many curators in New York and the USA, affiliated to institutions or who work independently, who are very interested in meeting artists from Central and Eastern Europe. RU is the perfect platform  for this to happen. And they rely on us to provide these connections which is integral to our program since artists meet at least one curator/art professional per week during their residency.
***
For the original article, please visit Contemporary Lynx.
RELATED: