Alumni News |
Sep, 2019
Ana Prvacki: Featured in Art in America for "Detour"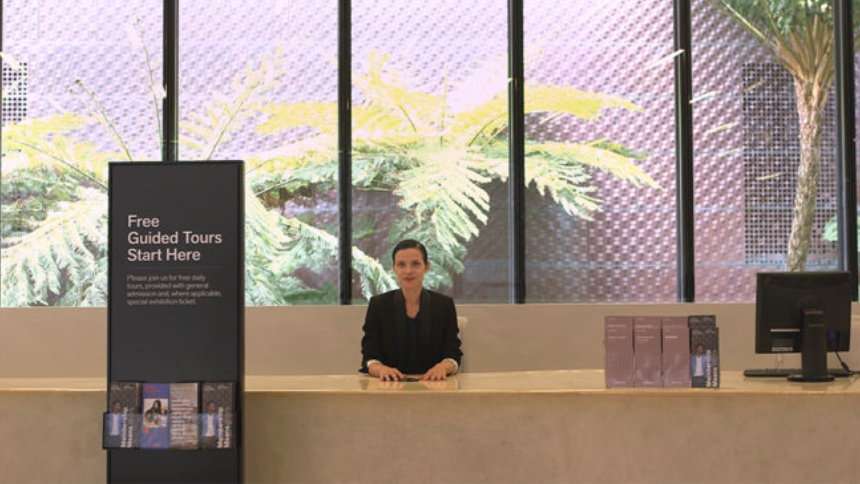 Still from Ana Prvački's video Detour," 2019, in which she leads visitors on a guided tour of the de Young Museum, San Francisco. Courtesy Fine Arts Museums of San Francisco.
Ru Alumna, Ana Prvacki  was recently featured in Art in America for her work Detour. for an excerpt from the article please read below:
The de Young Museum in San Francisco accurately describes Ana Prvački's Detour, a new commission developed in collaboration with Google Arts & Culture, as an "alternative" tour. I'd add a few other adjectives: decentralized, wide-ranging, irreverent, semi-private, and technologically advanced. Available through January 5, 2020, Detour is a series of videos meant to be viewed on one's smartphone at nine specific points in the museum, offering Prvački's take on the museum's architecture, gardens, and the views its tower affords. Her videos are activated by the magic of Google Lens, an app most commonly advertised as a way to identify species of flowers and dogs through a smartphone camera. Though Prvački's tour, as an artwork, is a refreshing and adventurous addition to the museum's contemporary exhibitions, the requirement to view it through one's phone via an app often felt like rigmarole invented for the sake of collaborating with a major tech company rather than the future of expanded art viewing.
For more please read the full article online here.