Alumni News |
Feb, 2014
Alessandro Facente, Adam Vackar – The Atla(s)now project, The Marrakech Biennale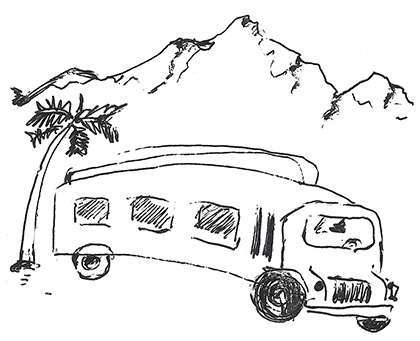 Atla(s)now: The Age of Decentralisation Atla(s)now: The Age of Decentralisation
The Atla(s)now project for the Marrakech Biennale will build upon and extend the exploration of its founding concepts – the decentralization and dissemination of art, and of its contents and containers – with a work that will turn the Biennale into a vehicle for the spreading of art on the ground.
During the opening week, an Atlas(s)now bus, conceived as a traveling laboratory, will leave from Marrakech offering workshops and talks to its guests on the way to Imlil. Once at Imlil a local guide will take guests through the sites where the works by artists Angelo Bellobono (New York/Rome), Andrea Nacciarriti (Milan/Turin) and current artist in residence Adam Vackar (Prague) will be exhibited as part of the Atlas(s)now spread-out museum. Once the tour has been concluded guests will be driven back to Marrakech. In conjunction with this project Atlas(s)now will also be collaborating with Fondation Dar Bellarj to host a multimedia documentary exhibition of the Atlas(s)now project which will be shown at Dar Bellarj Foundation. Together Dar Bellarj and Atlas(s)now will also be organising workshops and trips for the residents of the Medina.
The bus will leave every morning between February 27th and March 2nd at 10 am from Place Riad Laarouss, in front of the Pharmacie Populaire, and will be back in Marrakech around 5 pm. Seats are limited.
The project is curated by Angelo Bellobono, Alessandro Facente and Aniko Boehler.
Opening: 2 March 2014, 17h00 - 20h00
Exhibition Dates: 26 February - 31 March 2014
Hours: 10h00 - 17h00
Location: Dar Bellarj Foundation, 9–7 Toualate Zaouiate Lahdar, Medina (next to Madrasa Ben Youssef)
http://www.atlasnowproject.com
http://www.marrakechbiennale.org/5th-edition-2014/partner-projects
http://www.atlasnowproject.com/residencies/residencies_vackar/index.html
RELATED: