2011 | NYC | Artist
Yoon Young Park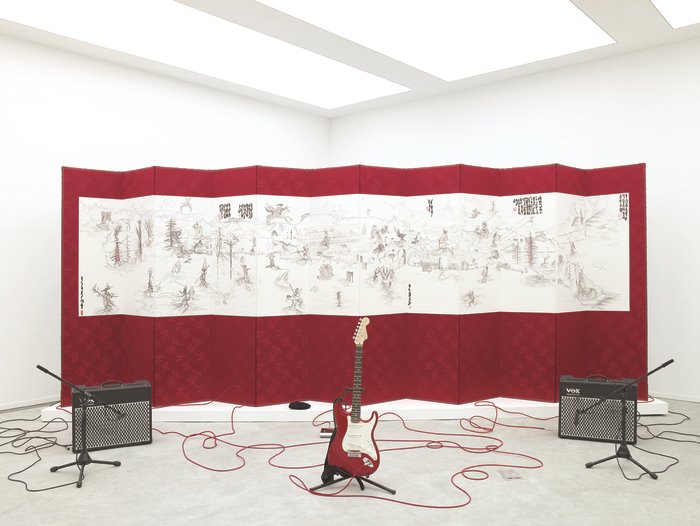 red1
Journey to Akeldama, 2005, Installation view, Leeum Collection
Yoon Young Park lives and works in Seoul and Vancouver. She earned her B.F.A. and M.F.A. from Ewha Womans University in Seoul in 1995, and completed course work in the doctoral program in East Asian Art at the same University. Her works integrate calligraphic and surrealistic methodologies into which the artist incorporates a wide range of contemporary cultural references ranging from fiction, documentary movies, and plays, to quiz sessions for the audience.
Recent exhibitions include: "Red Fish up the River" at the Mongin Art Center, Seoul (2010) and "Made in Pop Land" at the National Museum of Contemporary Art, Gwacheon, Korea (2010); "Voyage of the Black Bird" at Atelier Hermès, Seoul (2009); "Ixtlan Stop" at Arario Gallery, Cheonan; "Wonderland" at the National Museum of China, Beijing; King's Lynn Arts Center, King's Lynn; "Art Spectrum" at Samsung Museum of Art Leeum, Seoul; and the Gwangju Biennale, Gwangju. In 2009, she won the award Hermes Korea Missulsang, Hermes Korea Missulsang (Hermes Korea Prize for Contemporary Art).
Her works are in the collections of The National Museum of Contemporary of Arts, Korea and the Samsung museum of Art Leeum, Korea. Previous residency experiences include Location One (2005) and Art Omi (2003).



Yoon Young Park's 2 months residency is made possible within the framework of the Residency Unlimited / PointB Worklodge partnership, supported with funds from Arts Council Korea.