Exhibition | Apr 24 2015 7PM
A Night of Philosophy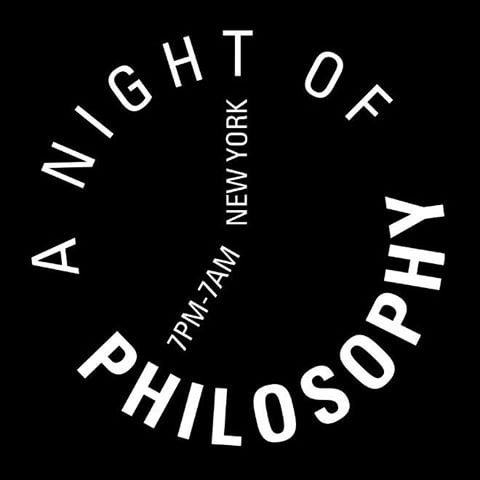 With the participation of RU artists Ofri Cnaani and Thierry Costesèque
Friday April 24 at 7PM to Saturday April 25 at 7AM 
Free and open to the public
Cultural Services of the French Embassy (972 Fifth Avenue at 79th Street)
and the Ukrainian Institute of America (2 East 79th Street at Fifth Avenue)
New Yorkers will pull an all-nighter on Friday, April 24, but instead of cramming to meet a deadline they will be eagerly joining A Night of Philosophy, a free, 12-hour marathon in two historic mansions that will showcase lectures by 61 leading philosophers, original performances, art installations, screenings, readings, DJ sets and more.
Launched in Paris in 2010, A Night of Philosophy is a roaming event that takes place in a different major city each year. Thousands of people attended the event in Berlin (2014) and London (2013). Presented by the Cultural Services of the French Embassy, the April 24-25 event will mark the first time A Night of Philosophy will take place in New York City. Philosopher and stage director Mériam Korichi, who created and organized the event in other cities, will once again stage the event in New York City.
A Night of Philosophy is designed to give audiences an opportunity to explore how philosophy informs everything from current affairs to contemporary arts in a setting outside of the classroom that is both inspiring and playful. The event will unfold from dusk to dawn in stunning rooms throughout two iconic mansions at the corner of Fifth Avenue and 79th street: the Gilded Age Payne Whitney Mansion, the home of the Cultural Services of the French Embassy and Albertine Books in French and English, and the Fletcher-Sinclair Mansion, a National Historic Landmark that is home to the Ukrainian Institute of America.
The centerpiece of the event will be a fast-paced, round-the-clock series of 20-minute lectures presented by 61 leading international philosophers covering a wildly diverse range of subjects including:
• "Do We Really Want to Be Equal?" with Florent Guénard (Université de Nantes, France)
• "Must Intellectual Life Be Boring?" by Pascal Engel (University of Geneva, Switzerland)
• "I Think, Therefore I Can" by Barbara Montero (City University of New York)
• "Suicide" by Simon Critchley (New School for Social Research), the editor of NYTimes.com's The Stone, which features the writing of contemporary philosophers
• "Freedom of Speech" by Monique Canto-Sperber (CNRS - French National Center for Scientific Research)
• "Honor Now" by Kwame Anthony Appiah (New York University)
Emily Apter, Chiara Bottici, Barbara Cassin, Daniel Garber, Bruno Karsenti, Sandra Laugier, Alexander Rosenberg and Francis Wolff will also be among the presenters. A Night of Philosophy will animate the history of philosophical thought, which dates back to ancient Greece and has played a fundamental role in shaping western tradition to this day.
Simultaneously, guests will encounter specially commissioned art installations, live performances, and film and video screenings exploring philosophy in playful and provocative ways. Highlights include:
• A live reading by actors of Philosophy in the Boudoir by Marquis de Sade
• Sculptor and performance artist Eve Bailey will balance on her kinetic, 8-feet high sculpture made of large wooden beams and ladders
• A mix of artists, DJs and poets that will provide the soundtrack for the entire event, including a "Discotheque philosophique".
• A wooden replica of the Mercury Seven space capsule will serve as the stage where artist Stephane Thidet will perform homemade modular synthesizers in a piece exploring the collision between Walden or Life in the Woods (1854) by Henry David Thoreau and man's first journey into space (1959). This piece was specially commissioned by the Centre national des arts visuels.
• Pianist Karol Beffa improvising on themes suggested by the audience – from philosophers names to anecdotes from the history of philosophy
Free coffee will be provided throughout the night and free croissants will be provided at dawn. The new Albertine Books, named the "Best French Bookshop" by New York Magazine (March 2015), will also be open from 7pm to 3am for perusing and purchases.
A Night of Philosophy is co-presented by the Cultural Services of the French Embassy, FACE Foundation, the Onassis Cultural Center NY and the Ukrainian Institute of America. Its visual identity was created in collaboration with La Rêveuse.
A Night of Philosophy is made possible by The Florence Gould Foundation, Institut français, PSL Research University and Centre national des arts plastiques, France. Major support is provided by Air France, Babeth's Feast, Classic & Vintage, French-American Foundation, Holiday Inn NYC–Lower East Side and La Rêveuse. Generous support is provided by Columbia University, The Alliance Program, Institut Jean Nicod, Princeton University, CNRS GDRI PLOCO, Ecole Normale Supérieure - Paris, ENS de Lyon, Centre Atlantique de Philosophie, The City University of New York, University of Maryland, University of California, Riverside, University of Michigan, Residency Unlimited and OFF (Ostrovsky Family Fund), Laurence Bernard Gallery and Galerie Aline Vidal.