2010 | NYC | Artist
Eve K. Tremblay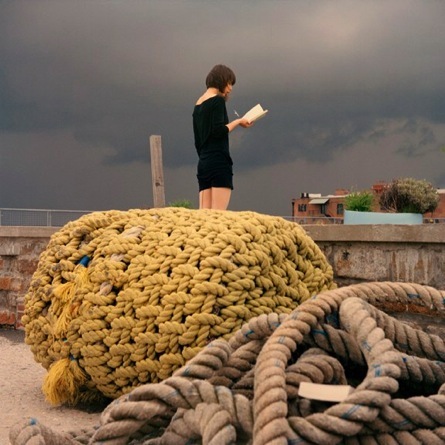 05MishimainRedHook30x30
Mishima in Red Hook © Eve K. Tremblay 2009
Eve K. Tremblay (http://www.evektremblay.com) was raised by artists in a hippie village in Val-David, Quebec. During high school, she lived in a catholic boarding school in Montreal. She studied French literature at the University of Montreal, studied at the school at the Neighborhood Playhouse in NY, and completed a BFA in photography at Concordia University in Montreal. After an artist residency at the iaab in Basel, she became very nomadic and found her sense of memory quite challenged. In 2006, she got a studio next to Berlin's Film Gallery 451. Walking by one day, she was compelled to start working on Becoming Fahrenheit 451. These works in various media are related to her attempts to memorize Fahrenheit 451, like the "book people" do in Ray Bradbury's 1953 novel and in François Truffaut's 1966 adaptation, to preserve books from a society where they have become illegal.
Her work is currently featured in the group shows "Emporte-moi/Sweep me off my feet"  at MAC/VAL (Val de Marne), co-produced by the Musée national des beaux-arts du Québec and MAC/VA and "How to Read a Book," curated by Michael Wilson at Locust Projects (Miami).
Eve's residency was made possible by the Richard J. Massey Foundation for Arts & Sciences, the Délégation Générale du Québec à New York, and  Le Conseil des Arts et des Lettres du Québec (CALQ).