Talks | Jul 16 2020 6 pm
The 2020 NYC Artist Salon-Style Hang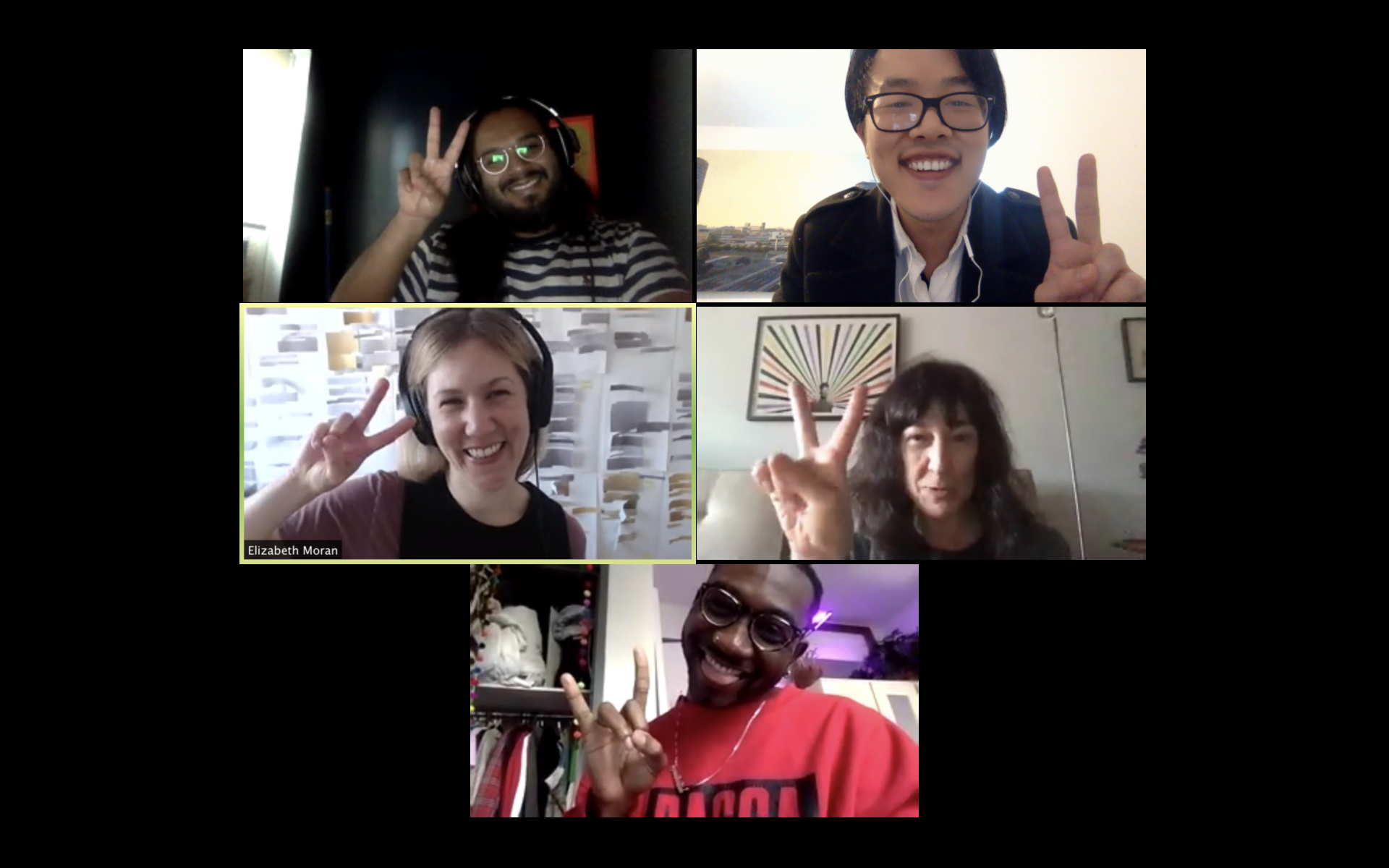 2020 NYC Artist Residency Salon (May 13). Clockwise from top left: Carlos Rosales-Silva, Ziyang Wu, Rachel Gugelberger, Christopher Udemezue and Elizabeth Moran. Screenshot: Ziyang Wu.
The 2020 NYC Artist Residency Program launched April 13 on Zoom. The artists were incredibly gracious to embark on this adventure, which ended up taking place entirely online. During the three-month residency, Carlos Rosales-Silva, Christopher Udemezue, Elizabeth Moran and Ziyang Wu conducted virtual studio visits with 12 guest curator/critics, made virtual artist presentations (available on RU's website), attended information sessions, hosted artist salons, and participated in weekly discussion groups on topics ranging from immunity to photography, IMF's role in Jamaica and spirituality, Universal Basic Income and Sex Work and Mutual Aid. We're pleased to announce that the culminating 2020 NYC Artist Residency exhibition will take place at Cuchifritos Gallery + Project Space at the end of summer. Details to follow soon!
As we wrap up the residency program, please join us on Thursday, July 16 at 6pm for Artist Salon-Style Hang, a program shaped by the modified format of the residency itself. The artists will make brief presentations of their work, and pose a question to the group informed by topics discussed during our weekly salons and discussion groups. The conversation will be followed by an open Q & A and discussion moderated by Rachel Gugelberger, Residency Program Director & Curator of Programs.
Watch the talk online:
The 2020 NYC Artist Residency Program is dedicated to artists whose practices fill in gaps in historical knowledge and represent a range of diverse voices traditionally underrepresented in the arts. The program is organized by Rachel Gugelberger, RU Residency Program Director/Curator of Programs together with Alyssa Alexander, NYC Residency Program Assistant.
The 2020 NYC Artist Residency Program is supported, in part, by public funds from the New York City Department of Cultural Affairs in partnership with the city council and generous support from individual donors.