Talks | Nov 30 2023 6:30-8:00pm
RU Talk: Shaping an Art Odyssey—from Concept to Continent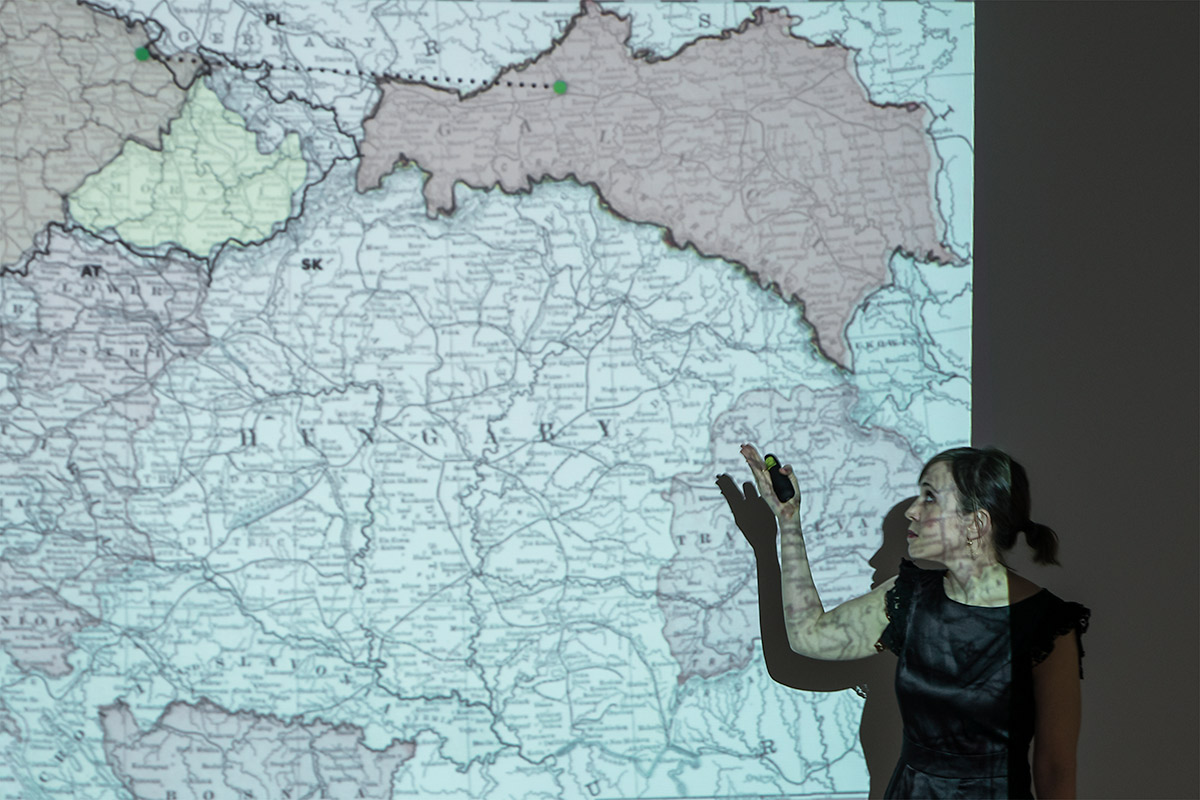 Michelle Levy, "She is alone", 2017. Performance lecture with participation presented by NurtureArt, Brooklyn. Photograph courtesy of NurtureArt
Thursday November 30, 2023 | 6:30 - 8:00pm
Location: Residency Unlimited
360 Court Street (main green church doors), Brooklyn NY 11231 (map)
In addition to taking place in-person at RU, this program will be streamed online via Zoom at this link (No RSVP needed).

Join Michelle Levy in conversation with RU Executive Director Nathalie Anglès and curator Bartek Remisko for an evening that uses the PAULINA project as a case study to explore how independent artists can develop, pursue, be responsive to, and sustain ambitious, large-scale projects.
In 2018, New York-based artist Michelle Levy stepped away from a 10-year director position in the arts to pursue her dream artistic project abroad. Prompted by the discovery of one woman's striking Holocaust story that came into Levy's care, Levy cultivated a web of partnerships in Poland to conduct research and public engagement to explore this story through a contemporary lens, raising funds as she went along. The heart of the project was a cross-cultural collaboration with Polish Jewish artist and writer, Patrycja Dołowy, who went on a journey with Levy across Poland and Ukraine, following their heroine's wartime path. The result is PAULINA, an evolving performance work shaped by twists and turns of events, accidental meetings, and unexpected discoveries. It has been presented in various iterations throughout Poland and New York. Its final chapter, which Levy is now developing, will be a feature-length film.
About
Michelle Levy is an interdisciplinary artist, storyteller, and arts organizer. Working within a framework of the search and research, her performance, video, text, and collective engagements investigate the mediated spaces where identity is constructed.  She has presented her work in venues across New York City including Abrons Art Center, Dixon Place, Flux Factory, La MaMa Galleria, Magnet Theater, Spectacle Theater, and Theaterlab, as well as galleries, theaters, and museums in Philadelphia, Los Angeles, Krakow, Szczecin, Warsaw, and Prague. Levy has 18+ years of producing exhibitions and artist programs at New York City arts institutions and was the Founding Director of the EFA Project Space, a cross-disciplinary exhibition and event venue, as well as the Shift Residency for Arts Workers (both at the Elizabeth Foundation for the Arts). Levy is currently an independent consultant, mentor, writer, and editor for artists.
The Paulina Project has been supported in the past by Asylum Arts, Festivalt, Kana Theater, Emmanuel Ringelblum Jewish Historical Institute, POLIN Museum for the History of Polish Jews, and US Embassy, Warsaw. The film, in early production, is made possible by the New York State Council on the Arts with the support of the Office of the Governor and the New York State Legislature. It has received support from the Jewish Association Czulent, Tarbut Foundation, Union Docs Early Production Lab, and The Neighborhood, Brooklyn. It is a fiscally sponsored project of the New York Foundation of the Arts.
Bartek Remisko was previously based in Warsaw, Paris and Brussels and since a decade lives and works in New York. Like many cultural workers in the city, he wears many hats, including as Curator of Literature and Polish-Jewish programming at the Polish Cultural Institute New York. He is also a frequent collaborator of Frieze New York, The Armory Show, Residency Unlimited, Beach64retreat and Kosciuszko Projects, where in 2019 he curated first American retrospective exhibition The Many Faces of Tamara de Lempicka (1898-1980) reviewed by Artforum. He also helped to organize in New York a panel on the Polish-Jewish artist Krystiana Robb-Narbutt (1945-2006) at YIVO Institute for Jewish Research, a panel on the Polish-American art personality Warren Niesłuchowski (1946-2019) with Independent Curators International (alongside the exhibition on Niesłuchowski organized by Cabinet) and an exhibition on Foksal Gallery Archives (1966-2016) at James Gallery CUNY. He graduated, among others, from programs in Curatorial Studies at the Department of Art History at the Jagiellonian University in Krakow, Poland and in Art Administration at NYU. His current interests revolve around the Code of Ethics in the contemporary art sector. Bartek Remisko is also co-founder of Civic Forum for Contemporary Art in Warsaw and a member of AICA Poland, of Responsible Business Forum in Warsaw as well as of Language Assistance Advisory Committee at the Civic Engagement Commission of the City of New York.
This program is supported by the Polish Cultural Institute New York, Beach64retreat, New York State Council on the Arts and New York Foundation of the Arts.