Exhibition | Apr 30 - May 1 2021
RU Exhibition: Sublime Encounters and Other Worlds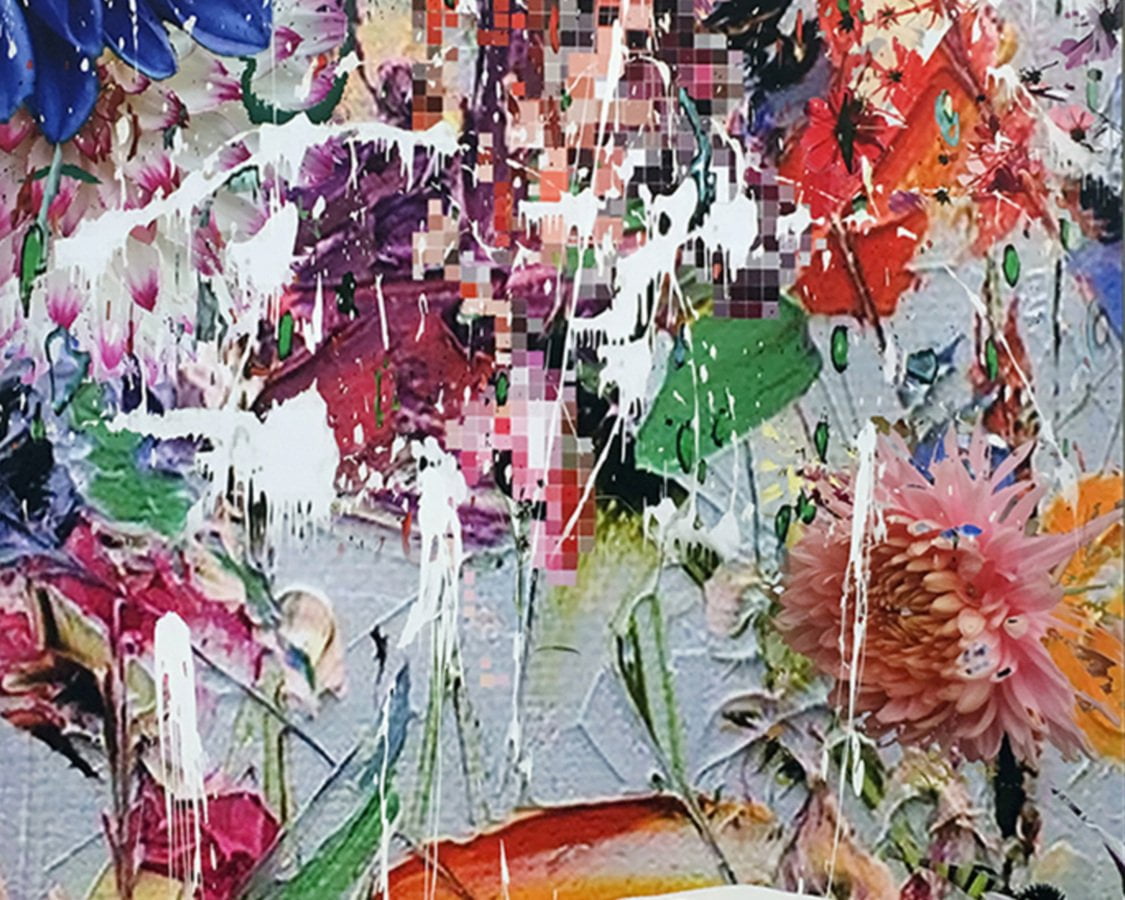 Irene Mamiye, Homage 2020 (Detail), pigment print and acrylic on canvas.
Opening: Friday, April 30th
Exhibition Dates: April 30th – May 1st, 11:00 am – 7:30 pm
Residency Unlimited
360 Court Street, Brooklyn, NY 11231
(subway F/G to Carroll Street)
The group exhibition Sublime Encounters and Other Worlds features recent and new works realized during the residency by artists Margrethe Aanstad (Norway/New York), Peter Erik Lopez (New York), Irene Mamiye (New York), Rotem Reshef (New York/Tel Aviv), and Paul Wesenberg (Berlin). The show is curated by Andrea Bell.
Sublime Encounters and Other Worlds transports the viewer from the monotony of the everyday to other worlds that are digital and engulfing, dream-like and uncanny, graphic and elevating, infinite and fathomless.
In classical Western aesthetics, the beautiful and the sublime are discrete categories. The beautiful is easily pleasing, it upholds dominant cultural standards of symmetry, naturalism, even availability. It is the object of desire. But when met with the infinite and the unfathomable, the sublime is the experience of confronting the self. Perhaps this is why the sublime has only grown in relevance, while the classically beautiful has fallen away.
Here is the discussion between the artists and curator about their experiences during the residency and what they find interesting about one another's work.
Click the image below to see photos from the exhibition.

Margrethe Aanestad (b. Stavanger, Norway, 1974) lives and works in Brooklyn, NY and in Stavanger, Norway. She makes works on paper in pastel chalks, watercolor and ink, and in her sculptural works marble, textile and other materials are often used. Aanestad is currently resident at Residency Unlimited in Brooklyn, NY, and also resident at Artists Alliance Inc., NY. Previous solo exhibitions includes Kunsthall Stavanger, Norway; Torrance Shipman Gallery, NY; Dimensions Variable, Miami; Open Source Gallery, NY. Selected group exhibitions: Tiger Strikes Asteroid, NY; Interface gallery, Oakland, CA; Abingdon Studios, UK; Vestlandsutstillingen Norway (travelling juried exhibition); Dimensions Variable, Miami; Another Space, Copenhagen; Interno4, Bologna; ISCP, NY; The Annual National Art Exhibition in Norway, Kunstnernes Hus, Oslo. Aanestads´ work is included in several private collections internationally.
Andrea Bell is a New York based curator who writes on the Early Modern and Modern periods in a global context, and the inheritance of that tradition in Contemporary Art. She holds a doctorate in art history from New York University's Institute of Fine Arts, and has held the Postdoctoral Fellowship in Art Theory and Criticism at the New School University, as well as fellowships at The Morgan Library and Museum in New York and the Deutsches Forum für kunstgeschichte in Paris. Andrea is currently a curator in residence at RU.
Peter Erik Lopez is a painter and recent graduate of Transart Institute for Creative Research. His medium of choice is oil on canvas. Peter explores his own personal history by questioning the veracity of the family-album-as-archive. He paints images from his family album on scraps of loose canvas, but reconstituts them through symbols and disruptions to reveal the trauma, inherited trauma, and abuse elided from the archive. He has worked with his mother's family album to explore her German heritage as the daughter of a Nazi soldier and an eventual apologist for her father. He has also explored his father's history as a dark-skinned Mexican who was estranged from his light-skinned family. Peter is currently interested in investigating the history and current status of Afro-Mexicans in Mexico through further disruptions of family archives, costume, and performance. Peter has recently been accepted into The Drawing Center's Viewing Program for 2020/21.
Irene Mamiye is a New York-based artist working with the intersections of photography, sculpture, video and new media. Since 2010, her practice has centered around the impact and possibilities created by our online image environment upon both the meaning and materiality of photography. By amassing archives of online images, altering and stretching the automated processes of digital photography, and utilizing virtual reality, she delimits her perspective to test the possibilities and tyrannies of our image-saturated world. Her aim is to illuminate and abstract the changing relationship between artistic process and output, and extend both the material and philosophical idea of photography into new media technological realities.
Rotem Reshef is a painter and installation artist based in New York and Tel Aviv. Her paintings and large-scale installations have been shown internationally in solo and group exhibitions, and just before the Covid-19 pandemic she had a solo exhibition titled "Arcadia" at the Katonah Museum of Art. Rotem has a Masters degree in museum studies from the Reinwardt Academy in Amsterdam, and a BFA from Hamidrasha School of Art in Israel. In her work, Rotem takes neglected materials and gives them a second life cycle, by fossilizing them into her paintings. Her immersive installations create a world for the viewer to engage with, echoing ecological and political concerns in indirect and abstracted ways.
Paul Wesenberg, based in Berlin, Germany, is a painter with a special interest in the materiality of color and canvas. His approach shows a highly reflective grounding in his personal position and an irrepressible desire to bring the aspiration and autonomy of the image into a present, void of any predefined models of meaning, as opulently as possible. The free oscillation of his forms – sometimes abstract, sometimes concrete; chaotic form concentrations here, calm linearity there; thickly layered paint on one hand, nonchalant fluidity on the other – makes his paintings loci of sensual experience.
Watch the artists' interviews below.

This exhibition is supported, in part, by public funds from the New York City Department of Cultural Affairs in partnership with the city council as well as the Consulate General of Israel in New York, The Stavanger City Council and Rogaland County Council.