Exhibition | Jul 7 2021 6:00-8:00pm
RU Exhibition: Storying | Closing Reception and Performances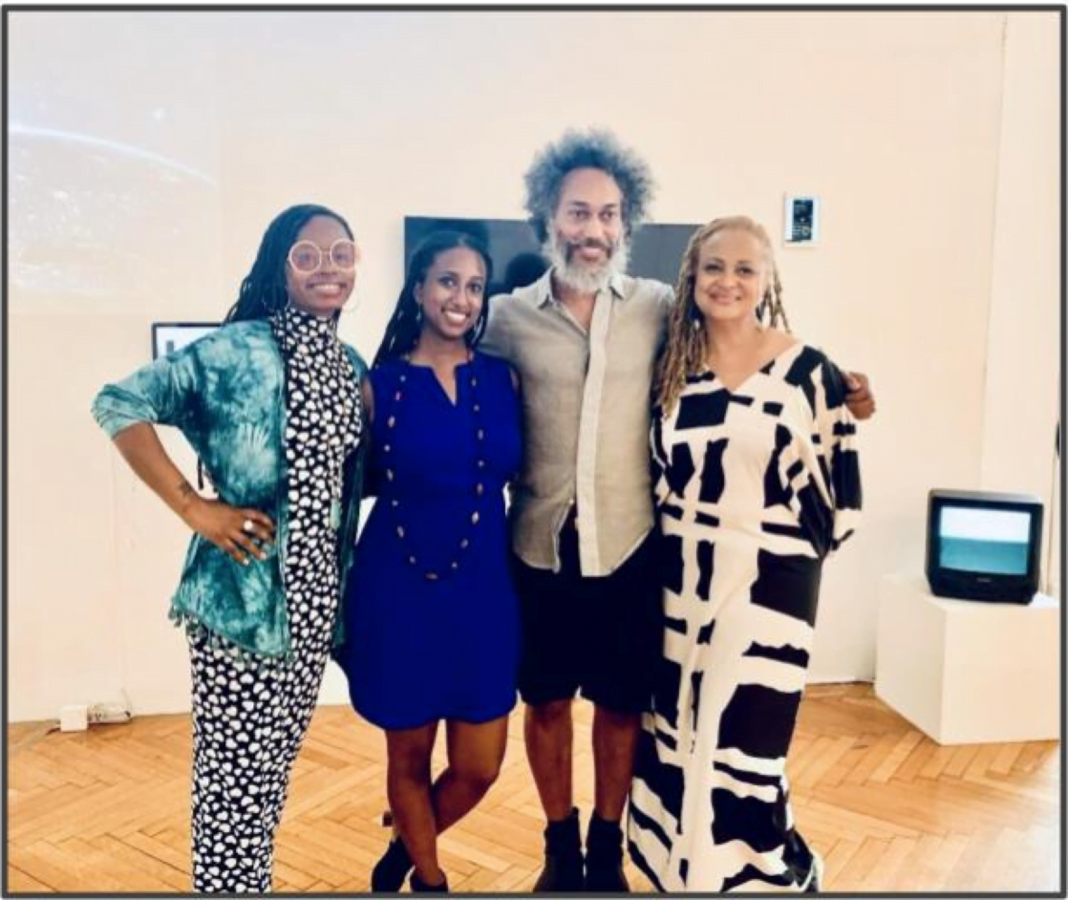 Left to right: Damali Abrams the Glitter Priestess, Helina Metaferia, Zachary Fabri and Elvira Clayton. Courtesy of Helina Metaferia.
Please join Residency Unlimited (RU) for the closing reception of Storying with performances by exhibiting artists Damali Abrams the Glitter Priestess, Elvira Clayton, Zachary Fabri and Helina Metaferia.
Closing Reception & Performances: Wednesday, July 7, 6 pm-8 pm
Location: Andrew Freedman Home, 1125 Grand Concourse, Bronx, NY
Subway: B, D, 4 to 167th St.
Performances will begin on the front grounds of the Andrew Freedman Home with Rice and Cotton Hands, an audience engagement work by Elvira Clayton. Expanding on the research of his temporal installation Jimmy's Hands, Zachary Fabri invites visitors to experience a new sound score performed in the interiors of the Andrew Freedman Home. On the lawn, Helina Metaferia will facilitate a participatory performance, which considers embodiment, intimacy, and vitality in our current screen-dependent, tech-obsessed era. The evening will close inside the exhibition where Damali Abrams the Glitter Priestess, embodying Afro-Caribbean expressions of the Divine Femme, will collage alternate realities live to The Glitter Priestess 90s Girl Reparations Playlist.
Storying is organized as part of the 2021 NYC-Based Artist Residency Program. Through oral histories, the epistolary form, ritual vessels and a performative time capsule of our current moment, the works in the exhibition recall lesser-known events and accounts that have yet to be written through processes that yield solidarity while honoring the past. Storying is curated by RU Guest Curator Rachel Raphaela Gugelberger.
Click the image below to see photos from the closing reception and performances.
The 2021 NYC-Based Artist Residency Program is supported by the Cowles Charitable Trust, and generous support from Mina Aslan, Amika Cooper, Martha Garcia, Georg and Renate Gugelberger, Rose-Marie Labaguis, Reynard Loki, Ed Luscombe, Mica Le John and Michael Taylor, Loren Madsen, Manon Slome and Jeffrey Walkowiak.