Exhibition | Nov 16 - 27 2018
RU Exhibition: mono no aware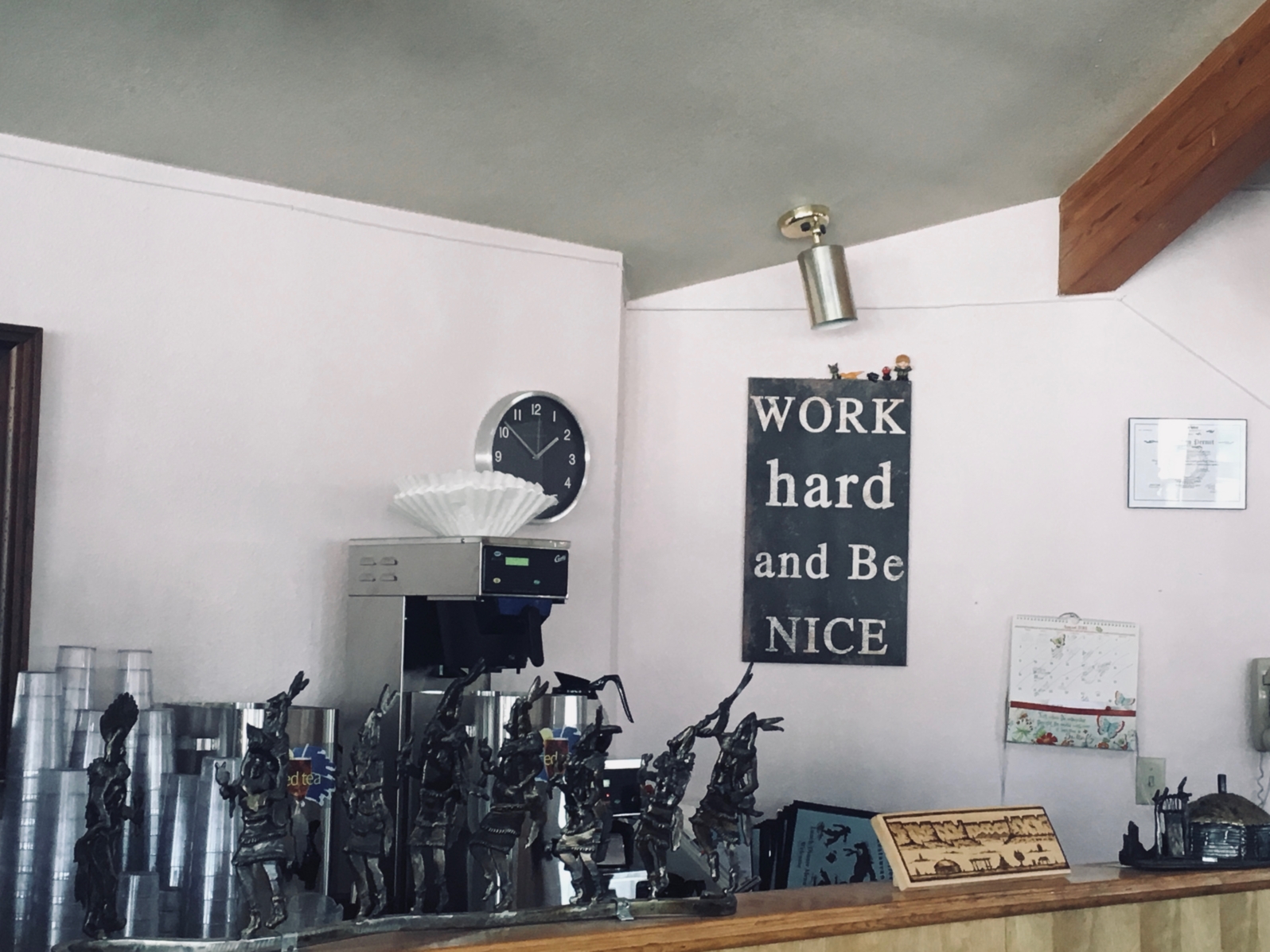 Meggy Rustamova: WORK hard and Be NICE Photo, dimensions variable, Arizona, 2018
Opening Reception: Friday, November 16, 2018 from 6-8p
Exhibition dates: November 16-27, 2018
Gallery Hours: Wednesday-Friday, 12-6pm
Realty Collective
351 Van Brunt St, Brooklyn, NY 11231
Video documentation of the exhibition can be found here.
Curated by Eric Sutphin, in association with Residency Unlimited (RU).

Regardless of medium, every artist is, whether conscious of it or not, operating within the condition of mono no aware. Attempts at translation miss the term's nearly mystic nature. An "awareness of things" comes close, though it still misses the unspeakable, emotive quality that the Japanese phrase connotes. Motoori Norinaga, an eighteenth century literary scholar, combined aware (sensitivity) and mono (things) to create a linguistic equivalent to his sense of connectivity with his phenomenological being. In other words, mono no aware encapsulates the intricacy (and intimacy) of one's relationship to things. The work of the four artists presented here: Joanna Borkowska, Oneika Russell, Meggy Rustamova and Émilie Régnier each exemplifies the condition of mono no aware through their precise relationships to material and concept. In considering mono no aware, we can think of William James's dictum "My experience is what I agree to attend to. Only those items which I notice shape my mind as guide along the way."
Joanna Borkowska prods the unimaginable and the infinite in her paintings. By deploying modest painterly strategies including the splatter, the stain and the drip, Borkowska leans toward the incomprehensible outer reaches of human understanding. What might first read as a monochrome, reveals itself to be a tightly woven nexus of decisions made manifest in paint. Like a constellation of stars, a cluster of cells or a flock of distant birds, the painterly elements in Borkowska's work operate together to create a totality of form that seems to swell and breathe.
Oneika Russell's textile works are painstakingly crafted with a combination of printed pattern and hand-sewn adornments. Her work is at once tableau and pure surface. When hung some distance from a wall, they create diaphanous screens and move into the realm of sculpture. Born in Jamaica, Russell has looked to postcards with idealized images of Jamaican women as a source of inspiration. Despite their often exuberant and gleeful surface, Russell's work considers the centuries-long colonial aestheticization of Caribbean life.
Meggy Rustamova 's WORK hard and Be NICE, (2018) is a pointed commentary on displacement, site and race. Employing the language of a candid tourist photograph, Rustamova captures a wealth of socio-political content in a (seemingly) banal cafe scene. In addition to this work, Rustamova will present Light Displacement, a film in which she attempted to document a tree in Hiroshima. Rustamova's moving portrait brings us to the heart of mono no aware.
Émilie Régnier's ongoing research-based project takes the human heartbeat as its centrifuge. The heartbeat is a symbol of one's humanness. Like a fingerprint, no two are alike. As Régnier has described: "I want to make people listen to as many different heartbeats as possible in the hope that your humanity can be echoed in the humanity of the others, ultimately allowing us to break through our judgments and look deeper inside one another." As a distinct marker of identity, Régnier's project also points to the potential for the heartbeat to be exploited for the sake of surveillance.
Eric Sutphin is a writer and painter based in New York. He received his BFA from Rutgers University: Mason Gross School of the Arts in 2007 and his MFA in Art Criticism and Writing from The School of Visual Arts in 2014. He is a monthly contributor to Art in America and has been published in Artforum, frieze, The Brooklyn Rail, Harper's Bazaar Arabia, Artcritical and The Mantle. He has contributed print and digital catalogue essays for artists including Aaron Spangler, Jonas Mekas, Michael De Feo, Matt Jones and Ursula von Rydingsvard. Eric has been a visiting critic at University of Delaware, Rutgers University, The School of Visual Arts, Seton Hill University and Delaware College of Art and Design. Recent curatorial projects include Black Diamonds: Photographs by Jason Andrew for SPRING/BREAK Art Show (New York, NY) and Key Change at AGENCY (Brooklyn, NY). He recently edited Rosemarie Beck: Letters to a Young Painter and other Writings which was published March 15, 2018.
We are truly grateful to Realty Collective, for generously hosting this exhibition. Realty Collective is a company that works to transform people's experience of what is possible in Brooklyn real estate.
This program is made possible with the support from The Province of West Pomerania and The Kosciuszko Foundation, Polish Cultural Institute New York, Davidoff Art Initiative, Flanders State of the Art, Canada Council for the Arts, andThe Cultural Development Fund from NYC Department of Cultural Affairs.
***