Exhibition | Jun 10 - Jul 9 2023
in pieces…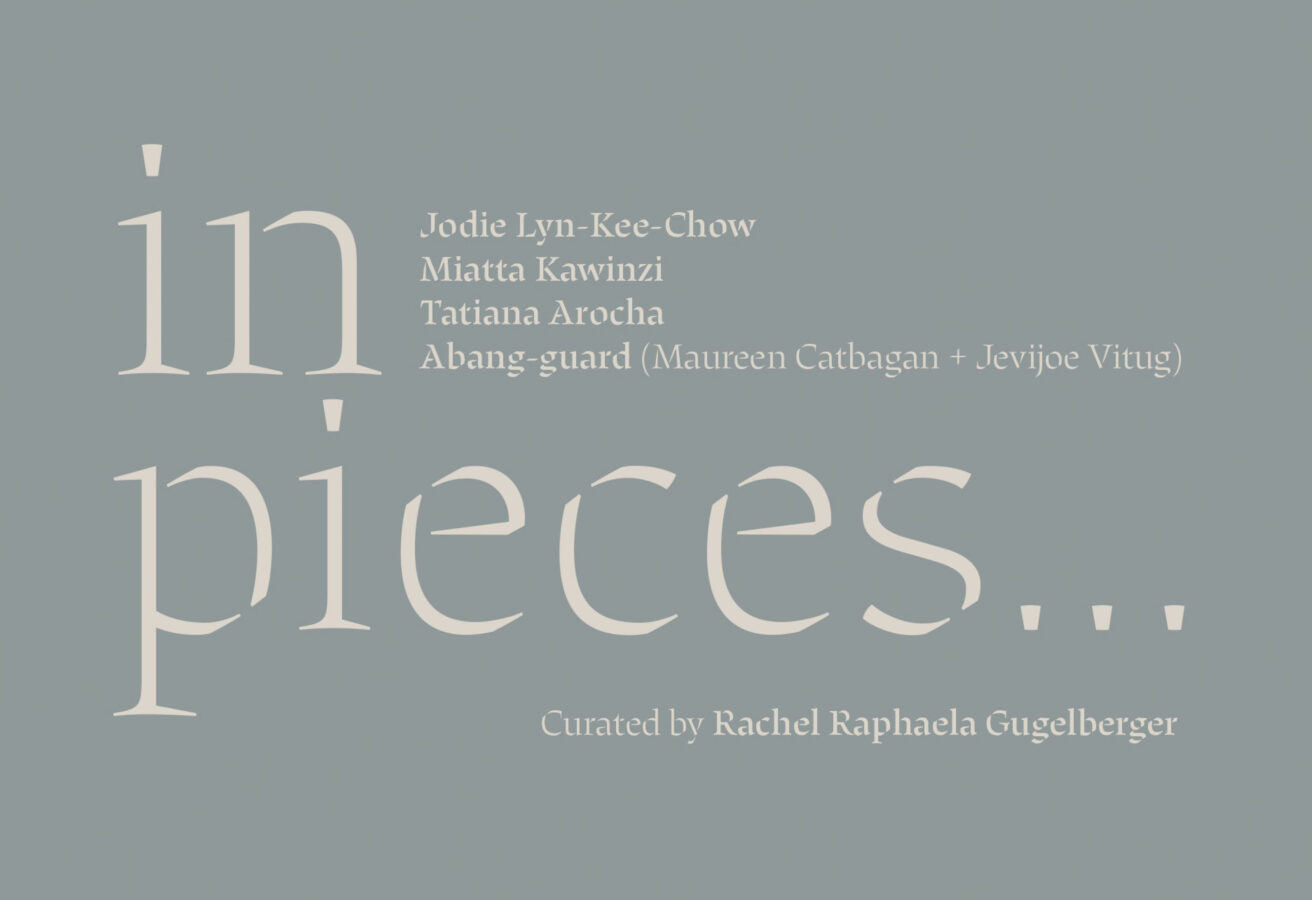 Exhibition Dates: Saturday, June 10 - Sunday, July 9, 2023
Location: PS122 Gallery, 150 1st Ave. (Entrance on 9th St. between First Ave. and Ave. A), New York, NY 10009
Hours: Thursday - Sunday, 1:00 - 6:00 pm and by appointment
Opening Reception: Saturday, June 10, 4:00 - 6:00 pm
Exhibition Walk-through with the Artists and Curator: Saturday, June 10, 2:30 pm & Sunday, June 25, 2:30 pm
Virtual Panel "Decocainizing Coca: Challenging Western Narratives of a Sacred Plant": Thursday, June 15 at 7 PM on Zoom
Click here to view the online brochure
Residency Unlimited (RU) presents in pieces..., an exhibition featuring works by Abang-guard (Maureen Catbagan + Jevijoe Vitug), Tatiana Arocha, Miatta Kawinzi, and Jodie Lyn-Kee-Chow at PS122 Gallery in New York. The exhibition is the culmination of RU's 2023 NYC-Based Artist Residency Program, where the artists focused on research and the development of multidisciplinary projects around the history of Little Manila in Woodside, Queens, and the intersections to immigration, labor, and visibility; the coca plant, colonization, scientific discoveries of cocaine, and the development of Coca-Cola; the links between the United States and Liberia reflecting upon personal, national, and transnational histories; and the interplay between sugar cane plantation slavery in Jamaica and the sugar cane industry in Scotland.
in pieces… encompasses a broad spectrum of narratives to shape a fuller and more nuanced understanding of historical knowledge and the intertwined formations of identity, memory and place. The exhibition draws its title from Katherina Grace Thomas's essay "Nina Simone in Liberia," published on guernicamag.com in 2017. In the essay, Thomas recounts an anecdote shared by a friend: "Liberia's past is in pieces, he said, and here's one of them. Maybe it's the one you're looking for." The essay was among many materials assigned by individual artists as part of weekly salon discussions that considered the sources shaping their projects.
In pieces... is curated by RU Guest Curator Rachel Raphaela Gugelberger.
Reflecting on the artistic strategies of the avant-garde, Abang-guard, a collaborative project between artists Maureen Catbagan and Jevijoe Vitug, infuses personal history and art practice with theoretical humor to convey the complexity and nuances between cultural production, institutional structures, and the role of labor. The project began in 2017 through their occupation as museum guards. Featured in the exhibition is Little Manila Monuments, an ongoing research-based project that draws inspiration from the Rizal Monument in Manila, Philippines, that commemorates the executed national hero, Dr. José Rizal and is guarded by the Philippine Marine Corps' Marine Security. The multi-media installation presents brick-and-mortar businesses in Little Manila, Queens, as landmark monuments in New York City to pay tribute to the working-class immigrants who built them, and acknowledge them as modern-day transnational heroes. Abang-guard acts as sentinels in front of restaurants and convenience stores, framing their value and significance as bridges and lifelines between families and their homeland.
Rooted in personal memory and her immigrant experience, New York-born Colombian artist Tatiana Arocha's practice explores the relationships between people and the land through art projects and transdisciplinary knowledge exchange that confront the ecological, emotional, and cultural loss caused by extractive economies and colonial practices. Her current research mediates upon the deep historical and cultural significance of the coca plant, colonization, scientific discoveries of cocaine and the development of Coca-Cola through an ethnographic lens. Arocha's fieldwork involves communing with plants through the building of a personal lexicon of textures by rubbing, photographing, preserving and tracing bark, seeds and leaves. In the installation The Cost of a Line of Coke, accompanied by historical, cultural and material objects, Arocha considers the historical agency of coca, a "teacher plant" and indigenous natural medicine, whose inequitable classification as a narcotic has reduced the plant to an object for illicit cultivation and drug use subjugated by dominant Western culture.
Miatta Kawinzi is a Kenyan-Liberian-American multi-disciplinary artist presenting new work in embodied photography, collage, sculpture, writing, and sound that explores the re-imagining of personal and collective identity. In works such as Reaching for our other halves and to trust the air might hold us, the artist explores the entanglements between the United States and Liberia, the West African republic established by the American Colonization Society in the 1800s as a place to re-settle formerly enslaved/free-born Black people from North America amid rising racial tensions. Kawinzi reflects on the country's position as a place of possibility for African-Americans around the time of the republic's founding and through pan-African freedom movements in the 1960s and 70s, the tensions around notions of settlement, Indigeneity, and hierarchy in relation to the land, the civil wars from the 1980s - early 2000s that displaced members of her family, and the future possibilities that can exist. Informed by embodied research and listening to landscapes, experimentation, and gesture as an expressive tool, Kawinzi's poetic works engage interior and exterior landscapes to illuminate themes of inter-connectivity, hybridity, diaspora and queered temporalities and explore the ongoing search for a space of freedom and self-determination within the African diaspora.
Jodie Lyn-Kee-Chow is a Jamaican-American interdisciplinary artist whose recent performance, installation and works on paper draw from nostalgia for her homeland, Caribbean folklore, fantasy, feminism, spirituality, environmentalism and her immigrant experience. The African diaspora, European colonialism and Chinese migration make-up significant parts of Lyn-Kee-Chow's origin story and inspire her practice. Featured in the exhibition is the video Meet Me in the Sky Parlor, based on histories of enslavement in the Caribbean and the sugar industry in Scotland. Set in a black room installation created and documented by Amy Sinclair, Lyn-Kee-Chow portrays Mary Williamson, a mixed-race enslaved Jamaican woman in the late 18th century who was sold to a white man to be his wife. In the video, the artist wears a costume that she designed for her original performance as Williamson in the 2022 play Living Histories of Sugar, informed by a letter that Williamson wrote in 1809 in Hanover, Jamaica. The letter sat in a Scotland attic for decades until 2016, when a history student brought the letter belonging to their family to Diana Paton, a professor of History at the University of Edinburgh. Additional works on view are based on a 17th-century engraving by G. Child that explore themes of valor and revolt in life-sized renderings of tools and weapons used by West African peoples in Ghana (formerly known as the Gold Coast), the first sub-Saharan nation to break free from colonial rule in 1957. Inspired by the slave revolts that took place in Jamaica in 1831, silhouettes of machetes are crossed in the shape of an X and digitally printed on semi-transparent Chiffon curtains, existing as symbols of soft solidarity with each other.
Click below to see images from the exhibition and opening reception

About the NYC-Based Artist Residency Program
Since 2012, the NYC-Based Artist Residency Program has provided network, project and creative support for artists traditionally underrepresented in the arts with a focus on research-based practices that fill in gaps in historical knowledge. The 2023 artists were selected from an open call by a panel of arts professionals that include: Elvira Clayton (RU NYC-Based Artist Alumna, 2021), a visual and performance artist based in Harlem, New York; Rachel Raphaela Gugelberger, Curator of Visual Arts at Wave Hill, a public garden and cultural center in the Bronx; and Dario Mohr, interdisciplinary artist, educator and Founding Director of AnkhLave Arts Alliance.
PS122 Gallery is a not-for-profit alternative exhibition space in the East Village operating since 1979. It is dedicated to fostering and developing the arts by providing opportunities and support services for emerging and under-recognized artists. It is an ongoing program of Painting Space 122, the grassroots, artist-run cooperative that helped foster the vibrant cultural community at the City of New York-owned 122 Community Center (122CC). PS122 Gallery strives to present the work of artists of all backgrounds in a diverse and equitable context. By acting as a platform, PS122 Gallery also seeks to re-engage with its surrounding community, welcome new communities, and create new, audience-driven opportunities for engagement. In addition to PS122 Gallery, the Members of Painting Space 122 offer support through the Project Studio Residency program by providing one-year workspace studios at below-market rates to a diverse group of professional artists.
A special thank you to Ian Cofre, Director at PS122 Gallery, for generously hosting this exhibition.
The 2023 NYC-Based Artist Residency Program is made possible by the New York State Council on the Arts with the support of the Office of the Governor and the New York State Legislature and public funds from the New York City Department of Cultural Affairs in partnership with the city council.