Talks | Apr 18 2019 6.30pm
Dirt & Debt Suppers Biweekly Series: Iain Kerr, SPURSE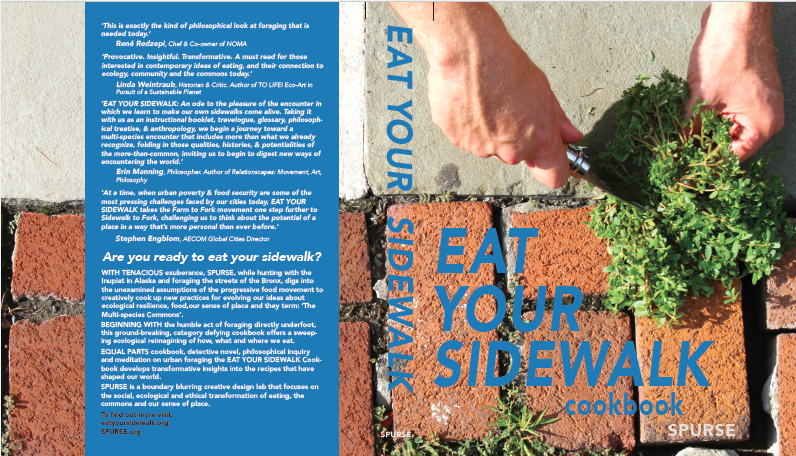 GUEST SPEAKER: Iain Kerr
WHEN: Thursday, April 18, 6:30-8:30
WHERE: Nutrition and Food Studies, New York University, 411 Lafayette St. 5th Floor
BRING: yourself, of course, and a shareable edible
Dirt Dependencies: On Sidewalks, Weeds and the Multi-Species Commons
A discussion with SPURSE
The boundary-blurring eco-social design consultancy SPURSE recently published a cookbook that Rene Redzepi is hailing as "exactly the kind of philosophical look at foraging needed today".
Join SPURSE member Iain Kerr for a wide ranging discussion of the ideas behind their cookbook, why and how to become dependent upon place, and what would a multi-species commons look like.
SPURSE has been at the forefront of ecological research, experimental design, and innovation leadership for the last two decades -- developing ground-breaking ways to probe, catalyze, disrupt and re-imagine systems both large and small, they have collaborated with communities, organizations, and individuals from the high arctic to the inner cities in Bolivia. Their award-winning projects reveal an astonishing range of creative solutions to effecting real change: from restaurants, wetlands, wayfinding apps, urban renewal programs, microbiology laboratories, cookbooks, buildings, everyday tools and more.
What are Dirt & Debt Suppers you ask?
-An exciting art + food systems discussion group
-Casual potluck-style gatherings every other Thursday evening
-Residency Unlimited Dirt & Debt residency artists + people in the food world + students
-A creative dialogue about food systems issues
We'd love your company and if you cook well, we love you even more.
+++++++++++++++++++++++++++++++
ABOUT DIRT & DEBT:
In a global context of escalating ecological crisis, polarizing inequality, and demographic shifts driving urbanization, healthy and accessible land/dirt/earth/soil are at the core of healthy societies. Dirt & Debt is a three-month residency initiative organized by Residency Unlimited, inviting artists to envisage new pathways to how we build and manage our built and natural world in order to foster equitable, ecological, compassionate community. The residency is curated by Livia Alexander and Jane Philbrick. 2019 participating artists are Maryam Monalisa Gharavi, Melissa Marks, Anna Riley, Jessica Segall, Candace Thompson, Luisa Valderrama, and Jeni Wightman.
Residency Unlimited (RU) supports the creative process and promotes exchange and diversity through its unique customized residency program and year-round public programs. We nurture local, national, and international artists and curators at all stages of their career. RU is particularly committed to promoting multidisciplinary practices and building lasting connections between residents and a broad range of communities. Collaboration and partnerships are at the heart of our mission.
New York University's Food Studies Undergraduate and Graduate programs employ approaches from the humanities and social sciences to analyze the current American food system, its global connections, and local alternatives. Its mission is to examine the ways in which individuals, communities, and societies produce, distribute, and consume food using cultural, political, economic, environmental, and geographic approaches.