Exhibition | Nov 19 2020 12pm - 6pm & Talk at 6pm
New work by María de los Àngeles Rodríguez Jiménez & artist conversation with Amy Rosenblum-Martín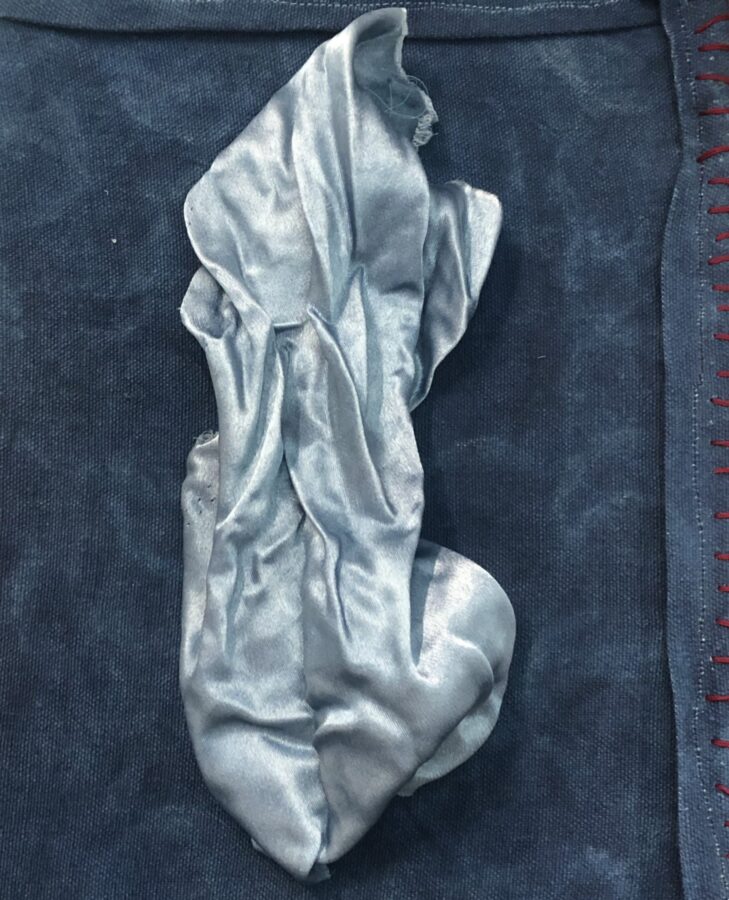 María de los Àngeles Rodríguez Jiménez, Tangled in Blue, 2020, Indigo, oil, acrylic, metal, sequence, satin, and linen. Courtesy of the artist.
RU is pleased to invite you to meet our current artist-in-residence María de los Àngeles Rodríguez Jiménez on Thursday, November 19 from 12 pm - 6 pm, and to experience her new work in person. The viewing will be followed by a discussion between the artist and curator Amy Rosenblum-Martín from 6 pm - 7 pm.
Watch the recorded talk below.
The work that I've been creating at RU is a reflection of my research of the womb, a fluid space of infinite potential. Many of these new works represent the womb with the usage of the color blue. The wet process of indigo dyeing has been integral to this representation of the fluidity of water and the womb. The ocean is a fluid womb that gives life to all, it also has the potential of taking life. Just as Yemaya, the Orisha mother of the ocean has the potential to give and take life. A womb is a water-filled space that is constantly spilling. I am manifesting Yemaya and reclaiming blue for life, for femininity, and for potential. - María de los Àngeles Rodríguez Jiménez
Please visit the album below for install shots and new works.
Residency Unlimited (RU) is following social distancing protocol and CDC guidelines to protect staff and visitors. The exhibition will be limited to eight visitors at a time - walk-in, no appointments. Visitors must wear a mask and maintain six-feet between them. Hand sanitizer will be available upon entry. The discussion at 6 pm will also be limited to an audience of eight. If you wish to attend the talk, please email nathalie@residencyunlimited.org.
María de los Àngeles Rodríguez Jiménez was born in Holguín, Cuba, and later migrated to the United States. Her current work focuses on creating offerings, such as objects, happenings, and performances, that emphasize different modes of translation on how diasporic bodies navigate through space in order to preserve a culture and an identity. Jiménez's work is focused on questions pertaining to the body as a temporal vessel, the spirituality of objects, and material symbolism. Her intention is not to anthropomorphize the organic and industrial materials that she works with, but rather to imbue the material with meaning, animating it in order to render something that resembles both flesh and feeling. Jiménez's research on the Yorùbá belief system, and all its translations across the diaspora, has been a pivotal force in defining her understanding of the art object as something that possesses a spiritual power that can act as a form of resistance.
Jiménez held her first solo exhibition, Ojalá, at David Castillo Gallery in Miami, FL. in April 2019. She received a BFA from The Cooper Union, NY, in 2015 and her MFA from Yale University in 2020. Jiménez attended the Skowhegan School of Painting and Sculpture in Maine in 2016 and the SOMA Summer Program in Mexico City in 2019. Her upcoming projects include a Fulbright Fellowship to Salvador da Bahia in Brazil and a solo exhibition at The Knockdown Center in 2021. She is represented by David Castillo Gallery, in Miami.
Amy Rosenblum-Martín is a New York-based independent curator of contemporary art for museums. She is an anti-racist, bilingual (English/Spanish) curator who has long been a leader in the field of Latinx Art and committed to equity and community engagement. The June 2003 ARTnews cover article on Latin American art featured her work and quote: "Latin America is a neglected strand in the development of [global] modernism." Formerly a staff curator at the Pérez Art Museum Miami (when it was MAM) and The Bronx Museum, she has also worked for MoMA, MoMA PS1, the Guggenheim, The Met, MCA Chicago, The Hirshhorn, MACBA (Barcelona), Reina Sofía (Madrid), National Portrait Gallery (London) and Kunsthaus Bregenz (Austria) as well as MIT, NYU, The New School, Peking University and Colección Patricia Phelps de Cisneros.
Exhibitions include Marking Time: Art in the Age of Mass Incarceration, currently on view at MoMA PS1 (Guest Assistant Curator); Ana Mendieta: Thinking about Children's Thinking at Sugar Hill Children's Museum, a 2018 Artforum Critic's Pick (Originating Curator); PAMM's presentation of Global Conceptualism (organized by the Queens Museum); and Corporeal Intelligence at The Bronx Museum (Originating Curator; Lygia Clark, Felix Gonzalez-Torres, Hélio Oiticica). Rosenblum-Martín's precedent-setting work on Lucio Fontana in Argentina (Columbia University) and Josef Albers in Mexico (The Bronx Museum) foreshadowed subsequent exhibitions at the Met and the Guggenheim. She curated the U.S. museum solo debuts of Consuelo Castañeda, Dara Friedman, Adler Guerrier, Quisqueya Henríquez, Marisa Morán Jahn, and Javier Tellez.
María de los Àngeles Rodríguez Jiménez's residency is made possible with support from The Cuban Artist Fund and Rockefeller Brothers Fund.

This program is supported, in part, by public funds from the New York City Department of Cultural Affairs in partnership with the City Council.