Exhibition | Apr 12 2014
Ways of Reading, a solo exhibition by Kristin McIver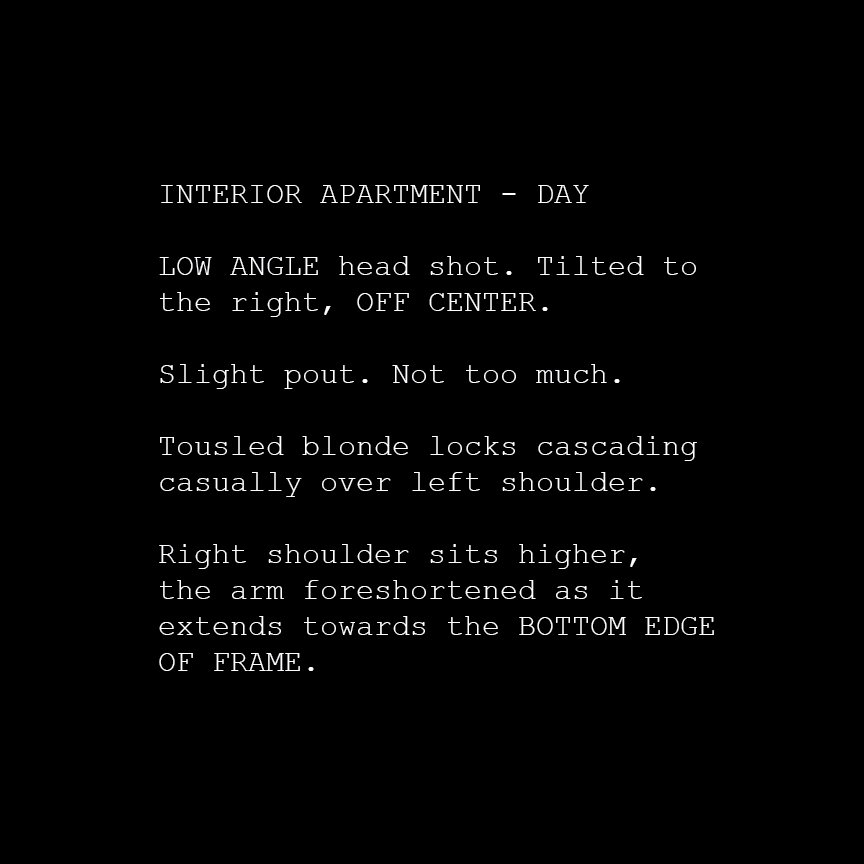 Curated by Boshko Boskovic, RU Program Director.
April 12 - 26, 2014
Opening Reception: Saturday April 12, 6pm – Free and open to the public
Court Tree Collective
371 Court Street (1 block from RU)
Brooklyn, NY 11231
Through her text-based objects, McIver explores the phenomenon of the "selfie," an ongoing subject of interest for the artist as the self-portrait of the digital age, whereby 90 million individuals offer themselves for public consumption on social media.
The series Typecast centers on McIver's writings, which describe the posture of the selfie sitters found on the internet. Using conventions of screenwriting and the structures of cinema, McIver's texts become a set of performative instructions with phrases such as: INTERIOR APARTMENT - DAY. LOW ANGLE head shot. Tilted to the right, OFF CENTER. Slight pout. Not too much. Tousled blonde locks cascading casually over left shoulder. Right shoulder sits higher, the arm foreshortened as it extends towards the BOTTOM EDGE OF FRAME.
The artist carefully analyzes the poses and gestures as self-conscious acts where the camera substitutes the mirror representing one's own vanity. Through her script-like descriptions McIver stages a narrative that reads as a set of directives for a perfect self picture. The desire to achieve the perfect pose and picture angle never ends, hence new photos are fabricated incessantly according to a prescribed set of mannerisms. The number of views becomes an important quantifier of success, since one is being exposed to the followers of the World Wide Web. The artist recognizes the acquiring of perceived status through accumulated "likes" and "friends" as a form of self-validation. The appearance becomes a contest, very similar to a beauty pageant, however it is ambiguous whether the role of judge falls upon the gaze of the viewer or the self.
Kristin McIver's residency is supported by the Australian Postgraduate Award Scholarship through the University of Melbourne.
MORE INFO
Kristin McIver uses language as medium: words are dissected, displayed as objects and arranged throughout the gallery space. She reconfigures the sculptural pieces as a fluid material and conceptual device. Her writings are used as ways to engage with popular culture and phrases that appear in these works probe the nature of the current visual communication, revealing its effectiveness as well as its limitations. The "selfie" representation imitates mediated ideals, as observed in advertising, television, and celebrity culture.
Kristin McIver is an Australian artist whose practice includes sculpture, painting and installation. Her most recent exhibitions include "Status Quo" at James Makin Gallery in Melbourne, Asialink's touring exhibition "Vertigo", "Lifeless III at Royale Projects, Palm Springs, California,  Melbourne Now, an important survey of Melbourne contemporary artists at the National Gallery of Victoria. McIver's work has been selected as a finalist in awards and residencies, including at OMI International Arts Centre in Ghent, New York, the Melbourne Sculpture Prize (winner), The Substation Contemporary Art Prize, Melbourne, the Montalto Sculpture Prize and the City of Whyalla Art Prize.
RELATED: