Activities | May 21 2023
VoM and @ARTmobile Workshop #1: Mapping both ways back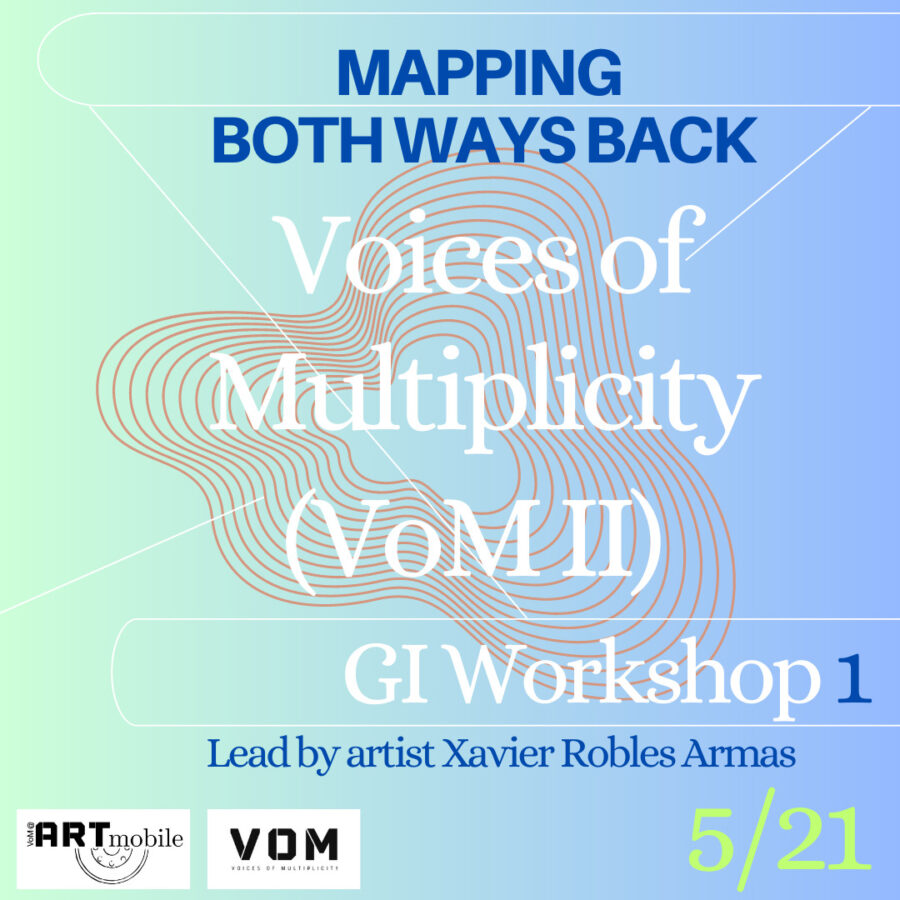 Sunday, May 21, 2023 
Begins at 12pm | Open to the public
Join VoM Artist Xavier Robles Armas for the first workshop series on embodied wayfinding at KODA/RU House, #404B Colonels Row
Click here for access to Governors Island
Join us for this first workshop organized by VoM Artists in Residence With Mapping both ways back, transient visitors will be welcomed to respond to a series of prompts as they relate to orienting themselves in space, especially when considering how they arrive to and from their place of residence to Governors Island. A curated selection of books centered on maps, wayfinding and belonging will be available for people to take inspiration from and respond to, leading to un/facilitated art making & map making experiences. This workshop is the first of five organized by VoM and @ARTmobile that incorporates various emergent art making strategies from movement, collage, photography, printing and AI to expand the breadth of mapping and what it means to be it and do it.
The 2023 Voices of Multiplicity (VoM) Artist Residency Program is led by the RU guest curator Ayelet Danielle Aldouby with co-creators and artists Kelly Huang, Niambi A. Murray, Andrea Orellana and Xavier Robles-Armas. From May through October, the team will work from the KODA/RU house on Governors Island where they can implement monthly artistic workshops which are accessible and free for all.
VoM @ARTmobile is realized in partnership with The Brooklyn Public library (BPL). It will be present at the KODA/RU House on Governors Island on Saturday June 24, July 15, August 19, September 16 and October 21.
Conceived in 2022 and curated by Ayelet Danielle Aldouby, the Voices of Multiplicity (VoM) Artist Residency Program offers opportunities for artists to gain cross-disciplinary competencies in socially engaged art, dismantle barriers to entry into the art-world and provide access to resources.
VoM @ARTmobile is supported by funds from the Roman Foundation and the BKLYN Incubator supported by generous funding provided by The Charles H. Revson Foundation.
We are also grateful to Jane Roman - strategic partner and Silvia Lucca - VoM coordinator for their support of VoM @ARTmobile.