Exhibition | Oct 30 - Nov 12 2022
Urtica by Anna Zilahi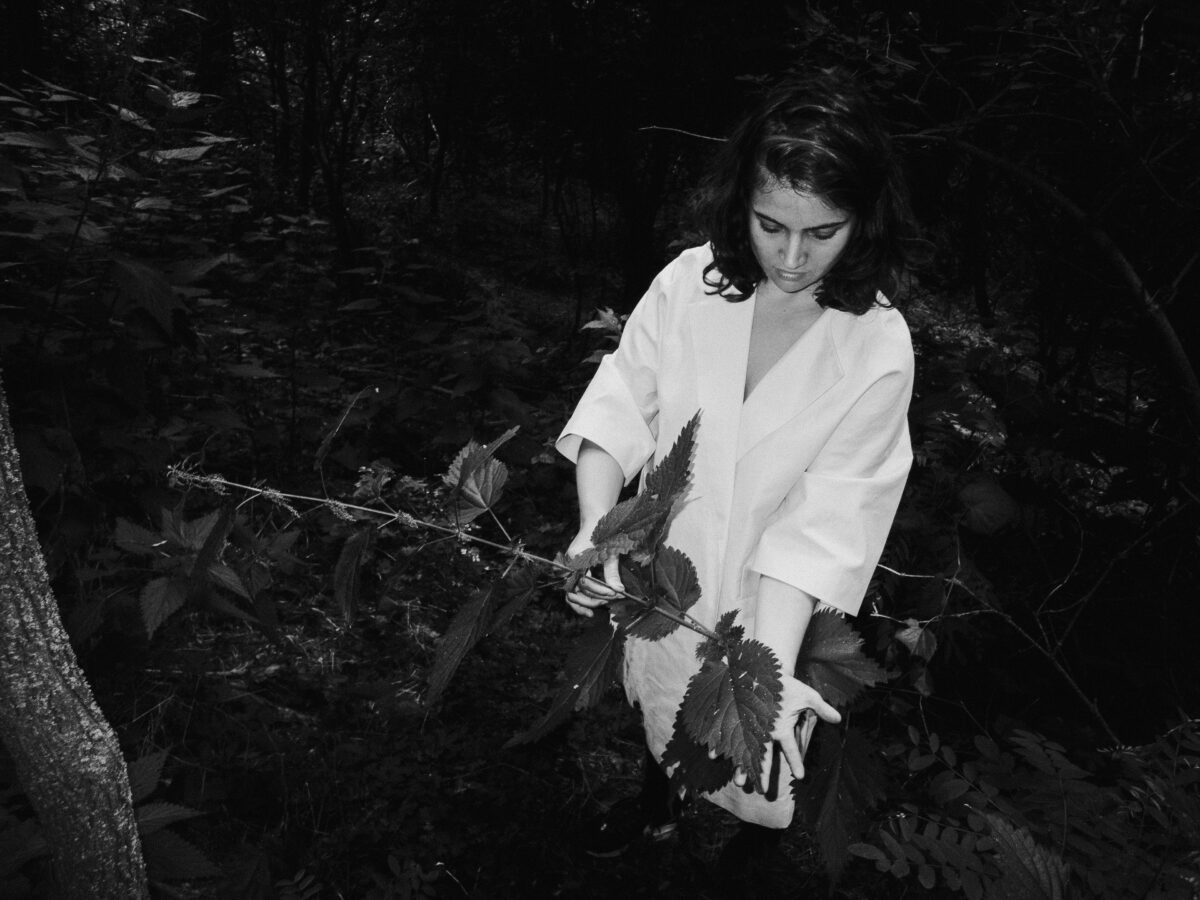 Photo credit: Gergely Ofner
Sunday October 30 | 12:00-6:00pm
Friday-Saturday November 4 & 5 | 12:00-6:00pm
Friday-Saturday November 11 & 12 | 12:00-6:00pm
KODA House
Governors Island, Colonels Row, Building #404B, second floor
Click here to view map. Details on how to get to Governors Island here.
Urtica by Anna Zilahi
Video, 6'20", 2022
Camera: Gergely Ofner, editing: Eszter Králl
Anna Zilahi's ongoing investigations with Urtica dioica (Common nettle also known as the Stinging nettle) tells a story of reconnection. It also offers the observation that distancing oneself from painful encounters has become a norm in contemporary human interactions with nature and with one another.
The Nettle is a multifaceted weed intrinsically linked to one's childhood imagination. It cannot be touched because it stings and causes a rash. Establishing contact and connection with this plant fosters instant pain. Whereas its botanical Latin name (urtica) stems from the burning pain it causes, its many beneficial properties such as improving blood circulation and anti-inflammatory properties are downplayed and often overlooked. Zilahi makes the following analogy. Touching a nettle bears the ambivalence of humans and their relationship to Nature which ever since the Enlightenment we seek to dismiss as a force to be controlled. In the shadow of and heightened realization of the current ecological crisis, Zilahi proposes a different approach: openness, and, the realization that pain is inherent to all sorts of relations. Getting to know the other, enriching ourselves is not possible without dissolving our boundaries.
Urtica is based on Hans Christian Andersen's tale, The Wild Swans, where the princess saves her brothers, who are transformed into swans by sewing them an armor shirt made from nettles. She cannot whimper, cry out nor exclaim her pain while completing this task. Ultimately, the nettle cloth liberates the brothers and allows them to return to their human bodies. Liberation is possible through the acceptance of pain.
In this performative video, Zilahi is creating a nettle dress, prompting a reverse transformation: touching the plant reconnects one with our non-humanness and animality – their swanness. The play with the white gown symbolizing the swan reflects how we oscillate between our human consciousness and our more visceral selves that makes us part of the natural world.
Urtica was realised within the framework of Umwelt Art & Science Summer Academy 2022 at Kisapáti, Hungary.
Click below to see images from the program
About
Anna Zilahi, awardee of the 2021 ACAX | Agency for Contemporary Art Exchange, is a poet and transmedia artist. Her text- and sound-based, often participative works explore questions of ecofeminism, the dichotomy of nature and civilization, as well as the importance of listening in a culture dominated by visual hegemony.
She is a co-founder of the Budapest-based xtro realm artist group, and recent presentations include the group shows Hope is not desire, Šopa Gallery, Košice, Slovakia (2022); Monuments of Impermanence, Umwelt Art & Science Academy, Kisapáti, Hungary (2022); and Slow Life. Radical Practices of the Everyday, Ludwig Museum, Budapest (2021). Anna is the co-editor and co-author of the extrodæsia – Encyclopedia towards a Post-Anthropocentric World (2019) and co-editor of the artist group's Climate Imaginary Reader. The research-based group exhibition project ACLIM! Agency for Climate Imaginary! was presented in the framework of the OFF-Biennale Budapest's 3rd edition programme in 2021.
Click here for full bio.
This program benefits from the support of The Trust for Mutual Understanding and the ACAX Agency for Contemporary Art Exchange.
This program is supported, in part, by public funds from the New York City Department of Cultural Affairs in partnership with the City Council.