Exhibition | Oct 23 2011 6:00 PM
Tomaz Hipólito – reflex_01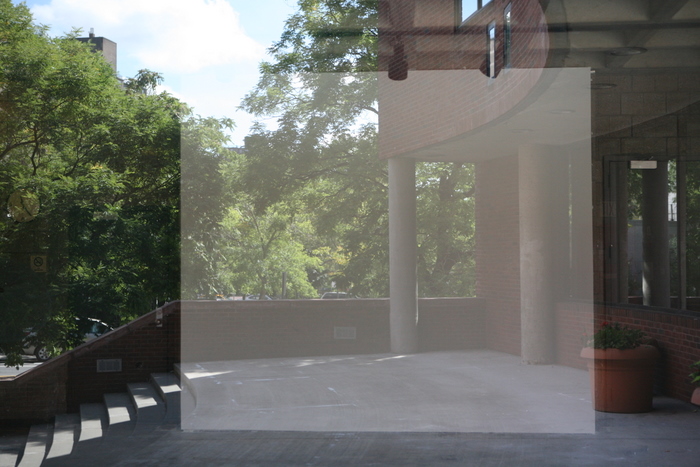 October 8- October 29, 2011
Opening: Saturday October 8, 2011, 6-8pm
Location : Abrons Arts Center/Henry Street Settlement, 466 Grand Street (at Pitt Street)
reflex_01 is curated by Sylvia Segura, curatorial intern at Residency Unlimited.
reflex_01 is a series of works developed by the Portuguese artist Tomaz Hipólito during his residency with Residency Unlimited. reflex_01 is a project realized within the framework of the partnership between Residency Unlimited and Abrons Art Center.
In this latest iteration, Hipólito systematically avoids a direct view of the subject. This in situ project shows the Abrons Arts Center grabbed in a poetic shape, displaying a pattern technique of geometrical disturbance thus revealing an intuitively true sight of a particular building.
The achievement of this effect is realized by collapsing the formal configuration of a singular space to stimulate a perception of the absent structure through the use of a mirroring technique. The intervals, the superposition of lights and effects yield an optical dream-like distance between the photographer and his subject. By circulating on the esplanade of AAC, Hipólito captures the reflections and reinserts the building within the building. He literally interplays with the invisible and ephemeral existence of the architectural object and points out a visual monument of silence that he tries to expunge.
The perceptiveness in Hipólito's latest work is based on a singular knowledge of vision that broadens the meaning of performing in the city. reflex_01 enacts a new narrative scope within the city. By immobilizing details of the building, the artist imposes time suspended and marks a new temporal dimension of its existence. The concept of temporal addition is at the core of this concept. The display is organized in three levels: a large-scale photographic frieze is then assembled in a unique exemplar book edited by the artist and a live-recorded video which is projected on the wall. Hipólito challenges the exhibition format, increasing the meaning of these photographic impressions, of what remains from capturing these pieces of moment: a monument of urban silence that sacrifices the reality.
Tomaz Hipólito was born in 1969, in Lisbon and lives and works in New York and Lisbon. During his residency in Residency Unlimited he has presented his work at Lumen Festival (Staten Island, June), Hunter College (New York, August), Arte Institute on the Summer Nights Series at Union Square Park (New York, August), PointB (New York, August) and The Emily Harvey Foundation (New York, September). Upcoming venues will be held at Residency Unlimited (New York, October) and Appleton Square (Lisbon, December). For more information please visit: http://www.tomazhipolito.net .
Tomaz' 6 months residency is made possible with support from, PAUSA, VEXO, APPLETON SQUARE, AZAN art collection, and Espirito Santo Bank. This exhibition is made possible in part by the New York State Council on the Arts with the support of Governor Andrew Cuomo and the New York State Legislature.
Sylvia Segura is a curatorial intern at Residency Unlimited, a nonprofit organization that explores innovative art residency formats and fosters customized residencies to support and advance the practices of local and international artists and curators. For more information please visit: http://www.residencyunlimited.org
Abrons Arts Center: The Abrons Arts Center brings innovative artistic excellence to Manhattan's Lower East Side through diverse, cutting-edge performances; exhibitions; residencies; classes and workshops for all ages; and arts-in-education programming at public schools. For more information visit: http://support.henrystreet.org/site/PageServer?pagename=AACHOME_homepage