Exhibition | Jul 8 - 29 2017
The Witnessing Event: Anna Orlikowska, Željka Blakšić aka Gita Blak, Joshua Nierodzinski, and Georg Petermichl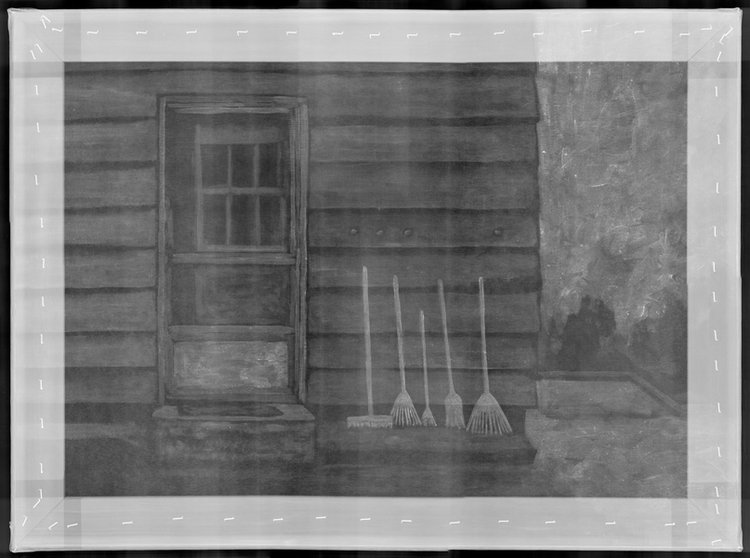 Joshua Nierodzinski: Knock, Knock (X-Ray) 2015. Digital radiograph of "Knock, Knock (Visible)" 24 x 36 in.
Opening: Saturday, July 8, 6-9pm
Exhibition Dates: July 8 - 29, 2017
El Museo de Los Sures
120 South 1st Street, Brooklyn, NY 11249
(Between Bedford Avenue and Berry Street)
Gallery Hours: Wednesdays, Thursdays and Fridays 12 - 7pm
The Witnessing Event, curated by Rashmi Viswanathan features the works of Residency Unlimited local and international artists Anna Orlikowska (Poland), Željka Blakšić (aka Gita Blak) (NYC), Joshua Nierodzinski (NYC), and Georg Petermichl (Austria).
Exploring the complicity of visuality in corroborating personal and social truths, this exhibition looks at works that are witnesses of sorts. They document social experiments, pry open the expected relationships between picturing and knowing, and function as testimony to personal and cultural memory.
The Witnessing Event looks at a range of media, and its relationship to documenting/ creating/ producing memory. Addressing the question of how visuality bears witness to larger histories of experience, the participating artists undermine conventional separations of personal and social truths by examining the practice of representation.
Photos of the event :
******
Rashmi Viswanathan is a New York based curator who writes on colonial-era art and its historiographies and more recent art in and related to the Contemporary. She holds a doctorate in Islamic art history from New York University Institute of Fine Arts and is a PostdoctoralFellow in Global Contemporary Art at the New School University. Having recently curated an exhibition on narrativity for the Princeton University Art Museum, she is currently curator in residence at RU and Alwan for the Arts.
Anna Orlikowska's practice is defined by the concept of "space activation" and involves a variety of media ranging from installation, performance, sculpture, video, drawing, text, and sound. Orlikowska investigates the physicality of sound and its site-specific relations to architecture, its impact on the body and the imagination of the listener. She is the recipient of awards including the Mondriaan Fund - Young Talent (2017), Clare Rosen and Samuel Edes Foundation Prize for Emerging Artists, Finalist Award (2016), Prins Bernhard Cultuurfonds - Van Eck-Vollgraff Fonds (2014), as well as Full Merit New Artist Society Scholarship Award, The School of the Art Institute of Chicago (2014).
Željka Blakšić (aka Gita Blak) a New York based artist whose residency at RU is supported by funding from NEA/Artworks. Her practice often stems from the punk, anarcho and eco sub-cultures of the 1990s-era in Croatia. She works across performance, 16mm film, video and sculpture. Recent exhibitions include Recess SOHO; MoMA, NY; Artizen Cluj, Romania; BRIC Contemporary Art Gallery, NY; Herzlyia Museum, Israel; AIR Gallery, NY; Active Space, NY; Urban Festival in Croatia; Gallery of SESI, Sao Paolo, Brazil; The Kitchen, NY and The Khyber Center for the Arts in Canada. She is a recipient of the Recess Session Residency in NY, A.I.R.Gallery Fellowship Program for emerging women artists, The District Kunst Award in Berlin 2013.
Joshua Nierodzinski is a Brooklyn-based visual artist whose residency at RU is supported by funding from NEA/Artworks. His paintings and installations investigate representation, perception, and empathy through augmented materiality and multi-sensory presentation strategies. His work is characterized by an uncanny familiarity that alludes to Surrealism as well as photo-based painting. His work has been published in the UK-based magazine Looking at Painting Vol.2, and Paint Pulse Magazine, New York. Joshua received the Smucker Wagstaff Scholarship award and was nominated for the Dedalus Foundation MFA Scholarship. Residencies include Sam and Adele Golden Foundation, the Wassaic Residency in NY and most recently the Cabin Collective in New Jersey.
Georg Petermichl uses the modus operandi of photography: perspective, time, and composition to address the complexities of social reality. Often the artistic outcome is not a photograph but an object, installation, text or a book. Publications include: 2015 book concept for "curatedby" publication for Galerie Emanuel Layr, Vienna; 2013 co-editor / co-publisher of HOTEL CHARLEROI – Annexe (engl./fr. bilingual, artist book, 400 p., published with B.P.S.22 éditions, Charleroi, BE) 11/2008 co-editor of "AIDS. A Reader" (published with the Academy of Fine Arts, Vienna); 2005 – 2011.
Residency Unlimited is tremendously grateful to El Museo de Los Sures for hosting this exhibition. This exhibition is made possible with generous support from the National Endowment for the Arts (NEA) ArtWorks Grant, Mondriaan Fund and Adam Mickiewicz Institute, and Bundeskanzleramt Österreich.